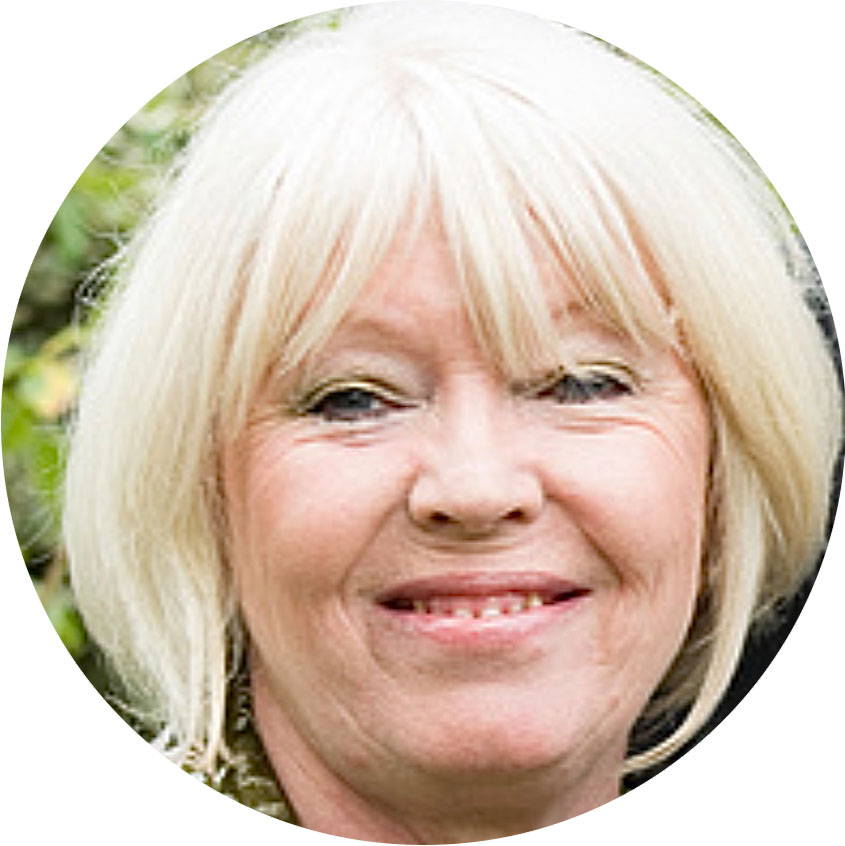 Hello crafters – Dawny P here and welcome to the craft room and this month's showcase collection. And it's all about Easter – an EGG-CELLENT EASTER to be precise. What a showcase this is because not only do we have a verso set of 24 dies, including eggs, a lovely basket and sentiment and flowers – that would be a set and a half on its own - but there are blisters to go with the dies so that you can make sweet little shaker cards. But it gets even better because there's also a full set of stamps which include the cutest little chicks, a sweet bunny, flowers, eggs, a carrot and a wheelbarrow. Honestly, they are all fabulous and your Easter cards and projects will really stand out from the crowd. This is one of my fave sets ever.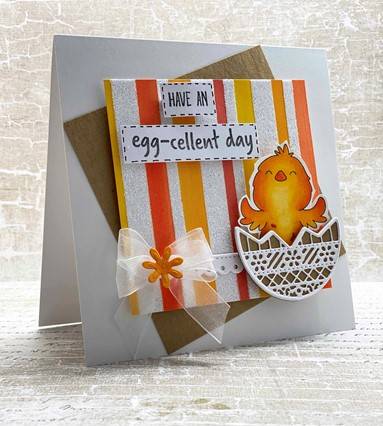 So what did I do with them? Well I made an Easter card of course, but this is no ordinary step by step because there's actually another step by step included within it which will show you how to colour one of the little chicks. If you are new to colouring, then don't be nervous. I hope this will give you a bit of confidence to have a go and try out the Nuvo pens and create something lovely. And if you have started to colour and want to have a go at creating some depth in your image, then this is also for you.
So shall we do that bit first?
We are a bit pic heavy here but I've broken this down into stages. Please don't be put off by the fact we are using 5 pens. You don't have to use them all, but I think they breathe life into the image and make it stand out on the finished card.
---
These are our pens. I've used –
473 – Sweet Vanilla
405 – Indian Saffron
393 – Spiced Orange
391 - Butternut Squash
374 – Tiger Lily.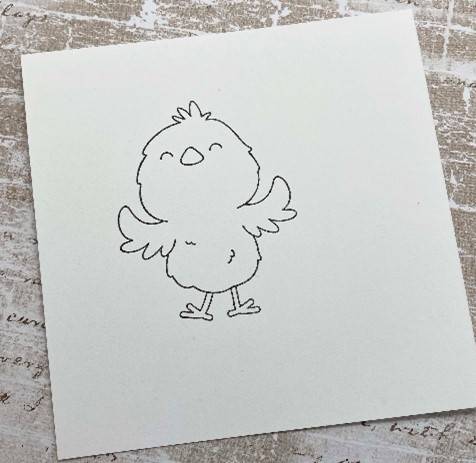 So firstly, stamp out your image on a super smooth piece of card and using an ink suitable for alcohol pens. I've used our hybrid ink pad which can be used with alcohol pens and watercolour pens alike. They take all the guesswork out and they are a 'must have' in my stash. I used Black Shadow but if you'd prefer a lighter outline, you could use Metro Grey.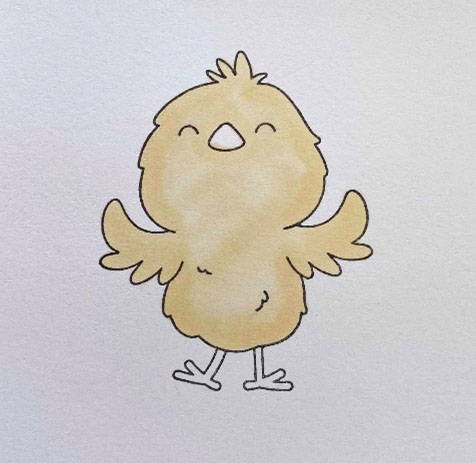 Let's prime our card. You can skip this step if you want but this is something I always do as it gets the card ready to receive a nice helping of ink. So take your 473 – Sweet Vanilla pen and go over all areas as shown. If it looks a bit patchy, don't panic – it's just the ink drying out at different rates and it's quite normal.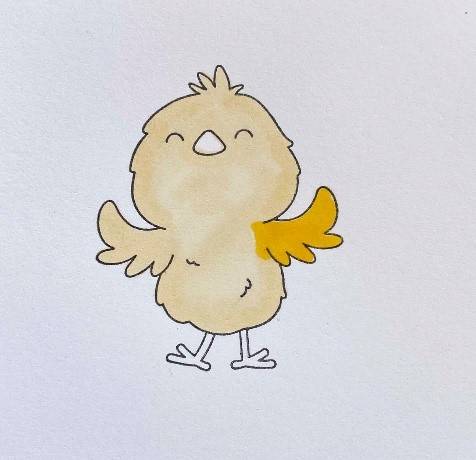 Now let's add some colour and bring this little fella to life. Work in small areas, bit by bit, and take your time.
Using the 405 – Indian Saffron pen, go over the whole wing area. If you don't go right up to the outside edges at this stage, it won't really matter, as you'll see in a minute.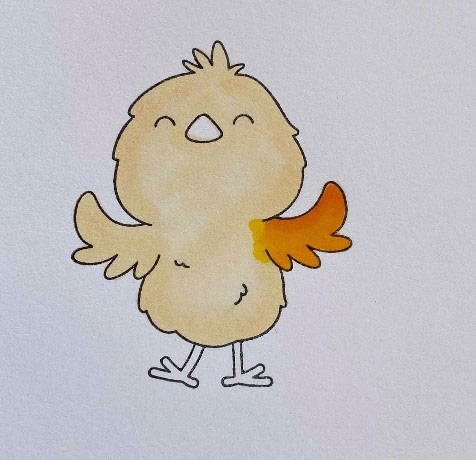 Now add a little bit of 391 - Butternut Squash to the top area. And then go back over it with the 405 – Indian Saffron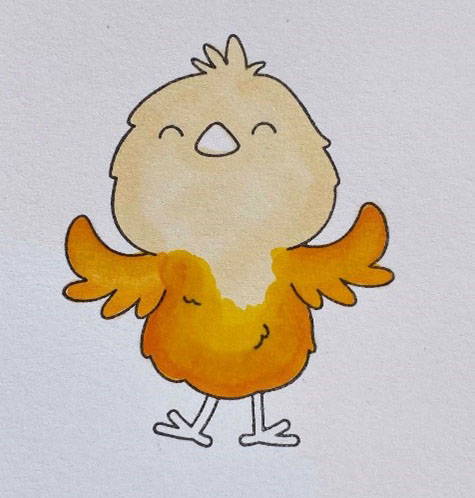 Repeat on the other wing and then starting from the bottom, do the same for the body. Leave his feet because they are for the chop in a minute – poor little chick!!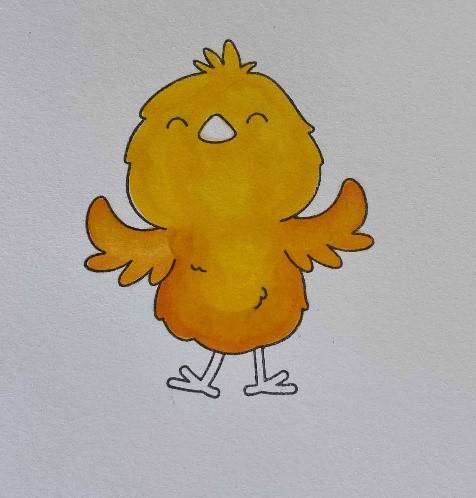 Go all the way to the top of his head using 405 – Indian Saffron pen – leave his beak for now. If you accidentally go into his beak (as I've done), it's fine. We will be adding a darker shade later so you won't really see it.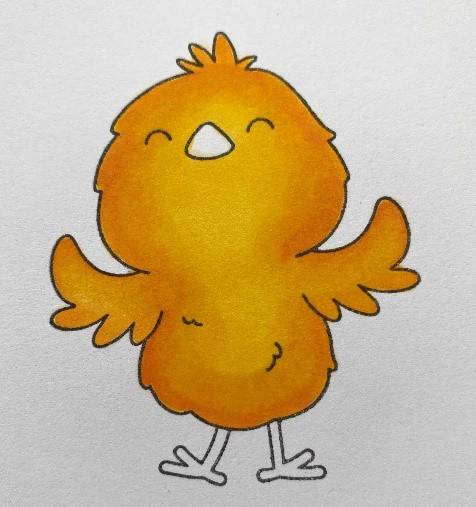 Now just like we did before, add some 391 - Butternut Squash, then back over with the 405 – Indian Saffron. Really work on any overlapping areas in small circles and try to remove as many harsh lines as you can.
TIP - It's best if you work while the layers of ink are still wet.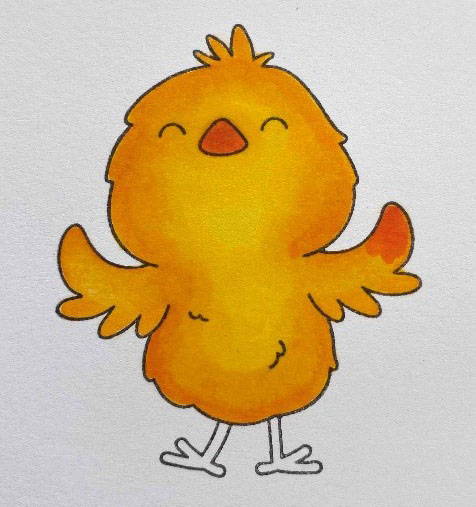 Now we are going to really start to add some depth. Take the 393 – Spiced Orange pen and go over his beak. Then add some more to his wings as shown.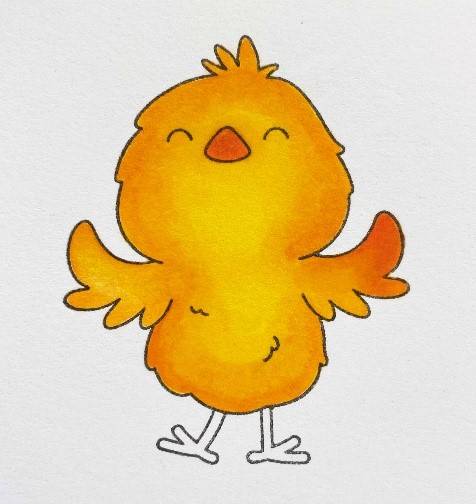 Now go back over with the 391 - Butternut Squash and smooth out any lines, just like we did before.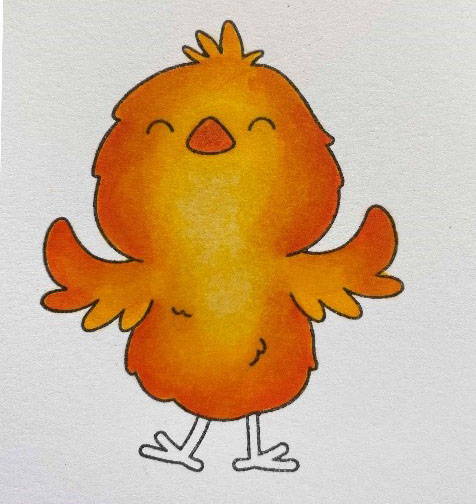 Continue adding 393 – Spiced Orange and going back over with 391 - Butternut Squash to the other wing, the bottom of his body and the sides of his face. Do one area at a time. The more ink you add, the darker it will go.
Add a touch of 274 – Tiger Lily to his beak and to the little squiggles on his body. Now check the image and go over any areas that need it to give it a tidy up.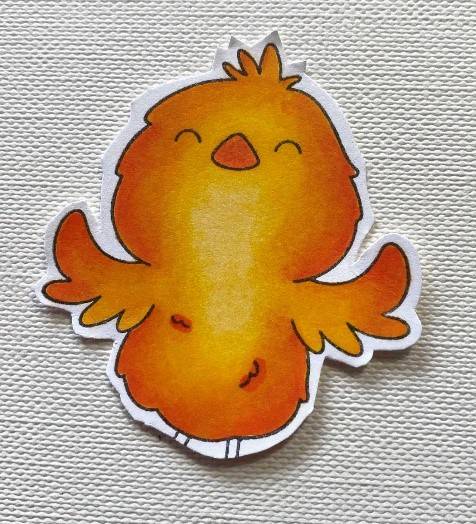 Now all you've got to do is cut him out, leaving a white border and cutting off his little legs and feet - awww.
I am rubbish at the cutting out bit
You can add some Crystal Glaze to his little beak if you want – I think it makes it look fab. You can see it on the end pic.
---
So now your little chick is all coloured, let's make him into something nice – it would be rude not to.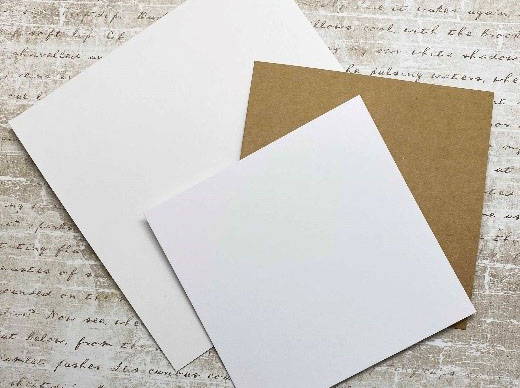 So you'll need a 6x6" square card base, a piece of kraft card measuring 4" square and a piece of white card measuring 4.5" square.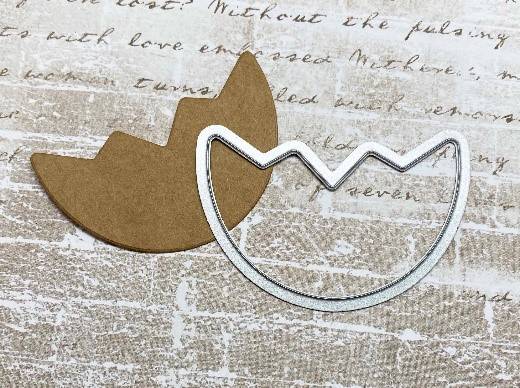 Cut an outside edge eggshell in kraft as shown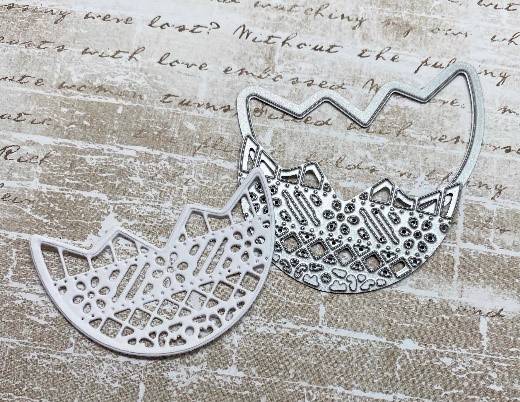 Cut another one in white and then cut the inside edge into it.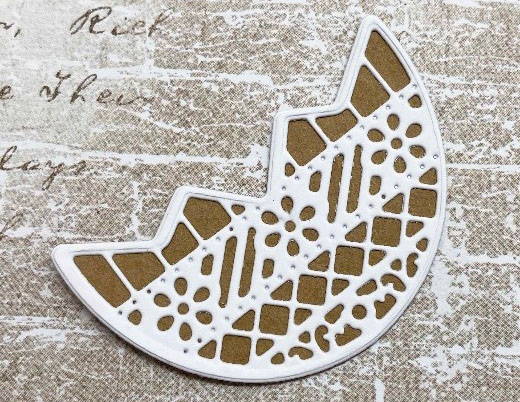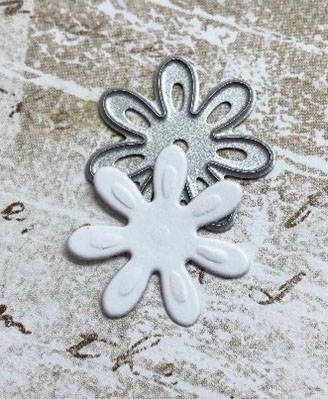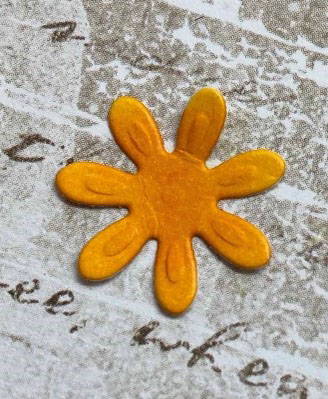 Now cut out the larger flower and colour it with 391 - Butternut Squash. Colour the front and the back.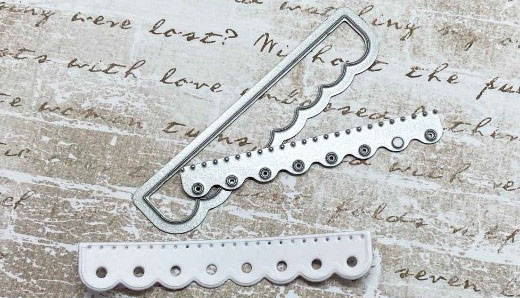 Cut a little border from white card using the dies as shown.
---
Now let's make a nice background for our card.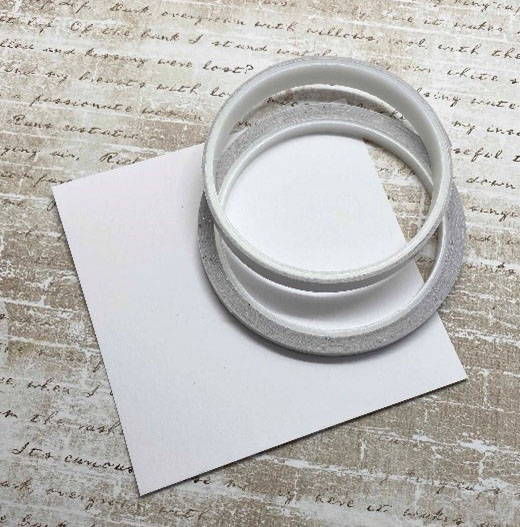 Take the 4.5" square white card and lay strips of double sided tape across it, leaving gaps in between. No rights or wrongs here – it's very forgiving. Vary the widths of tape if you have them.
TIP – use your craft mat to line up the tape so that it's straight.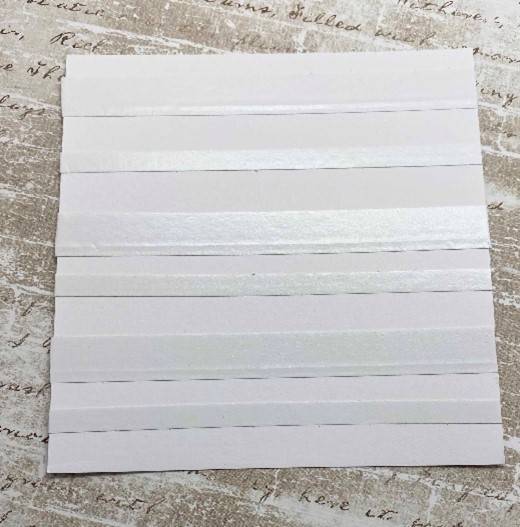 It'll look something along the lines like this. Press down the tape well across the card.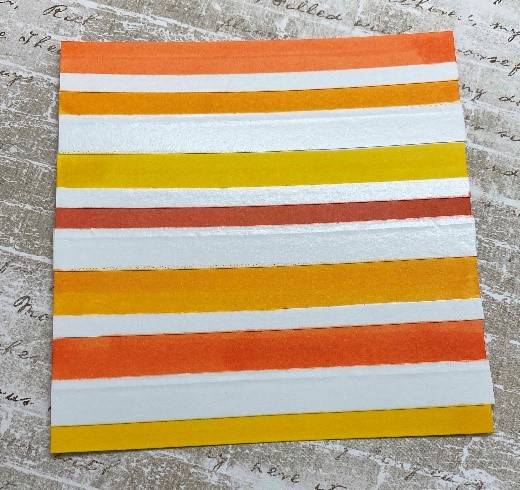 Now take a mixture of the pens and using the chisel ends, colour in the gaps you left on the card.
Now remove the backing tape and dunk the card into some clear glitter. Give it a brush to remove all the stray bits. Now trim the edges away so that is measures 4" square.
The reason we start with a slightly bigger piece is because the ends where you start and finish with the pens can look a bit untidy, and this just removes them so that it's all neat.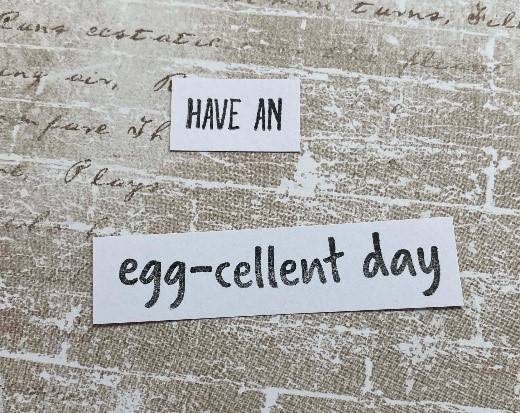 Now stamp out your sentiments as shown and trim to leave a nice border.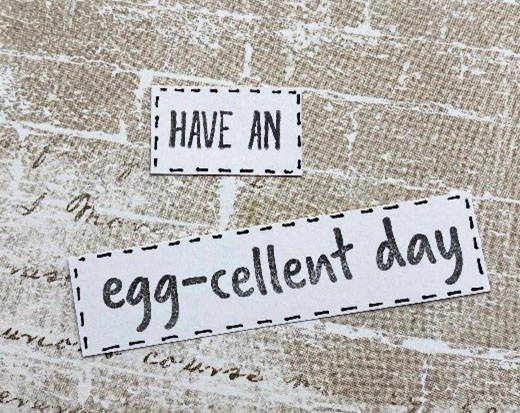 Take a black fine liner pen and draw on some faux stitching.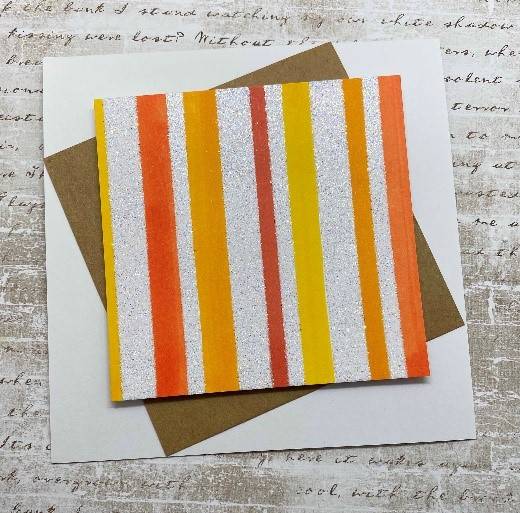 Take your card and layer up the kraft and striped background as shown. You can have the stripes going either way - see what you prefer!! The kraft card is stuck straight onto the card and the striped card is stuck on with dimensional pads.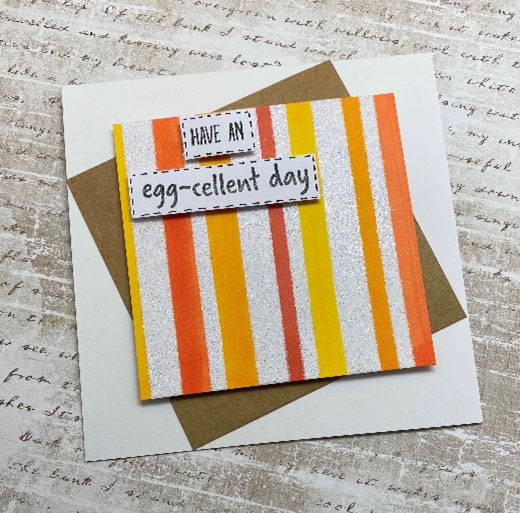 Now add your sentiments.
TIP – if you are having probs getting them to stick because of the glitter, use some double sided tape and then run a little bit of silicone glue over it before you put them onto the card. It's really sticky and will grab onto the particles of glitter.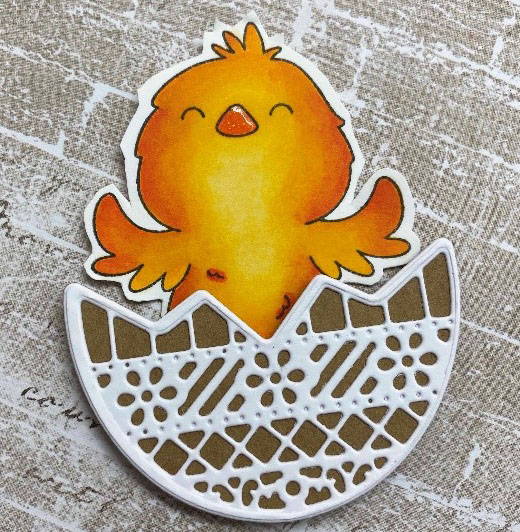 Take the little chick and stick him behind the egg shell using dimensional pads. The stick him onto the front of the card, again using dimensional pads.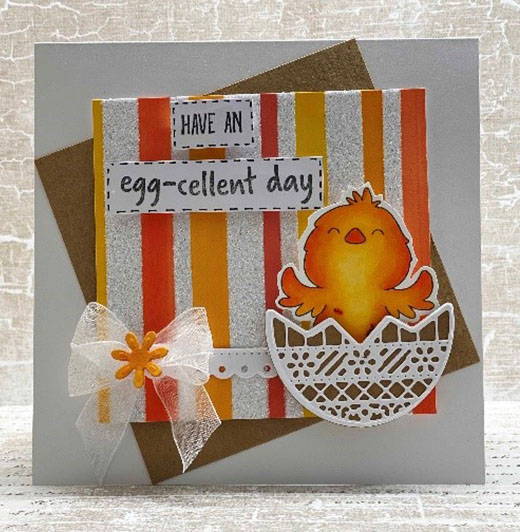 Now all you have to do is add the little border, a little bow and pop the little flower in the centre of the bow.