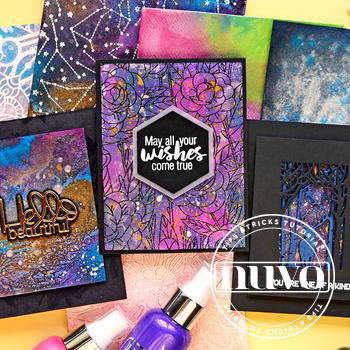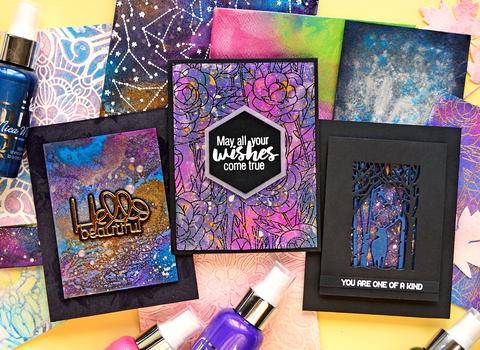 Hello everyone! It's Galina Filippenko here with a special post about Nuvo Mica Mist.
I will show you five easy ways to use these sprays to create striking effects on your craft projects.
---
Nuvo Mica Mists Sprays what are they?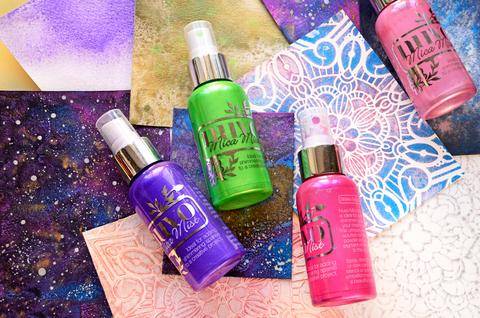 The Nuvo Mica Mist sprays are a unique solution that contains mica powder and a coloured pigment that adheres to different porous surfaces such as paper, fabric, wood, or canvas.
These are also a highly pigmented coloring medium that becomes permanent once it dries.
When dry the fine mica powder doesn't rub off when touched.
The Mica Mist Sprays can be used on light or dark surfaces.  
What do you need to start?
You don't need any particular tool to start working with these sprays.
However, I would recommend preparing your work surface. Use a glass mat or on a craft mat as they will be easy to clean using a baby wipe or Nuvo Cleaning Solution.
Alternatively, you can use a card box or newspaper to protect your work area.
After working with the sprays it is essential to clean the excess of mica of the bottle nozzle.
Remove the nozzle from the bottle and submerge it in water.
Press the nozzle down until repeatedly until it sprays clear water. Then place it again on the bottle and store away.
---
Dry on Dry
Add beautiful layers of color to your projects or create beautiful paint drips patterns.
To create a multilayer coloured background, simply spray one color of the Mica Mist on a dry porous surface ( cardstock, fabric, wood, canvas), allow to dry before spraying another colour.
To create paint drips simply spray your artwork using the MIca Mist and tilt it until the paint drip across the paper.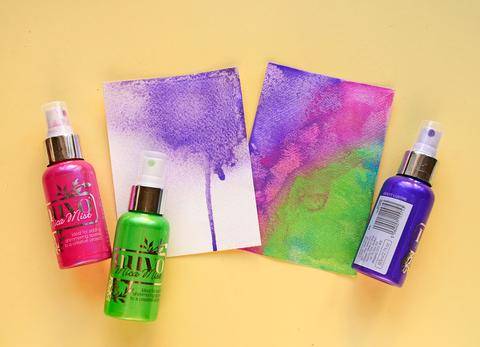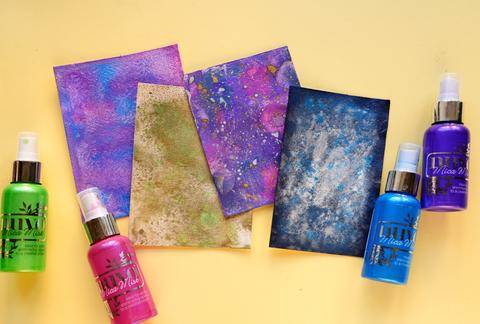 Wet on Wet
You can blend the Mica Mist pigments with water to create a softer watercolor look without hard lines.
To do this, spray your artwork with water and then spray with one or more colors of mica mist.
You can blend the Mica Spray pigments with a large amount of water, or you can also blend two different colors to create a softer look as I did on the first two samples at the left in the picture below.
Tip. For this technique, use watercolor paper or any other paper capable to hold can hold large amounts of water.
For the last sample in the picture below ( right side) I tried to create a marble look.
I sprayed the paper with water, then I sprayed blue and silver Mica Mist on the top and bottom of the watercolor paper.  
I moved the paper up and down to blend the colors a little bit. I applied black Nuvo ink on edges using a blending tool.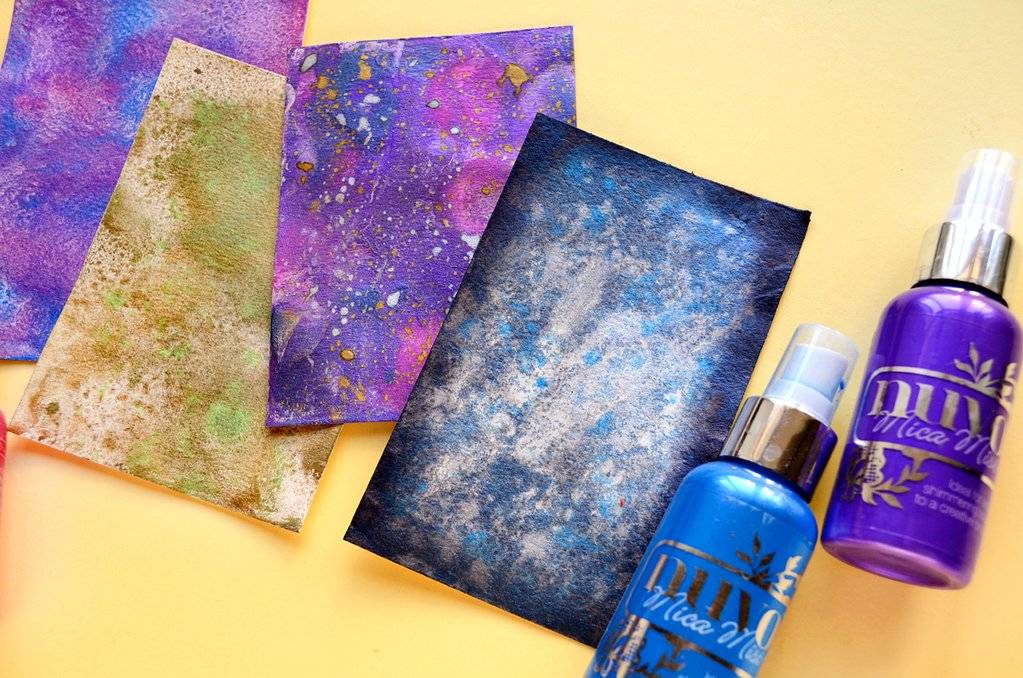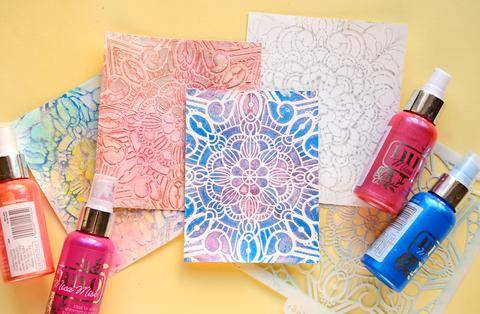 Stenciling
You can use Nuvo Mica Mists through any stencil you may have.
Cover the paper with the stencil and spray one or more colors through it.
Remove any extra mist solution from the stencil with a paper towel or cover it with another piece of paper.
In this way, you will get a negative stenciled image that you can also use to create a background (see samples at the left and right in the picture below).
Tip. Apply temporary spray adhesive on the back of the stencil to stick it to the surface you will be working on.
You can mix the Mica Mist pigments with other Nuvo mediums prior to application or you can also apply  Nuvo mousses or pastes through stencils,  allow them to dry, and then apply the Mica Mist over for extra shine and vibrance.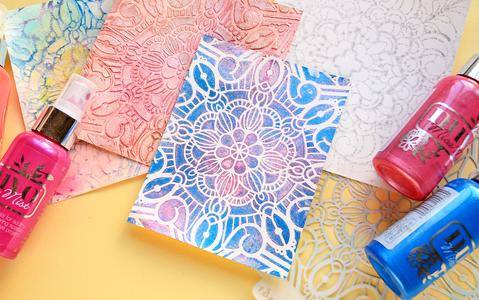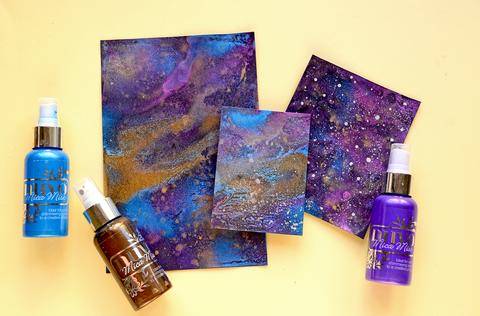 Working on Dark Surfaces
This is probably my favorite technique because the mica looks amazing on dark surfaces, especially on black cardstock.
I created a bunch of sky\galaxy backgrounds using blue, purple, pink, and gold sprays.
I used only a heavyweight cardstock for this technique.
You don't need to wet the paper before using the sprays but if you want to move the color more or create a wash effect you can spray a little bit of water close to the sprayed mist.
If you want to create stars and don't blend them with other colors, as I did on the sample at the right in the picture below,  allow the paints to dry first and then add few drops of silver Mica Mist.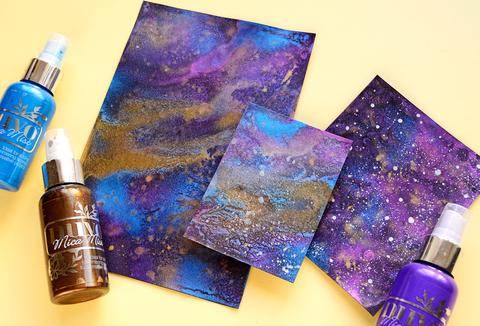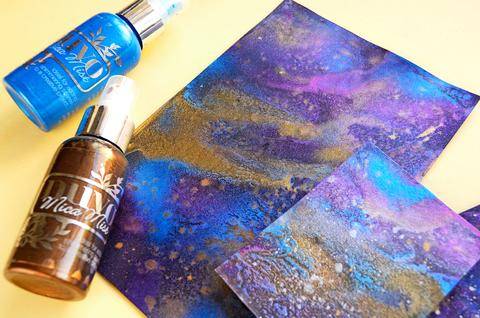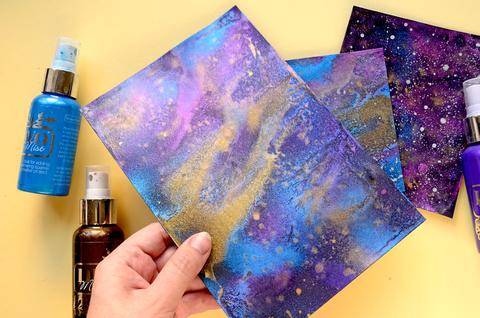 After drying the paper you will get beautiful shiny backgrounds to make cards, add some lettering over, or create wall art pieces.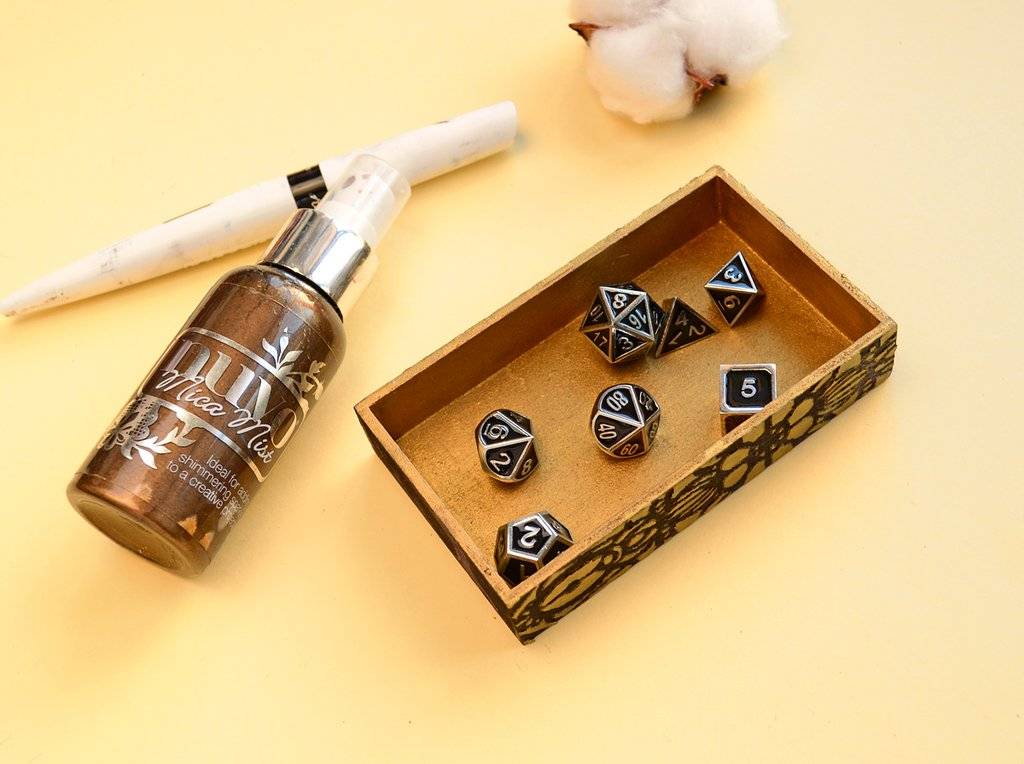 Using Mica Mist on Wood
There is no need to use a primer on the wood before using the sprays on it.
For the box below, I simply covered the inner space with two layers of gold Mica Mist.
I then applied black Nuvo Watercolor paint on the side panels of the box and I allow to dry.
Then, I applied gold Nuvo mousse through a stencil and I got a beautiful decorative box.
Find below a few cards I made using Nuvo Mica Mist
---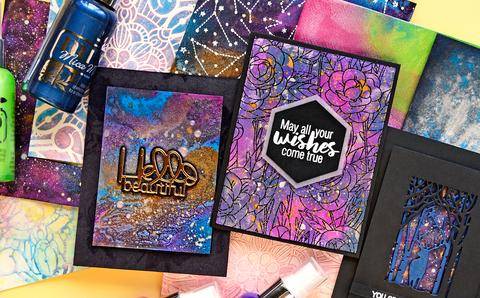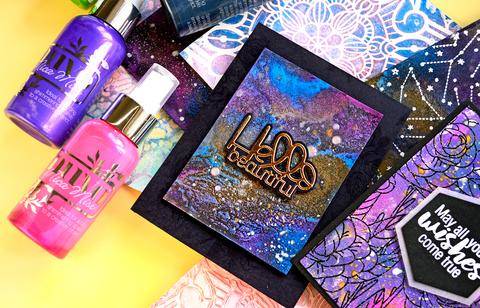 For the first card I used a little panel I made using Nebula Blue - 576n, Antique Gold - 571n, Oriental Fuchsia - 564.
I sprayed these pigment colors on black cardstock and mixed them with water.
Next, I foam mount the colorful little panel on the card base and add a simple sentiment, that I previously die-cut out gold and black cardstock using Hello Beautiful Floral Frame Die Set - 2803E
---
For the second card, I used a bright pink-purple panel.
I heat embossed a floral background on it using clear ink and Nuvo - Glitter Embossing Powder - 598.
I cut out two little panels from black cardstock and also from vellum using A2 Layering Basics Octagon Die Set - 1522e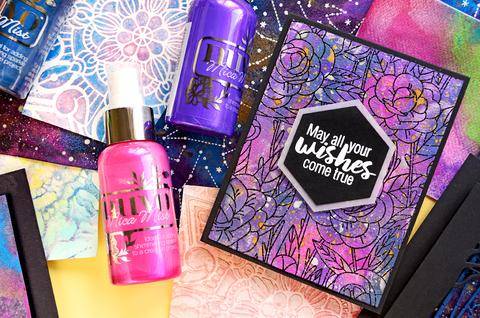 ---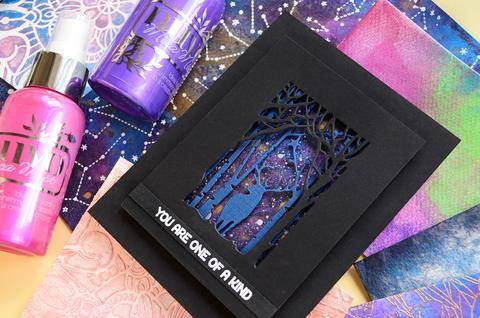 For the next card, I used one of my galaxy panels.
Using Dimensions - Enchanted Forest Silhouette Tag & Wallet Die Set - 2758E , I die cut two windows out of black and blue cardstock and I adhered them to the Mica Mist galaxy background.
To finish, I heat embossed a sentiment using white embossing powder.
---
Thank you for joining me today.
I hope you enjoyed this post and found it useful.
You can find brilliant deals this weekend on the Tonic Studios store using Mica Mists so check them out and try some of these techniques.
Happy Spraying!
Galina.
---