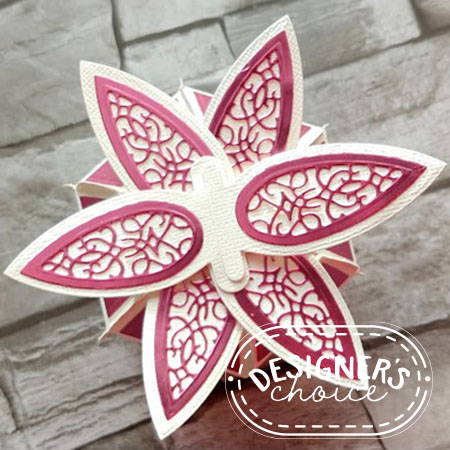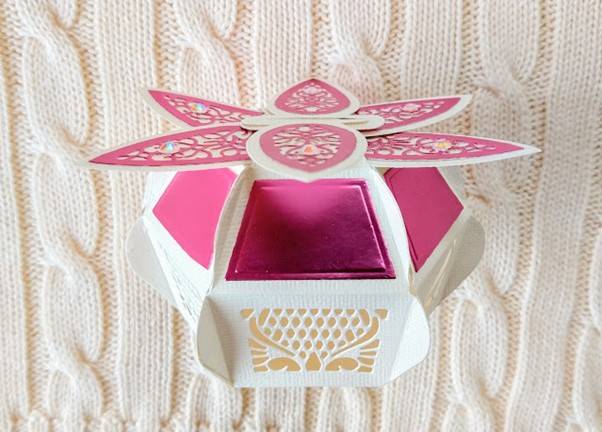 The dies in No. 15 of the Designer's Choice series make up a beautiful little hexagonal gift box with petals forming the closure at the top.
Along with the dies, I have also used -
Craft Perfect Ivory White card
Craft Perfect Pink Chiffon Satin Effect card
Nuvo Deluxe adhesive
Nuvo Crystal Gems.
You will need to cut a base and 6 sides and it's very important to die cut 3 of each of the sides i.e. 3 with slits and 3 without.
---
So, let's get started! These are the dies you'll find in the set.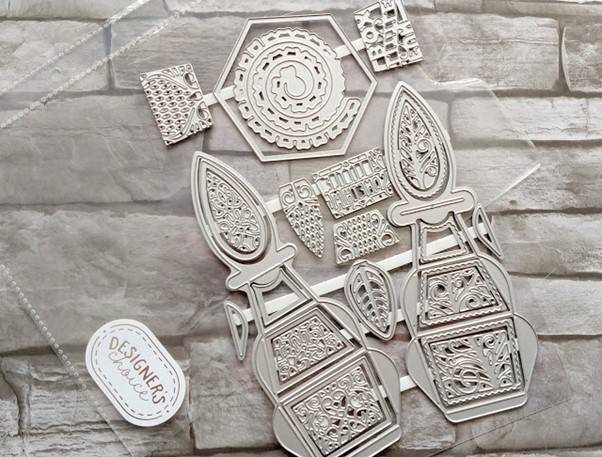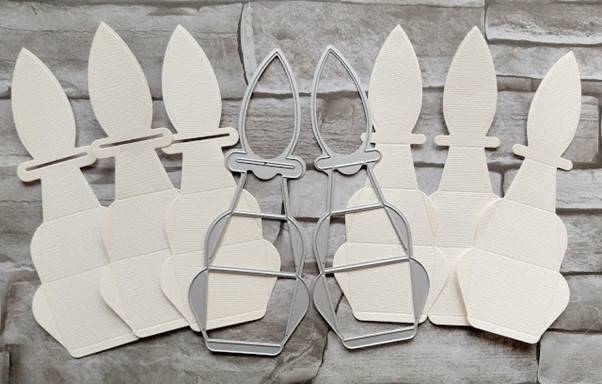 Die cut 3 of each of the 2 dies shown – 3 with slits and 3 without.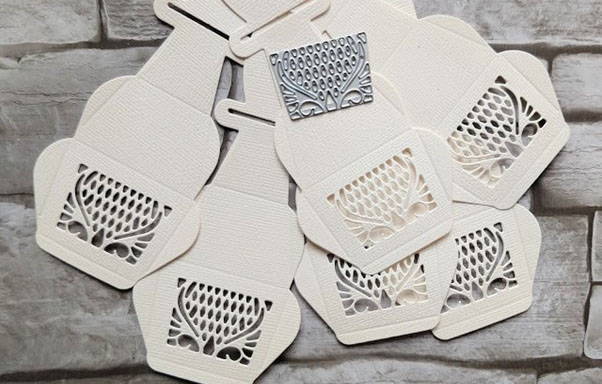 Use the die shown to cut the detail into the bottom part of each of the 6 die cuts.
Die cut 6 of the smaller 4 sided shapes with the straight edges.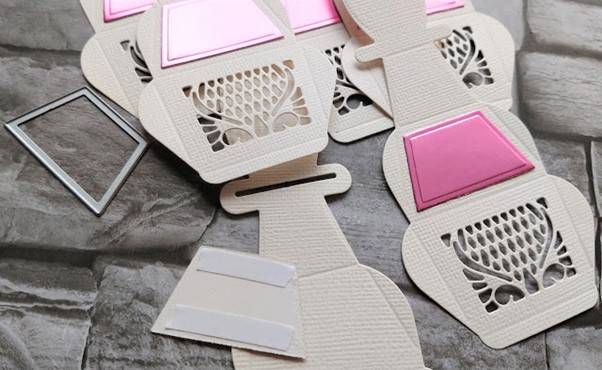 Attach these to the ivory panels as shown. I find it works best using double sided tape as sometimes the glue leaves a mark showing through the satin effect card.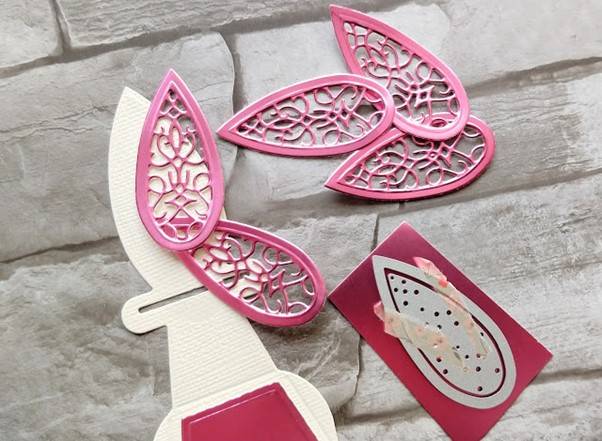 Use the large plain edged petal shape with the matching decorative die in side to cut out 6 petals from the Pink Chiffon card. If you are not used to die cutting it might be best to use these separately ie die cut the petal shape first and then cut out the detail afterwards but if you have them well spaced and taped down they should not move or get damaged while passing them through the die cutting machine.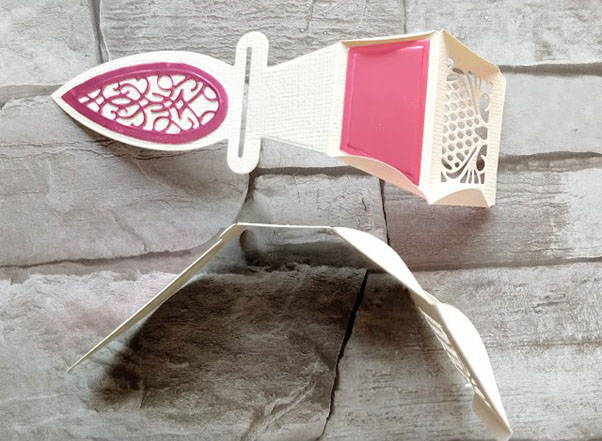 Glue the petal die cuts to the top of ivory panels. Fold the bottom tab inwards and the side tabs outwards. Fold the other score lines inwards.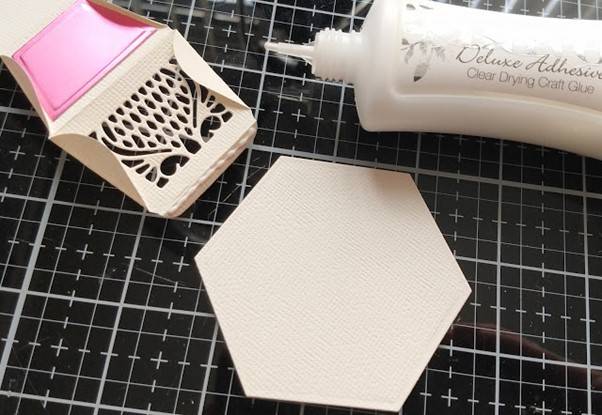 Add glue along the bottom tabs and attach each glued tab to the underside of the base.
Remember to attach the panels around the base by alternating the ones with slits with the panels without slits!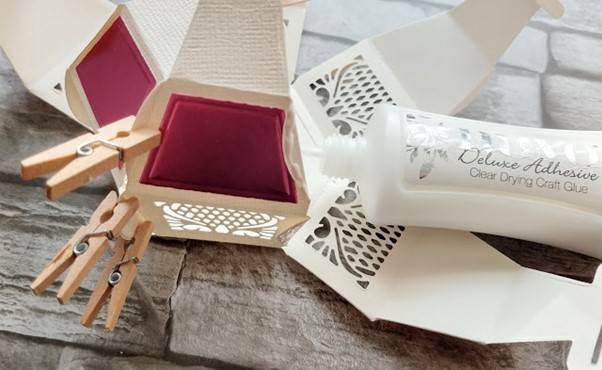 Glue the side tabs together. I find it helpful to use mini pegs to hold these in place while I continue to attach the rest of the tabs.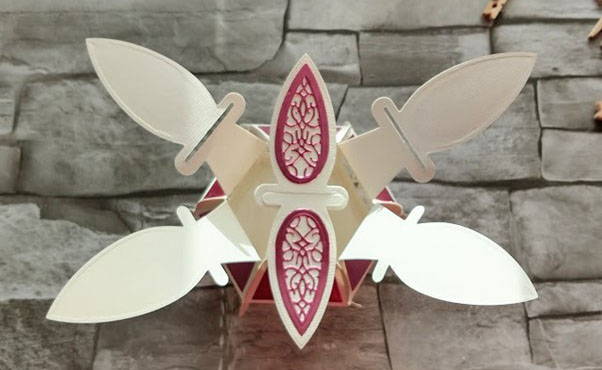 Fold opposite petals across the top of the box and slide the petal without the slit through the petal with the slit.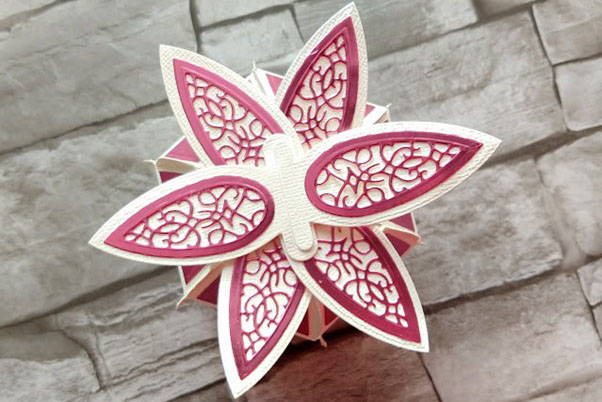 Continue to fold the petals over the top of the box until they are all connected.