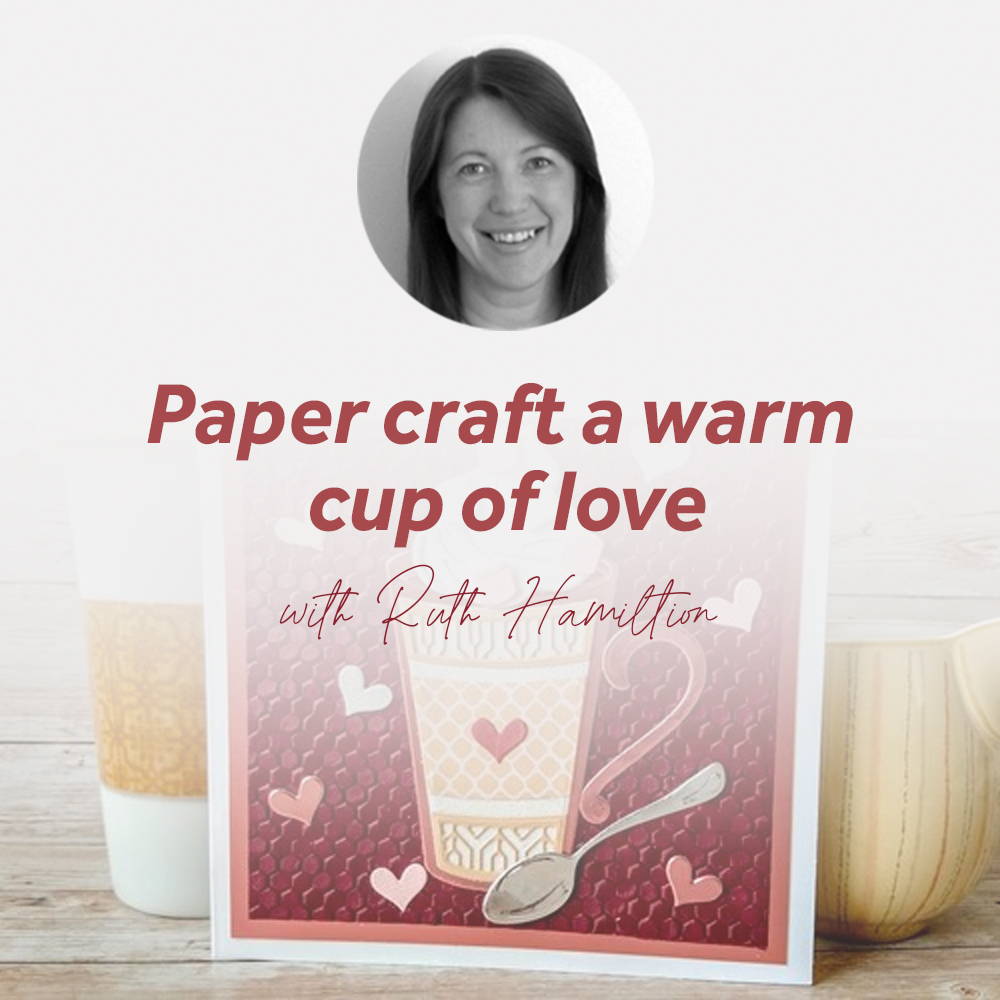 The Coffee Collection Showcase is a beautiful set of dies and stamps which can be used to make cards or other crafty projects for coffee lovers!
You can make tall coffee cups or mugs or a gorgeous little coffee cup. There are also dies to add cream, sugar cubes, mallows and coffee beans. You can even add a little steam!
I've used lots of different items from the Harvest Moon Trend to make this card as I thought they worked together so well.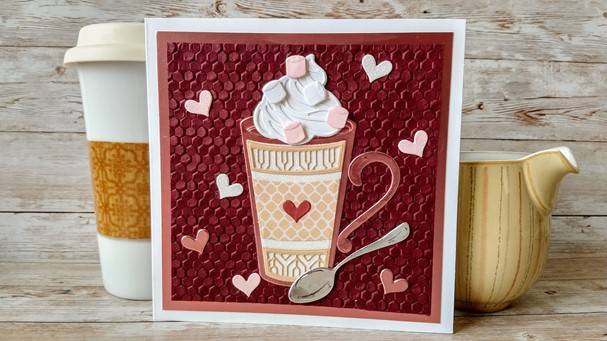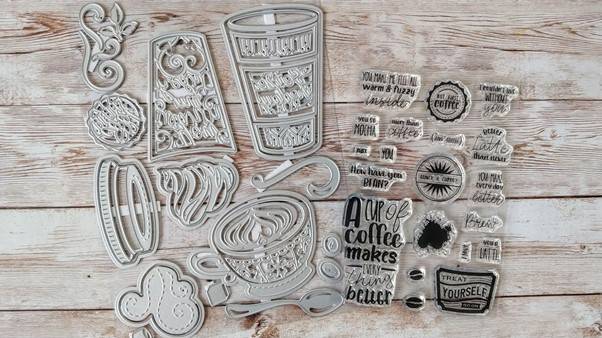 To make today's card, you will need the following:
Craft Perfect Bright White 6x6 card blank
Craft Perfect Baroque Satin Effect Mirror Card
Craft Perfect Royal Garnet Speciality Paper
Craft Perfect Harvest Moon 6x6 paper pad
Craft Perfect Bright White Smooth Card
Craft Perfect Sugar Crystal Glitter Card
Craft Perfect Ballet Pink Texture Weave Card
Craft Perfect Silver Mirror Card
Craft Perfect Coffee Cream Pearlised Card
Craft Tacky Glue
Double sided tape
3D foam pads
Die cutting machine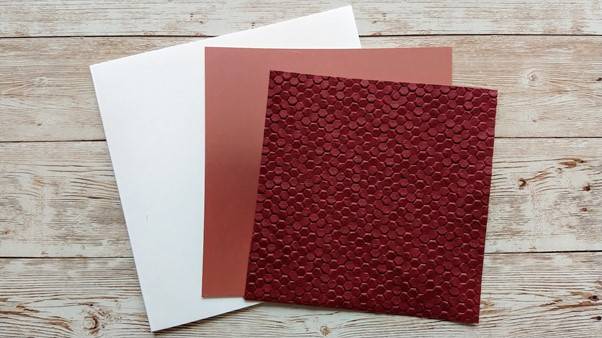 Layer a 13cm x 13cm piece of Royal Garnet paper onto a14cm x 14cm piece of Baroque Rose card and attach to the card front with double sided tape.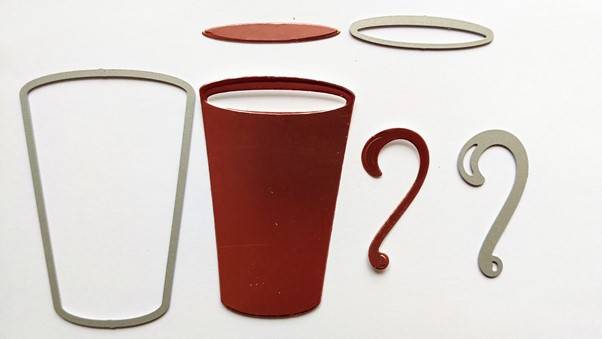 Die cut the tall coffee cup and handle from Baroque Rose card and cut out the top of the cup. Reserve this piece to glue back in.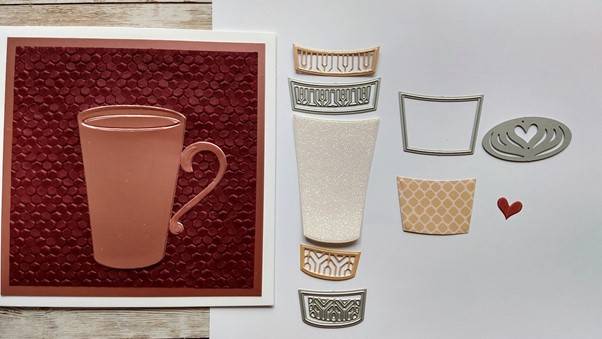 Die cut the inner coffee cup shape from glitter card. Use both the outer and inner dies for the pattern on the top and bottom with Coffee Cream card and cut out the centre plain die from the paper pad. Use the die shown on the right to cut out a paper heart.
Glue all these pieces onto the coffee cup on the card.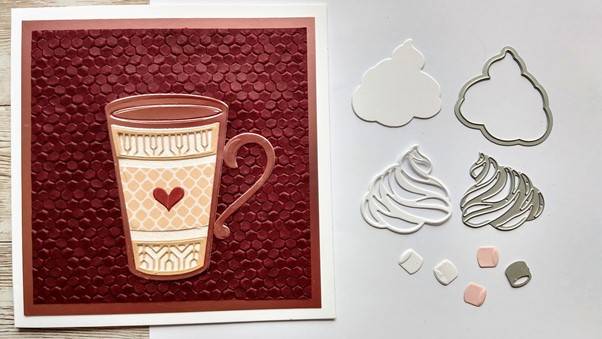 Die cut the outer "cream" shape twice from white card and use the inner detail die on one of the pieces. Glue the pieces together and glue to the coffee cup.
Die cut some pink and white mallows.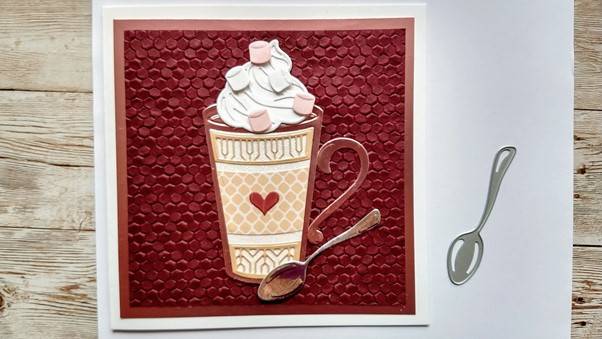 Attach the mallows with 3D foam pads. Die cut a spoon from silver mirror card and glue at the bottom right of the coffee cup.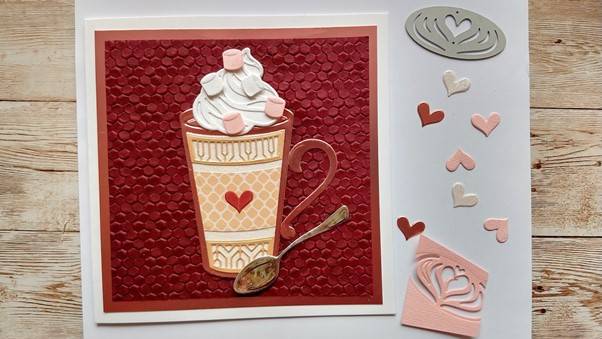 Die cut several hearts from different papers and card and glue around the outside of the coffee cup.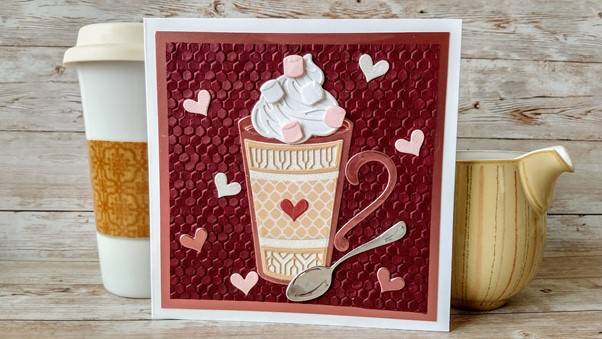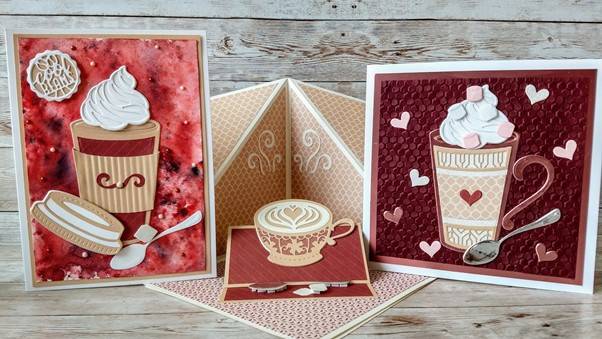 You can see how to make 2 more cards on my YouTube channel here