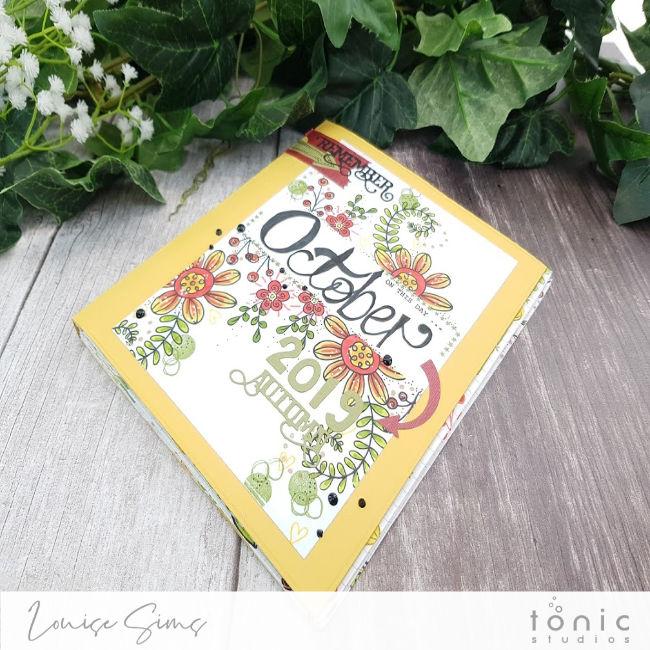 Happy Friday everyone! Lou here to share a Bullet Journal I made using the NEW Live Every Moment Keepsake Wallet dies . I also used the Memory Book Essential stamps and Memory Book Essential die sets: Remember When & Never Stop Dreaming.
There are so many creative possibilities using these die sets!
I hope the video can help you to have a closer look at all the dies and see how they work plus you can also see the stamps used to create my journal and the journal itself.
I have used the base die from Live Every Moment Keepsake Wallet to create all my double-sided pages and also the front & rear covers.
As this journal covers October, I have 5 different sections, representing each of the weeks in October. I have used the Memory Book Essential dies & stamps, to create extra journaling pages before each week starts.
The journal pages have been created using Tonic Studios journal stamps:
Journaling Diary
Doodle Diary
Daisy Doodles
Silly Scribbles.
(Find these in the supplies list at the bottom of this post)
The paper I have used to create my journal pages has been taken from a school maths book which I purchased when home in Ireland. I think the graph paper adds another design element to each of the pages.
Have you seen the new Memory Book release? Pop over to the Tonic Studios shop to see both the dies and also the wonderful inspirational books made by the TV DT. All the new die collections work seamlessly with the existing Memory Book die collection and will definitely enhance your scrapbooking/journaling/memory book making.
Do you have any crafty adventures planned this weekend?
We'd love to know …,
Lou x
Main supplies used to create my bullet journal