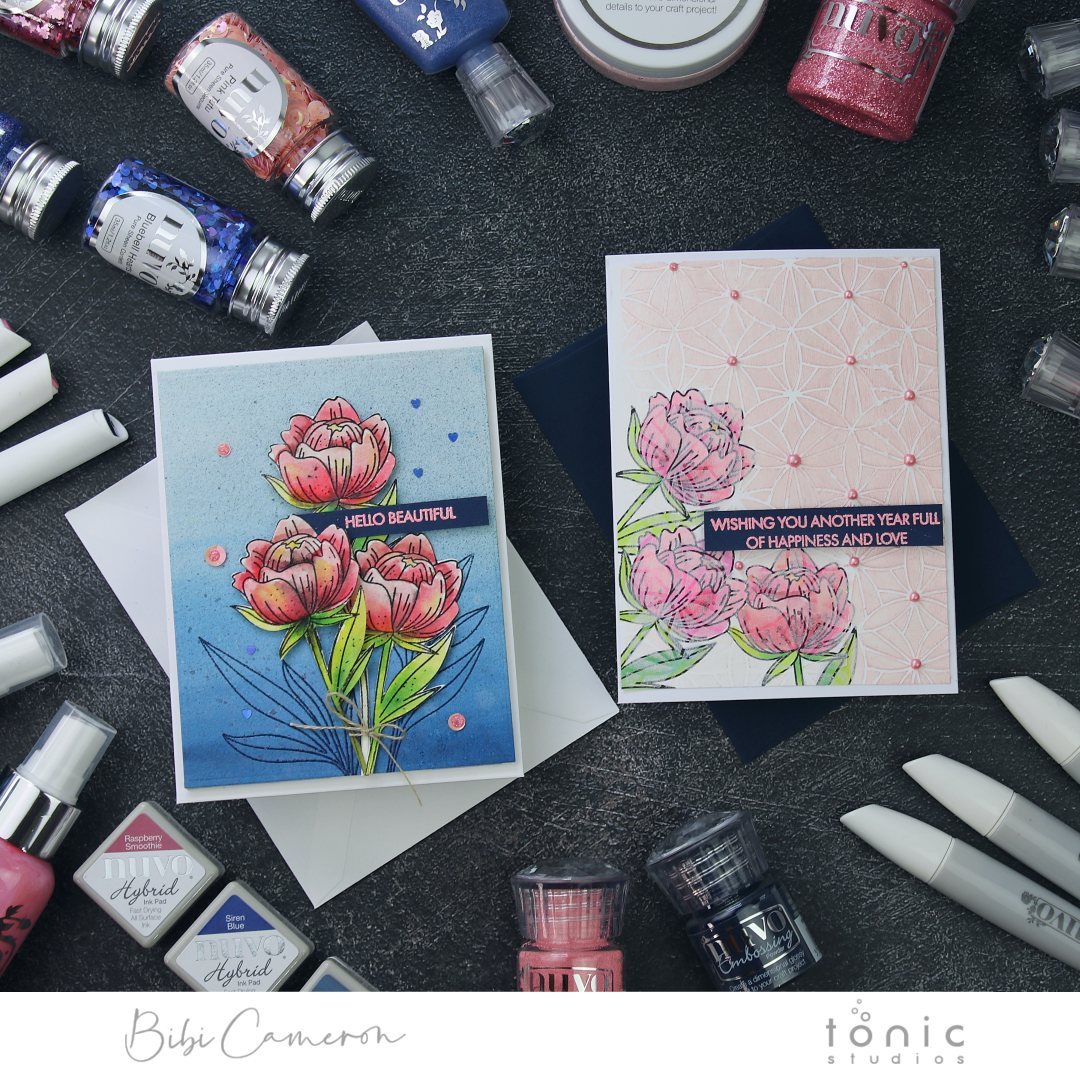 Hello Everyone, It's Bibi Cameron here and today I'm sharing about the new Blue Blossom Colour Trend by Tonic Studios… This is totally to die for!!!
The colour trends by Tonic Studios introduce products from the Nuvo range, paper and embellishments in new colours.
Blue Blossom is all about pinks and blues!
This is the last trend to be released in 2019 after :
Dream in Colour.
Woodland Walk.
Merry and Bright.
I can't wait to see Tonic's colour trends for 2020! I'm sure next year Tonic will keep surprising us with stunning new colours.
As I really like to show you the products in action here I have a video with some tips, techniques and ideas for you…
I put together 2 projects and I tried to integrate on them as many products as possible.
Aqua flow card in  the video
Learn why Nuvo Black Shadow Hybrid ink is the right ink to stamp your images + waterbased products.
Easy truck to create a Nuvo Aqua Flow Background,  Sprayed with Mica Mist.
Tips to avoid the Mica bottle to get blocked.
Colouring with Nuvo Aqua Flow Pens – Discover the colours just released.
Have a look at the new embossing powders and tips.
Basic ideas to use embellishments.
Alcohol Markers Card in the video
Craft Perfect Smoooth White and Craft Perfect Smooth Textured cardstock
Learn why Nuvo Black Shadow Hybrid ink is the right ink to stamp your images + alcohol markers.
Basic Alcohol Markers Coloring explained.
Mixing media? yes you can do that. Yes, you can do that also on Craft Perfect Smooth Textured Cardstock.
New Nuvo Mousse colour and care tips to avoid the product to dry as a stone.
Stencils + simple embellishment idea with Nuvo Drops.
I hope you enjoy this video -post. I really hope to be able to give you an idea about new products available on the Tonic USA and Tonic Uk Shop.
Happy Crafting
Hugs
Bibi