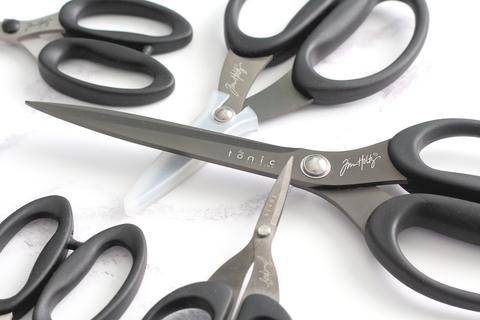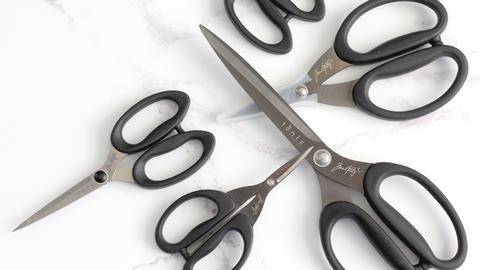 Hello there, Michelle Short here with an introduction to Tim Holtz Scissors.
These super sharp, titanium coated scissors are perfect for cutting a wide variety of materials.
Today I will be taking a look at both the micro-serrated scissors, as well as the haberdashery ones.
Both types of scissors are made from high carbon stainless steel which enables them to keep their sharp edge for a longer period of time.
The unique kushgrip handles mean that they will be comfortable to hold with whatever size hands you have.
They are designed by skilled engineers with over 20 years of experience in the cutting tool industry, which makes them the superior cutting choice for all your needs.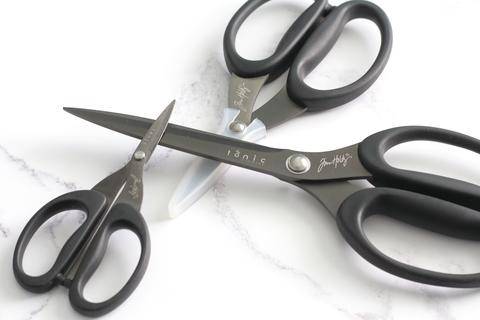 Available in three sizes
Available in both right and left-handed versions
Titanium coated blades
Resistant to rust and corrosion
Micro serrated edge for controlled cutting
Kushgrip handles for ultimate comfort and control
Safety blade covering
Cut a wide variety of materials including paper, cardstock, sheet rubber and vinyl
Available in two sizes
Work in both right and left hands
Packaged in unique patterned tin
Titanium coated blades
Resistant to rust and corrosion
Kushgrip handles for ultimate comfort and control
Thicker grade steel to assist with cutting a wide variety of thicknesses of fabric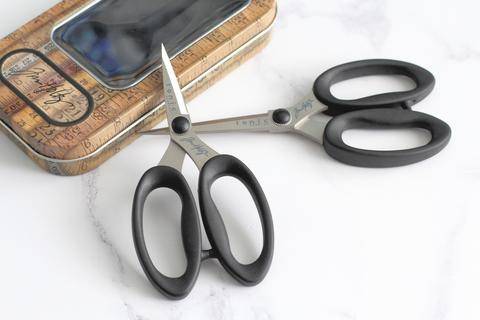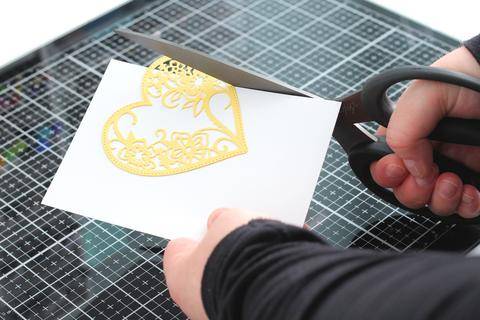 The scissors can be used to cut a wide variety of materials from cardstock to vinyl. I use them for all kinds of cutting uses around my house – when cutting wrapping paper, cutting packaging, cutting tags/labels out of clothes and I even have some in my kitchen for cutting food!
Their uses are really endless, but I particularly like using the large Titanium Shears (9.5"/24.3cm) in card making, when cutting elements that hang off the side of a card base.
The extra-long length of these helps to cut the elements in one swift cutting motion.
I especially like using the Mini Snips for fussy cutting out images.
When fussy cutting images, I like to make sure that I have the side of the scissors with the logo on, facing away from whatever I am cutting.
This means that the serrated edge will be on the opposite side of the cardstock that I am cutting and not on the side of the image.
Because of the small size of these scissors, they work perfectly for detailed and intricate cutting.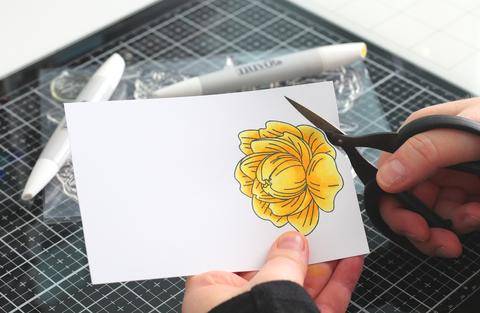 The haberdashery scissors work perfectly for cutting fabric.
They have a thicker grade steel than the micro-serrated scissors which means that they can cut thicker, heavier fabrics. In fact, when they are manufactured, the blades are tested to cut a wide variety of fabrics.
These scissors are very sharp and although they do not come with a protective cover for the blades, they do come packaged in beautiful patterned tins.
You can use haberdashery scissors for much more than fabric!
They can be used in a variety of ways, like the micro-serrated scissors but do keep note that over time, the blades can dull slightly when using different substrates and therefore, it is advised to keep a pair of scissors just for fabric use.
These scissors will last you a lifetime of cutting but there are some tips for keeping them sharp and to their full potential – keep blades free from adhesive and clean them after using anything sticky.
Make sure that they are dry before storing them away.
Although the scissors will cut a wide variety of materials, you do not want to be cutting anything that can exert an uneven amount of force, for example, wire ribbon.
The scissors will cut through it, but over time, the point of contact with the wire will become dull and dented. This will mean that they would no longer be good for cutting cardstock and paper.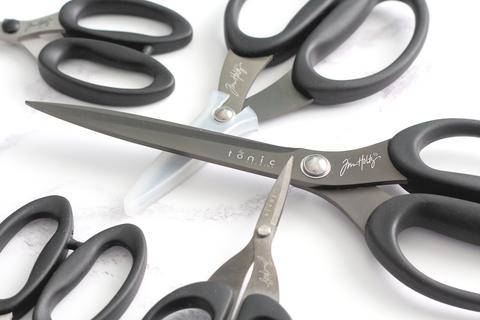 ---
I hope this information has helped you understand the Tim Holtz Scissors a little better.
Thank you so much for joining me today.
I hope you have a wonderful day!
Michelle