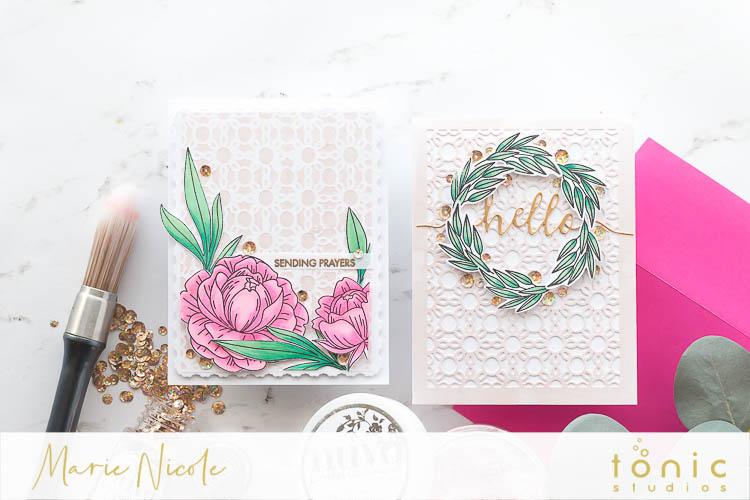 Hello friends! It's Marie here from Marie Nicole Designs! I'm a full-time mommy and avid papercrafter, and have been blogging and creating videos for several years now. Im so excited to be working with the Tonic USA team to teach a Christmas Album class coming up in September. If you haven't hear about this event CLICK HERE!
Today, I am sharing a fun and simple technique that allows you to use your dies as stencils… This gives you so much versatility as you can get two backgrounds from this one technique!
For the cards today, I used Classic Quatrefoil Backgroud die, Poppy Pink Embellishment Mousse, Esmeralda Green Glimmer Paste and Peony Bloom Stamp set from the latest Tonic Studios Stamping release.
As you can see, this technique will leave you with two backgrounds to create cards from.
You can also mix up the colors you choose, and then mediums you want to use.
If you want more glitter, use Nuvo Glimmer Pastes. For more of a subtle, metallic shine, use Nuvo Mousses.
You could even ink blend several colors together if you choose- the options are endless!
I'd also encourage you to go ahead and try different dies you have to apply this technique.
I used full patterned panel dies, but look through your die stash to see what other designs might make a creative design if used as a stencil.
Part of the fun of creating is just trying new things to see what happens!
HOW TO CREATE THESE CARDS
Start by die cutting your design.
Then, tape your die cut panel over another piece of white cardstock, just as you would a stencil.
Using your desired color of medium, apply over the die cut panel with either a brush or your Nuvo Spatulas.
 I found that a Stencil Brush worked well for the Mousse, and the Spatula worked better for the paste.
Once you have fully applied your medium over your stencil, you can carefully peel up your die-cut stencil while your medium is still wet.
Do not wait for your Mousse or Paste to dry, as it will stick and rip the paper when you try to remove your die-cut stencil.
Cut your stenciled panels down to your desired size! I used the frame included in the Patterned Panel dies for one of my backgrounds, and for my other background I just left a simple border that I trimmed straight with my trimmer.
Finish off your backgrounds by using stamps and embellishments! I used some of the new Garden Party stamp sets for my cards. I simply stamped the floral images, colored them in with Nuvo Alcohol Markers, and then fussy cut them out. I then arranged them and adhered them down using both Deluxe Adhesive and Craft Perfect Foam Squares.
Embellish with sequins or Nuvo Drops! I used Champagne Shine sequins on both cards, and I absolutely love that gold shine!
Thanks for stopping by the blog today! I hope this simple technique has left you with some fun inspiration to get you to pull out those dies and do some creative stenciling!
Until next time,
Marie Nicole
SUPPLIES