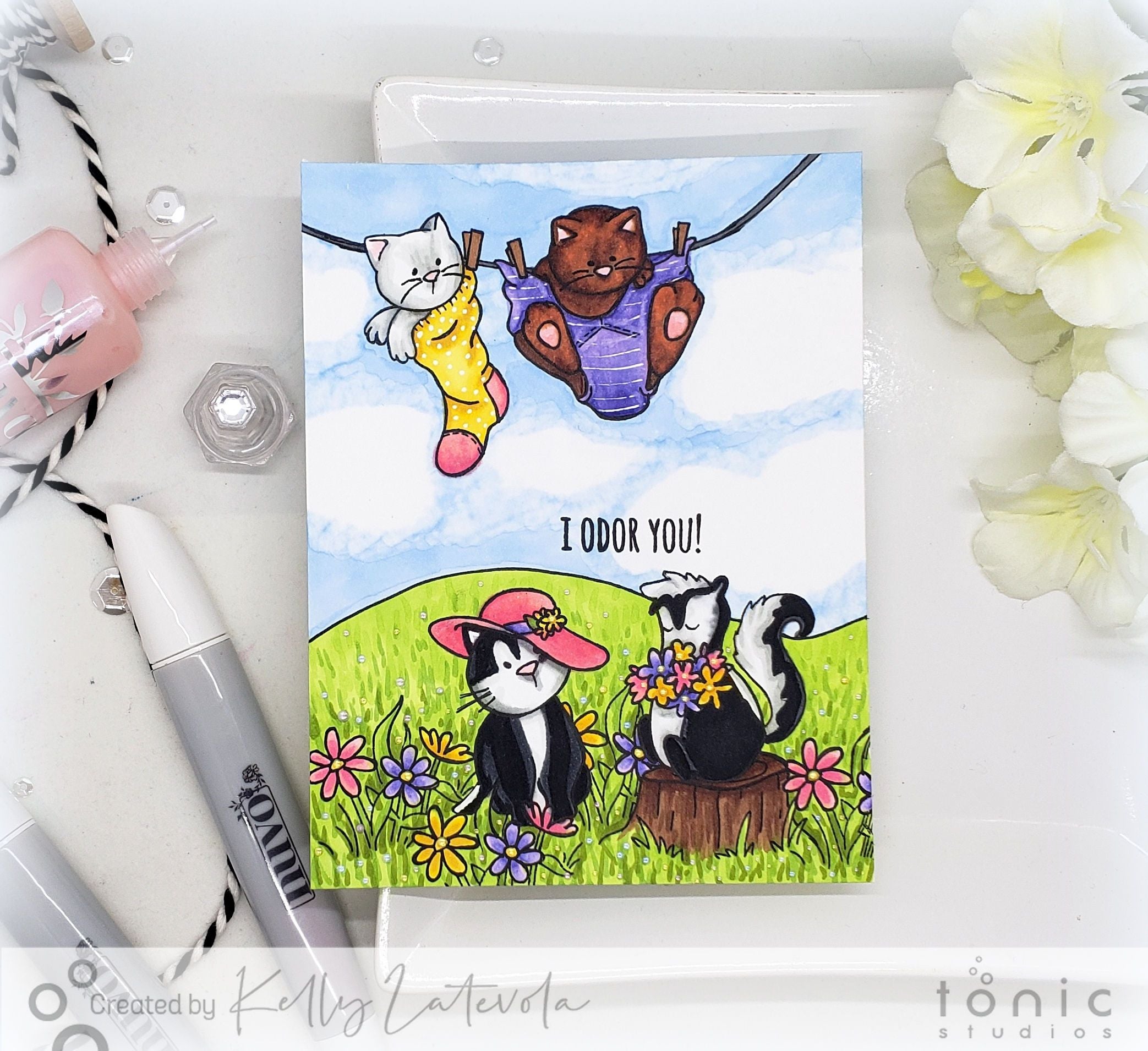 Hello Crafters!
It's Kelly here and today I'm popping in with my first ever card using our Adorables line! You know sweet critters and scenes are totally my jam so I was really excited to get started.
I combined the Scent Wiff Love and Kirby & Lulu's Wash Day stamp sets to create a fun one layer scene.
Do you recognize the story line? If not you probably didn't grow up in the 90's ha. I thought it would be fun to kind of re-create the old Looney Tunes cartoon Pepe Le Pew. If you're not familiar the story is Pepe, a skunk, falls in love with Penelope, a cat. She has the same markings as a skunk but Pepe doesn't care. The little guys watching from above just add to the whole "Um, buddy, that's a cat." feel I was going for!
I stamped and masked all my images working from front to back. If you're not familiar with one layer cards that might sound crazy. All it means is whatever you want in the front (flowers in front of the skunk) you stamp first and then place a mask over it to protect it. Whatever you want in the background (flowers behind the tree stump) you stamp very last. Once everything was stamped out I drew in a fee hand hill to complete my scene and got started on the coloring!
I like to start with my backgrounds when coloring a one layer scene as it really makes the card come to life. Fro there I can adjust colors or light sources as necessary. To create some fun whimsical clouds I first colored with a light blue and then went over where the white cloud met the blue sky using my blender marker. This lifts some of the color and gives a really cool texture.
Speaking of texture I used flicks of colors of the grassy area to create the feel of blades of grass. My flicks got smaller as they moved up and farther away. Since the view wouldn't be up close you would't see the same level of detail.
The rest of the images were colored up using neutrals, pinks, purples, and yellows. I wanted there to be lots of color but not so that it was so busy! Before I decided what colors to make my flowers I looked to see what color of drops I owned so they would match. Why would that matter you ask? I love adding dots of Nuvo drops over grassy areas to give the illusion of lots of tiny flowers!
You can check out the entire card from start to finish in the video below. Grab your coffee, it's a long one
Thank you guys so much for visiting with me today!
I hope you learned a little something that you would like to give a try!
XoXo
Kelly