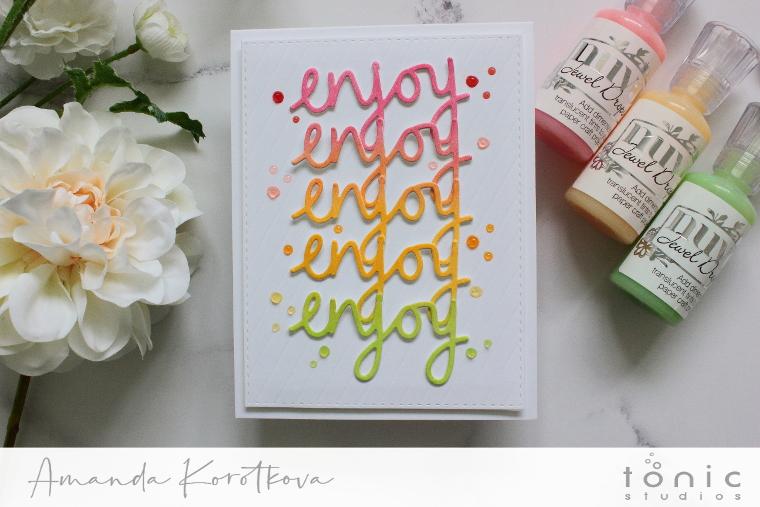 Hello everyone! Amanda here with my second post this month. Don't you think the team has been killing it? I'm amazed by all the beautiful creations everyone has been doing and so honoured and humbled to be part of this group of people!
Rainbows are one of my favourite things when it comes to colouring, for some reason it always works right? So when I saw the word dies that Tonic Studios carries I was pretty sure I wanted to do something like this.
This is one of those quick and easy cards that you can make in less than an hour. Here is how I made it:
Ink up a piece of Ultra Smooth White Cardstock in rainbow order (you don't need to use the whole rainbow though, in this case I used Panama Rose, Rubber Duck and Lime Burst Hybrid inks).
Die cut the word die "Enjoy" (or any other you like) using each colour on the panel and also the transitions.
Add some dimension to the dies by die cutting a few more of them and stacking them together.
Score lines along with your base panel with a scoring tool and cut it to have a border around the final card.
Glue your coloured die cuts in rainbow order to the base panel.
Add Jewel Drops for some interest (I used Key Lime, Limoncello, Orange Marmalade, Rose Water and Strawberry Coulis).
I'm not sure I explained myself very well, so just in case there is a video where you can see exactly how I did it.