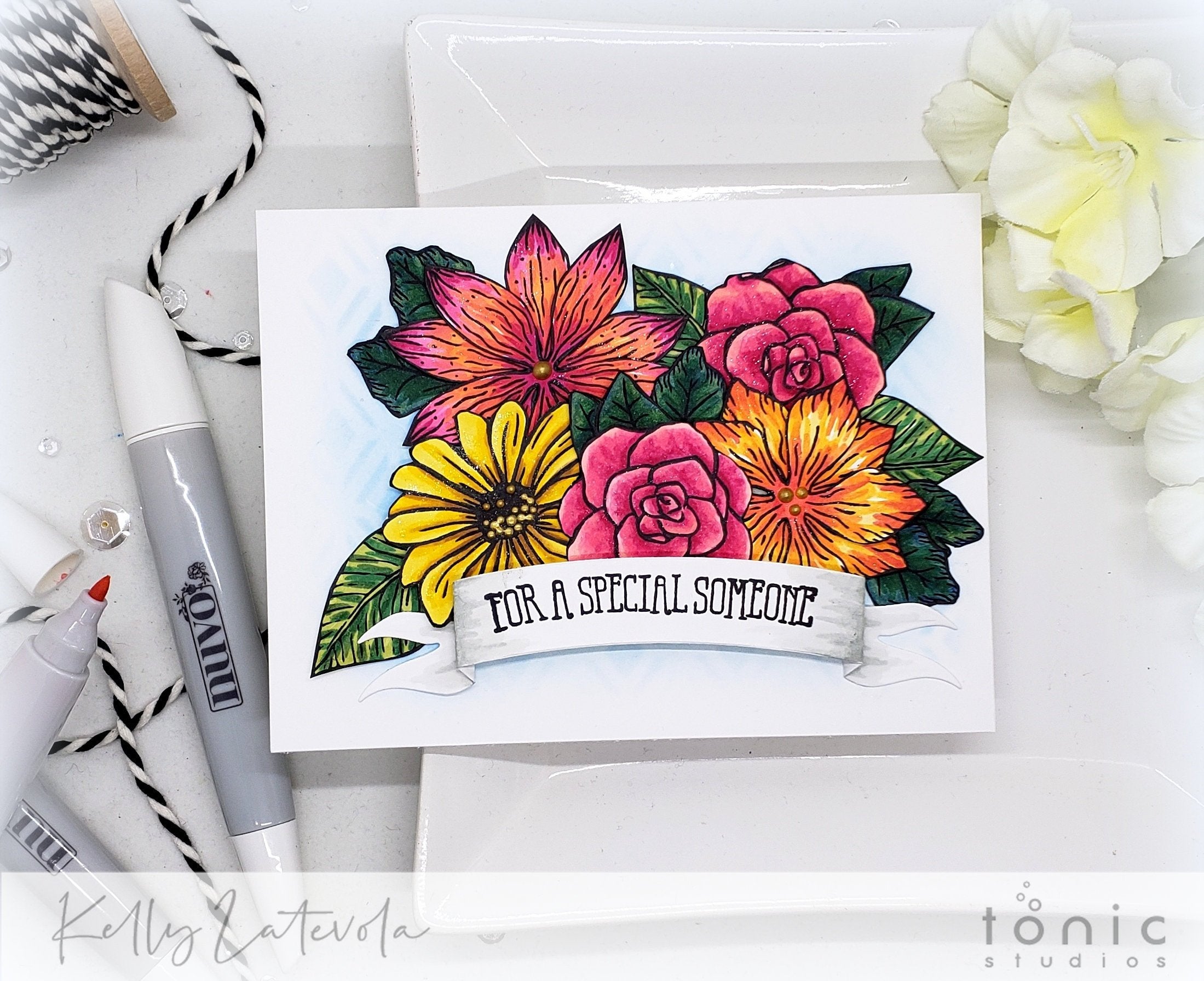 Hello Crafters!
I'm so happy to be here with my first post for Tonic! For those of you who don't know me flowers are kind of my thing. I absolutely love nothing more than to sit down and color up some gorgeous florals. It made the decision for my first card pretty easy
I started by stamping out all my flowers and leaves and getting my color palette together. I have swatched all my sets of Nuvo Markers so it's easy to pick and choose which colors will go together. I decided I wanted to go with analogous colors with a complimentary split. Anagolous is just a fancy way of saying colors that are next to each other on the color wheel. Pink, Red, Orange, Yellow. The split comes in by choosing the complimentary color of one of them. For this card I chose blue as my background which is the compliment to orange. I know it's hard to see it but I swear to you the background ink blending is blue ha!
Once all the coloring was done I outlined everything with a journaling pen. This isn't a necessary step by any means but I like a really bold black outline. I fussy cut all my images out then used a waterbased black marker to go around the edges. This is an easy trick to smooth out any rough edges you may have from fussy cutting the images. Once I die cut my banner and stamped my sentiment all that was left to do after that was assemble the card.
You can watch the entire card from start to finish in the video below.
Full disclosure two of the products I used weren't available in the store. I apologize as I know how frustrating that can be. In order to make it up to you I linked similar products in the supplies list below.
Thank you guys so much for stopping by!
I can't wait to share something new with you next month