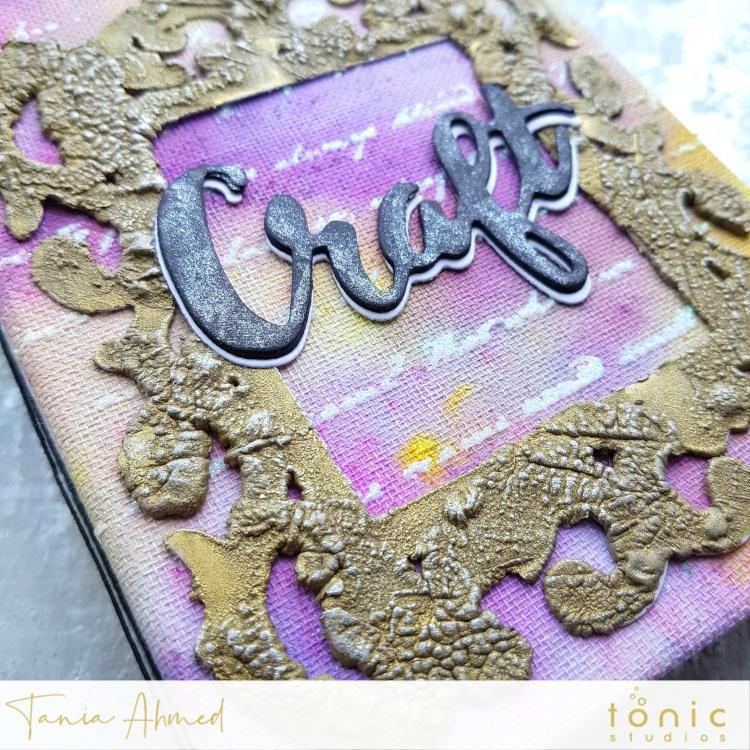 Hi there, This is Tania Ahmed.  I am a UK-based craft content creator and workshop tutor! My style is eclectic and I am known to make anything from mixed media projects to clean and simple cards should the mood strike me. I love bright colours, technique-based projects, videos and I am often covered in glitter, glue and paint.
I enjoy mixed media techniques so I was delighted to try out Tonic Studio's vast array of mediums and dies to create my little mixed media mini art journal. I created very colourful pages for the inside using Shimmer Powders and I had  ton of fun using the Nuvo Expanding Mousse on the die cut frame piece that I used on the cover! I made a video on how I created this mini journal and I hope you enjoy watching!
Here is a  step by step instructions on how I made the journal:
Randomly apply Moonstone Glimmer Paste through Distress Text stencil with palette knife and dry with heat tool.

Mist canvas sheet liberally with water and sprinkle Nuvo Shimmer Powders to the sheet. The Glimmer Paste will "resist" the shimmer. Activate with most water if needed

Dry or lift some of the ink with kitchen towel to lighten the colour.

Once dry, adhere greyboard cover pieces to bac of canvas

Snip off corners of canvas to allow easy folding. Attach flaps of canvas to greyboard with strong double-sided tape.

Create colourful pages for the inside of your journal with copy paper and Shimmer Powders. They will have a gorgeous texture when they dry!

Use one of the sheets over the inner cover to give a finished effect.

Trim sheets down to size (5.25" x 8") and fold in half to create three signatures.

Poke holes evenly into signatures and mini journal spine.

Attach the signatures to the spine with twine or bookbinding thread and needle.

Diecut largest from from Cassandra's Ventana Media Die Set and cover with Tuscan Gold Expanding Mousse and heat set.

Lightly highlight the texture with Expanding Mousse in Worn Linen. Attach to cover.

Diecut a sentiment from Eat Sleep Repeat Media Set and add to cover of the mini journal.

Add Aqua Shimmer Pen in Glitter Gloss to diecut sentiment.
Thanks for stopping by
Happy crafting
Tania
SUPPLIES LIST UK SHOP – WORLDWIDE DELIVERY
Additional materials:
Canvas Sheet (6" x 12")
Craft Mat
Die Cutting Machine
Glue
Strong double sided tape
Twine
Copier Paper
Palette Knife
Greyboard (two pieces 4.25" x 5.5" and one 1.5" x 5.5")