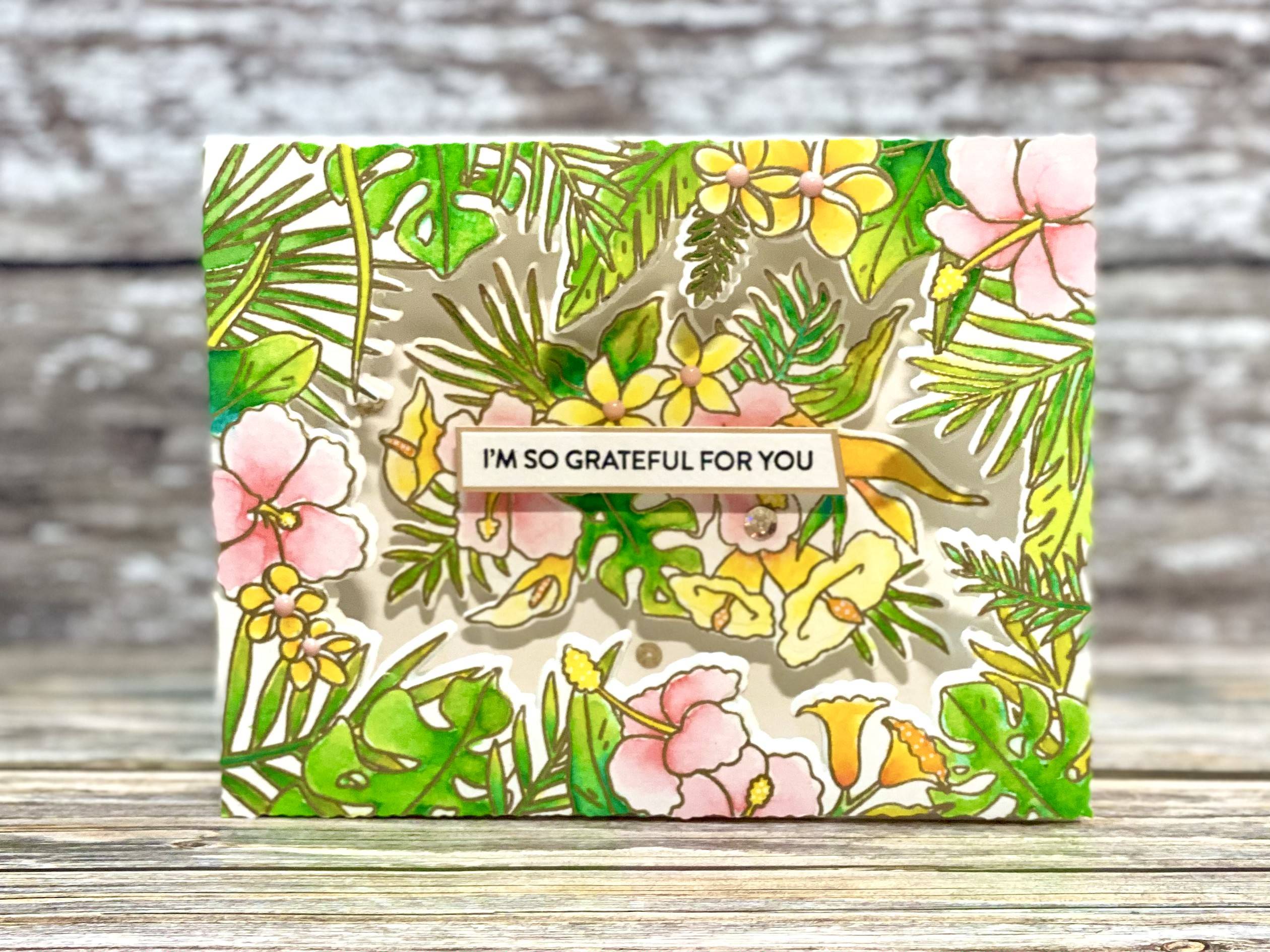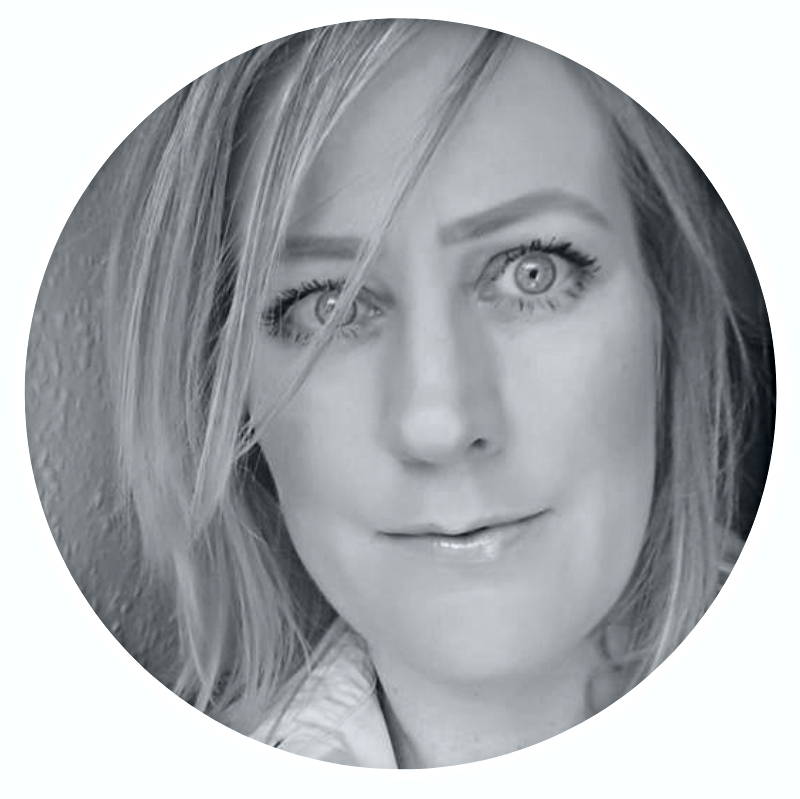 Hi there! I'm Jen Kray and today is all about the NEW Stamp Club release – Happy Hibiscus! This set is packed full of stamps and coordinating dies, both 6 inches by 8 inches. This is the first month where die cut sentiments are included and they're stunning. The stamps are tropical themed and centre around the beautiful foliage and Hibiscus flowers. There are so many ways to use this set to make clean and simple card, framed stamped images, and so much more. I particularly love the stamp sentiments this month, they're meaningful and add so much value to personal cards, especially during these uncertain times. I'll be taking you through a step-by-step tutorial for beginner's on how to use your Aqua Flow Pens to watercolour the beautiful images provided. I really hope you love this month's Stamp Club as much as I do. Please leave me a comment if you've enjoyed this tutorial.
Tangerine die cutting machine
Tim Holtz Stamp Platform
Tim Holtz Glass Mat
Trimmer/Deckle Trimmer
Craft Perfect Gold Honey Satin Mirror Card
Scoreboard/Bone Folder
Aqua Flow Pens – Pink Lemonade, Lemon Zest, Mango Mimosa, Sliced Kiwi, Evergreen Fern, Pressed Olive, Empress Teal
Paint Brushes No2,3 round or small ones.
Clean water
Watercolour Card 300gsm
Nuvo Hybrid ink – Black Shadow/Clear Mark Embossing Pad, and Gold Embossing Powder
Anti-static bag
Removeable Tape
Adhesive -wet, red liner/tissue tape, foam pads
Champagne Shine Sequins / Bubblegum Blush Nuvo Drops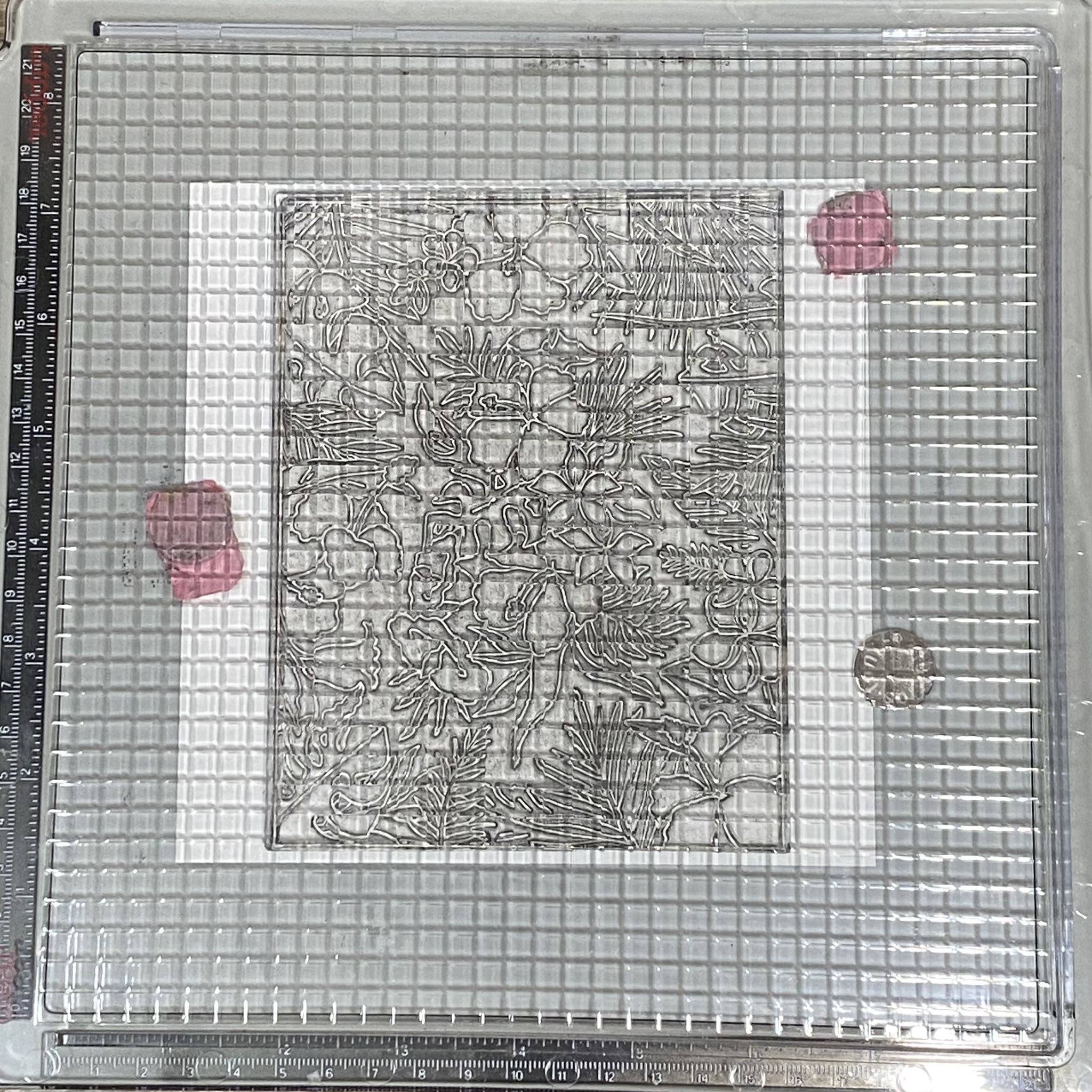 Place the largest stamp onto your stamp platform. Use an anti-static bag over your watercolour card, then add Nuvo Clear Mark and stamp the image.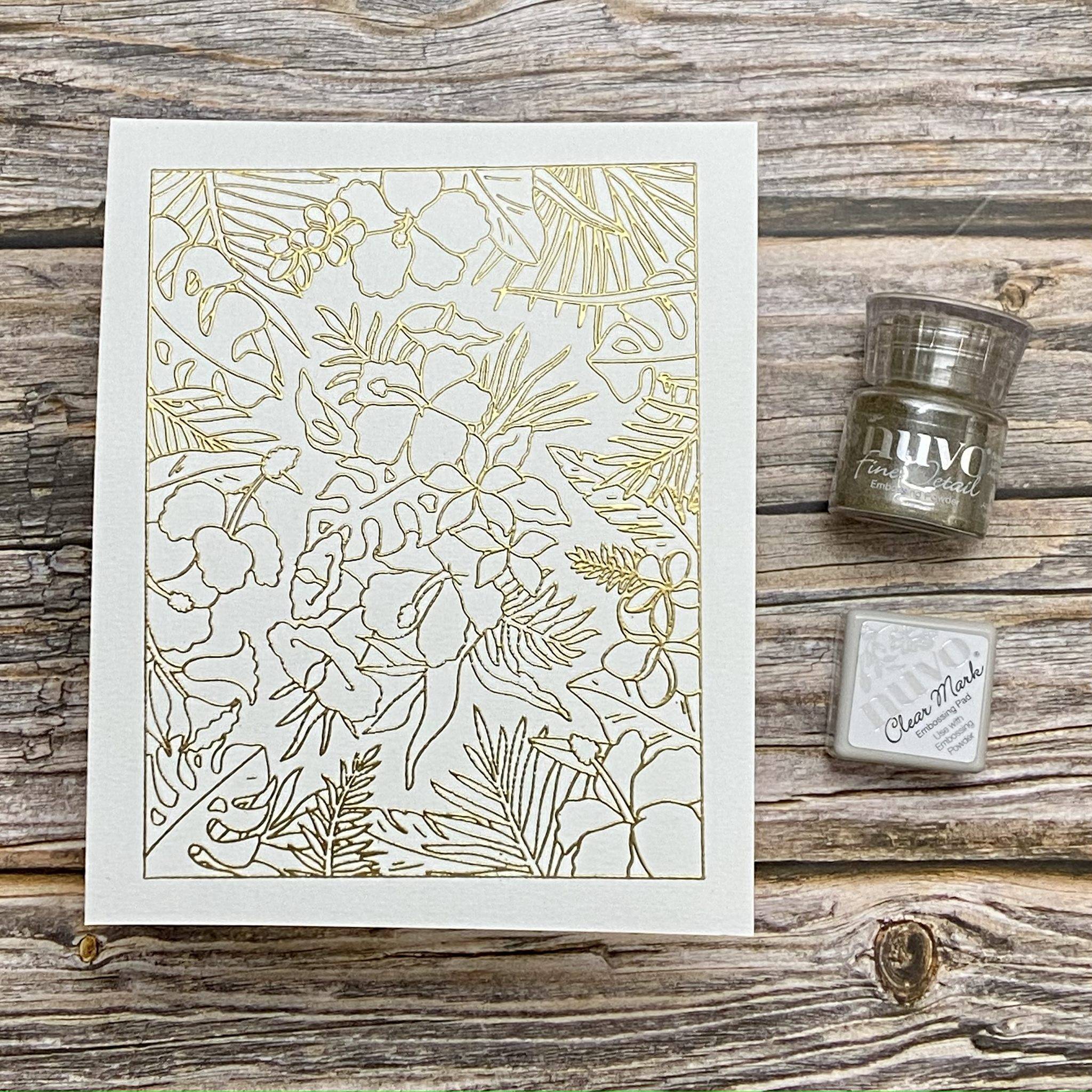 Add Nuvo Gold Embossing Powder to your stamped image, remove excess and heat set.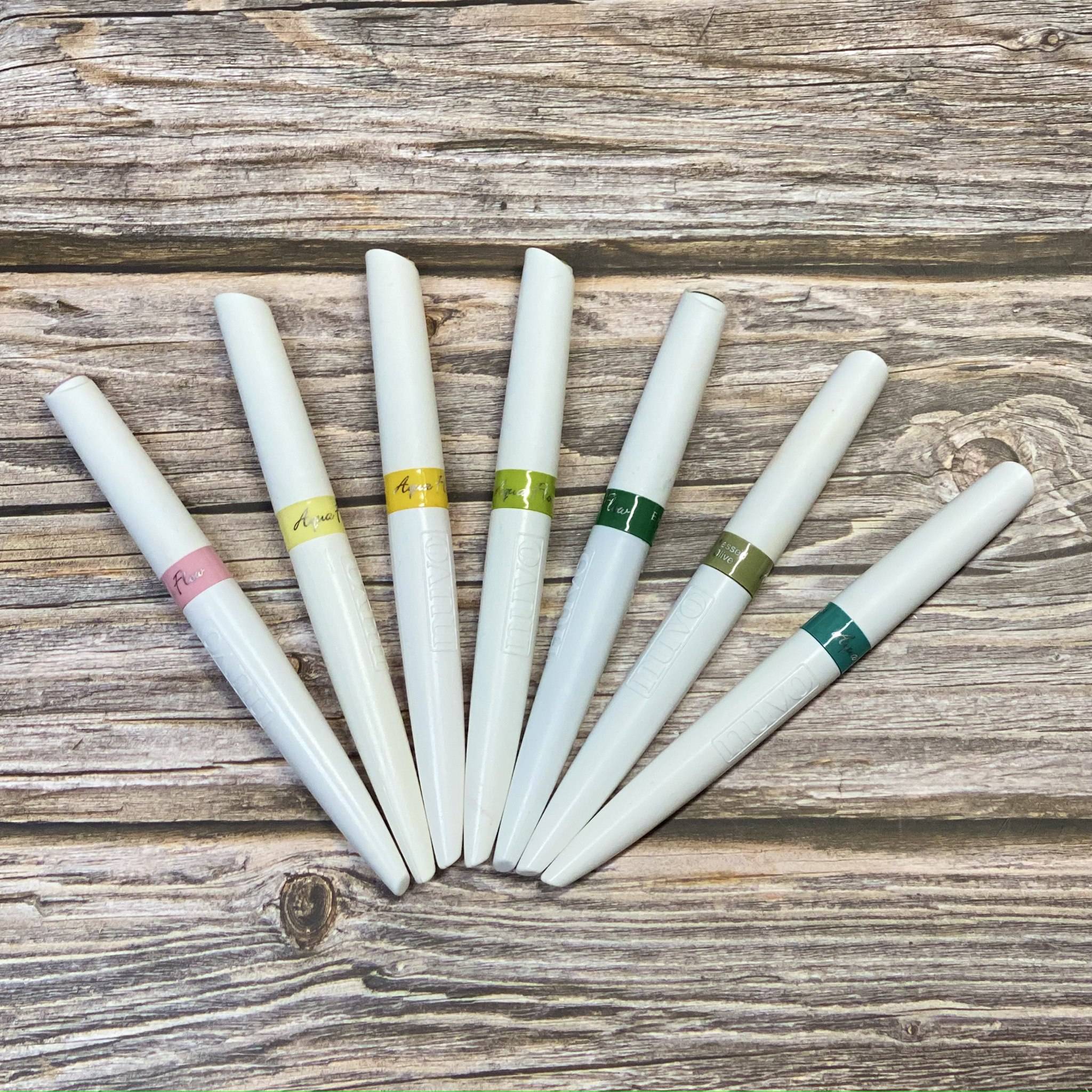 Select the following Aqua Flow Pens - Pink Lemonade, Lemon Zest, Mango Mimosa, Sliced Kiwi, Evergreen Fern, Pressed Olive, Empress Teal.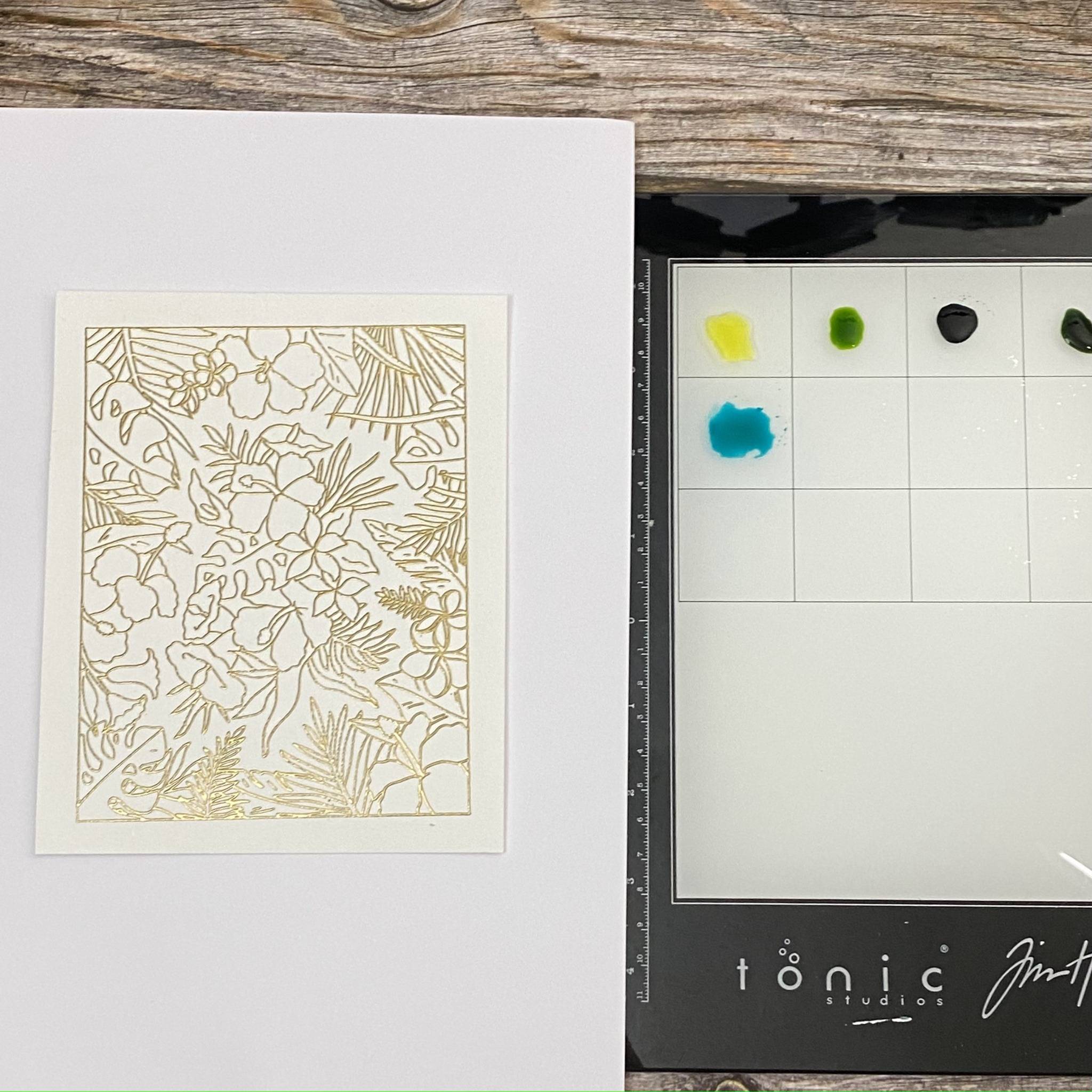 Squeeze out your greens and teal onto the glass mat and use with a paintbrush.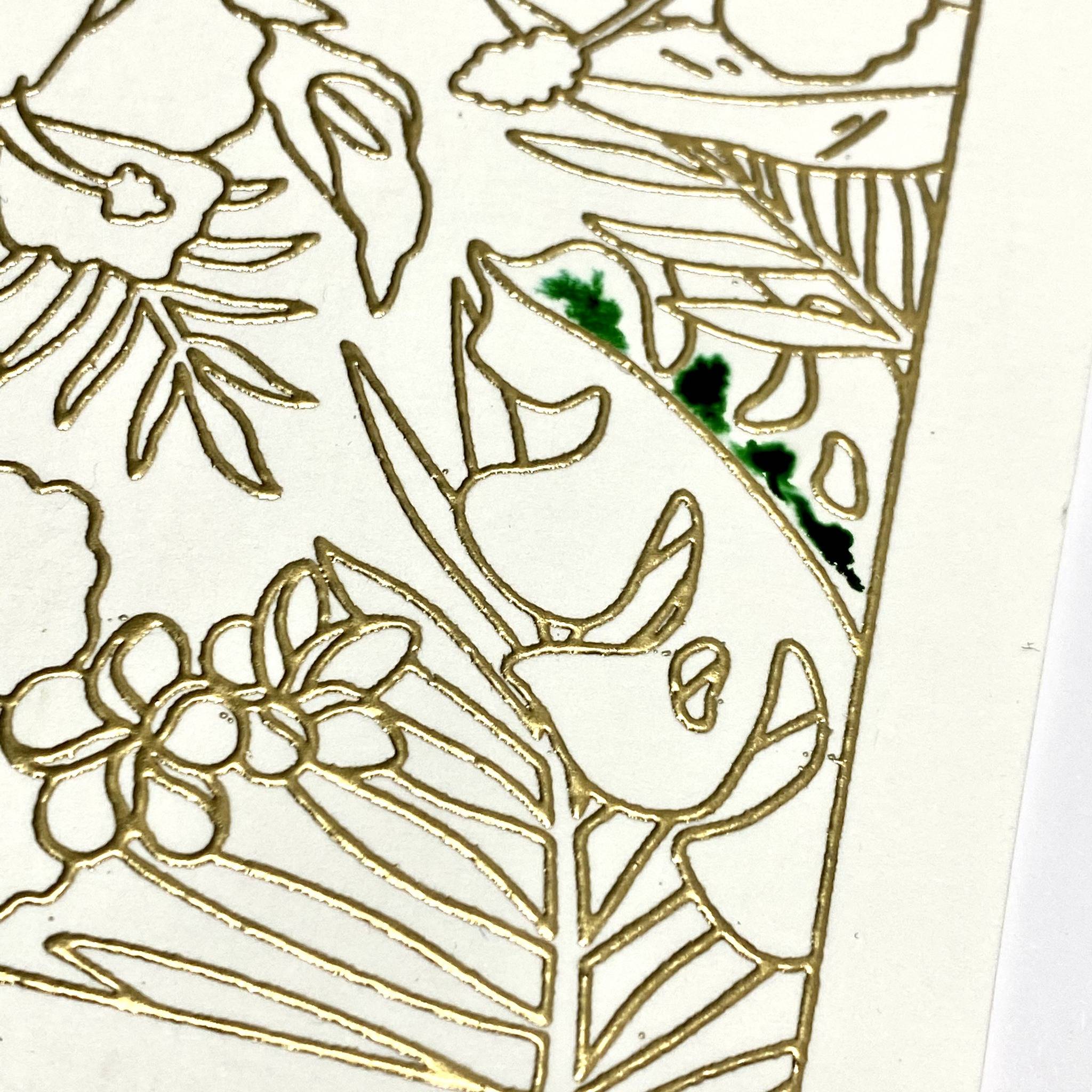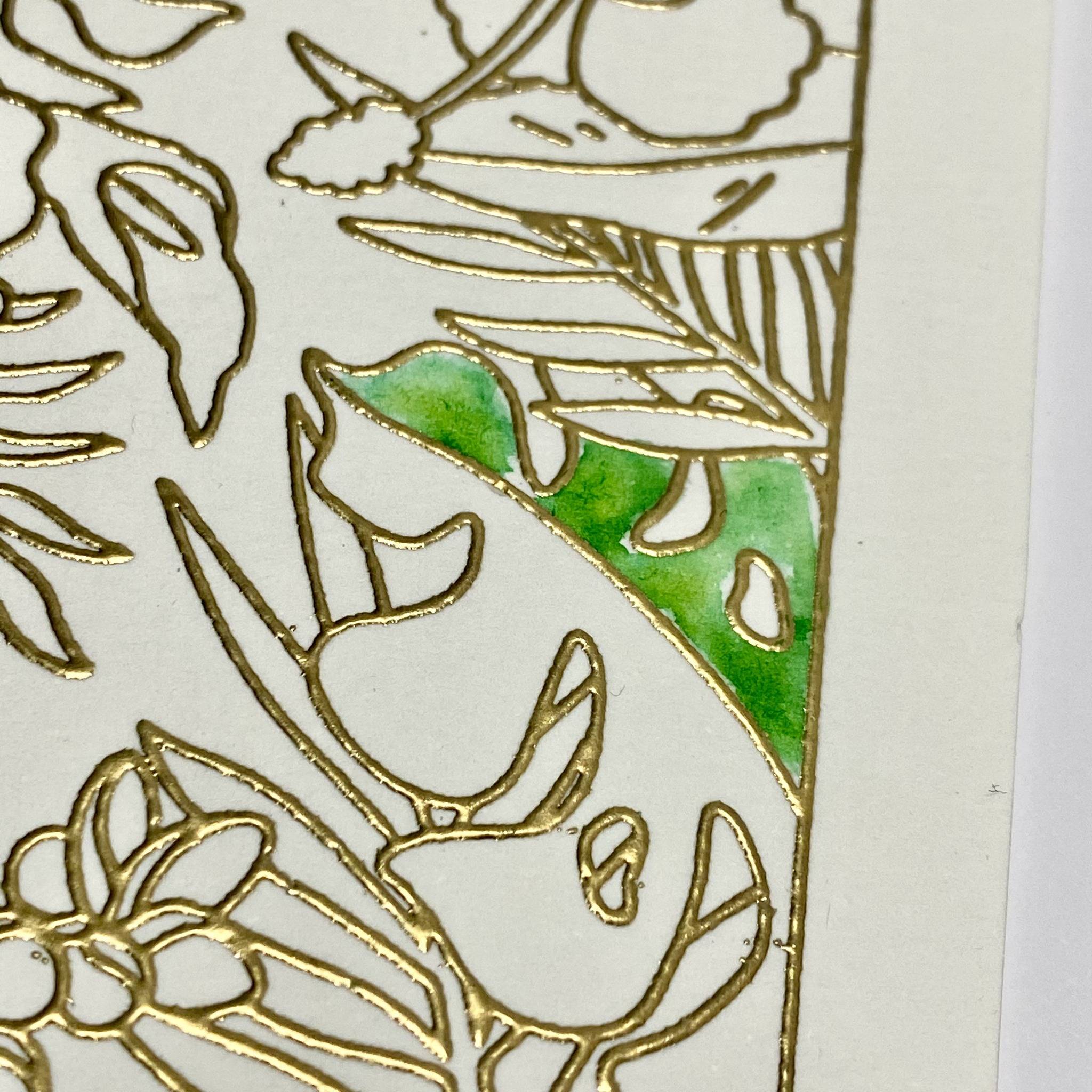 Start with the largest design leaf and add a small amount of Evergreen Fern, blend out with a clean wet watercolour brush. I've used No.2 and 3 round brushes. Repeat on all similar leaves.
Move on to your next leaf this time going in with more colour of Evergreen Fern for a darker finish.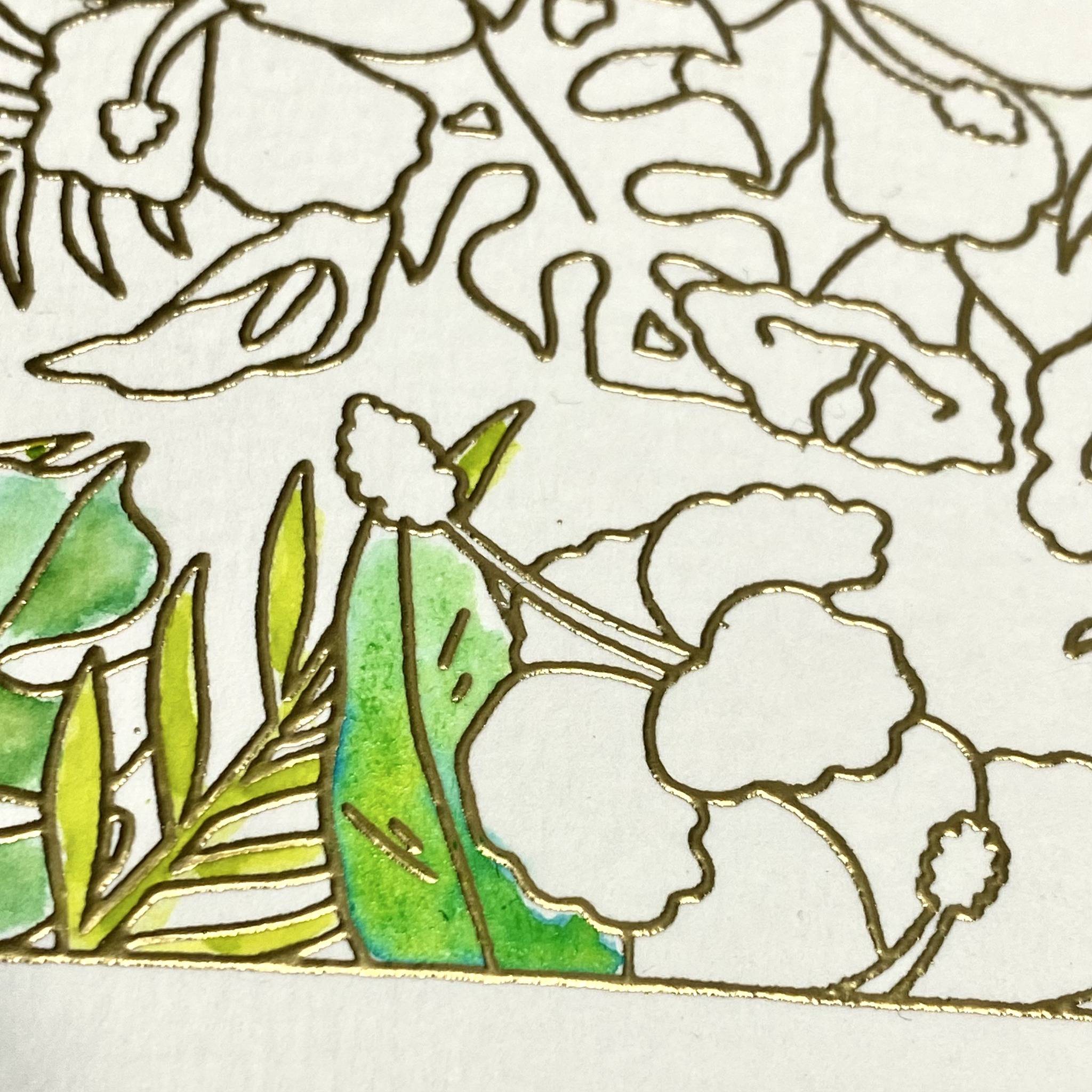 Add Sliced Kiwi to the leaf on the left (and all subsequent similar leaves).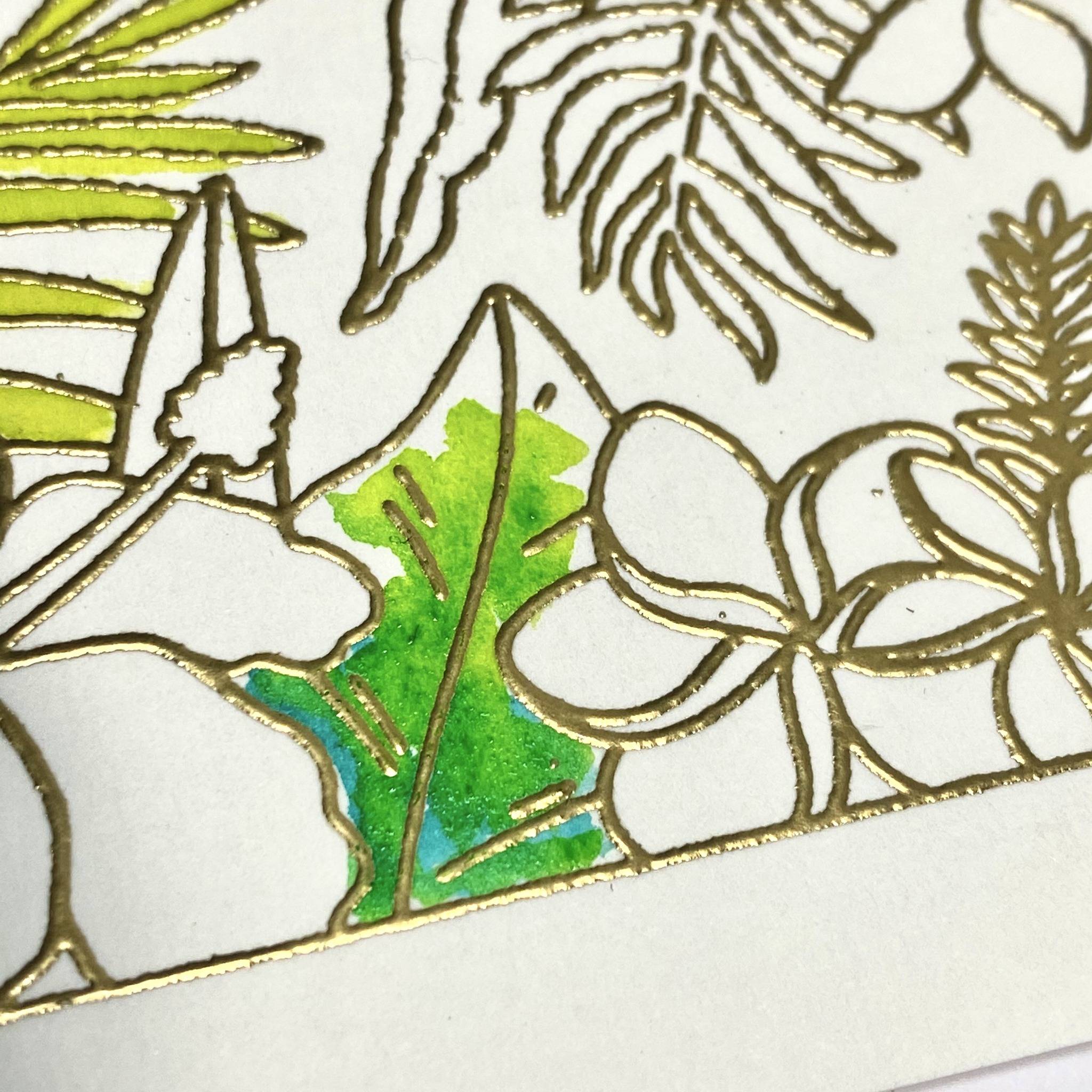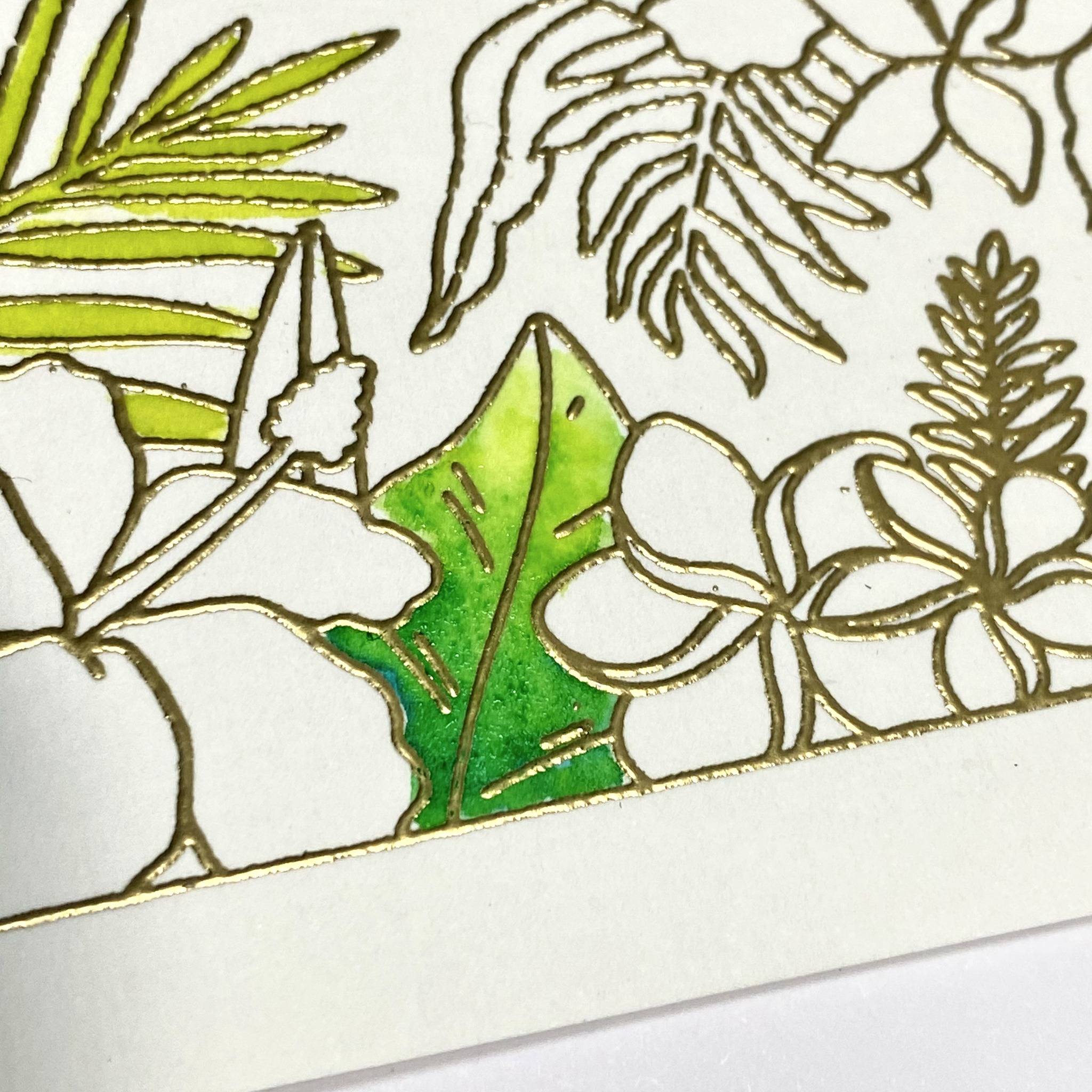 Add Empress Teal to the base of your next leaf. The teal will give a more intense colour. Add Evergreen Fern and Sliced Kiwi and blend out.
For a more intense colour, add more teal to the base of the leaf.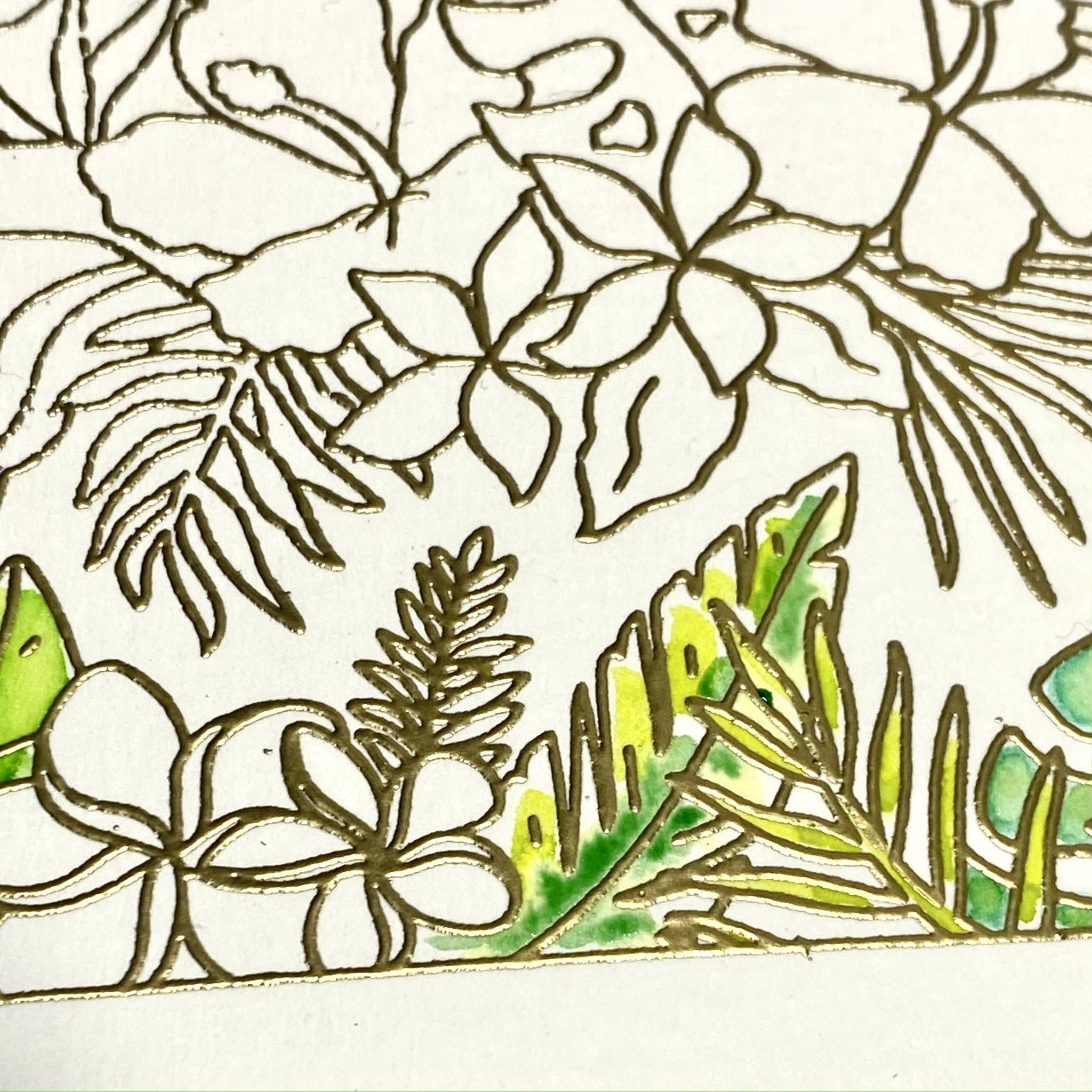 Add Sliced Kiwi to the top of your leaf and Evergreen Fern to the centre and bottom.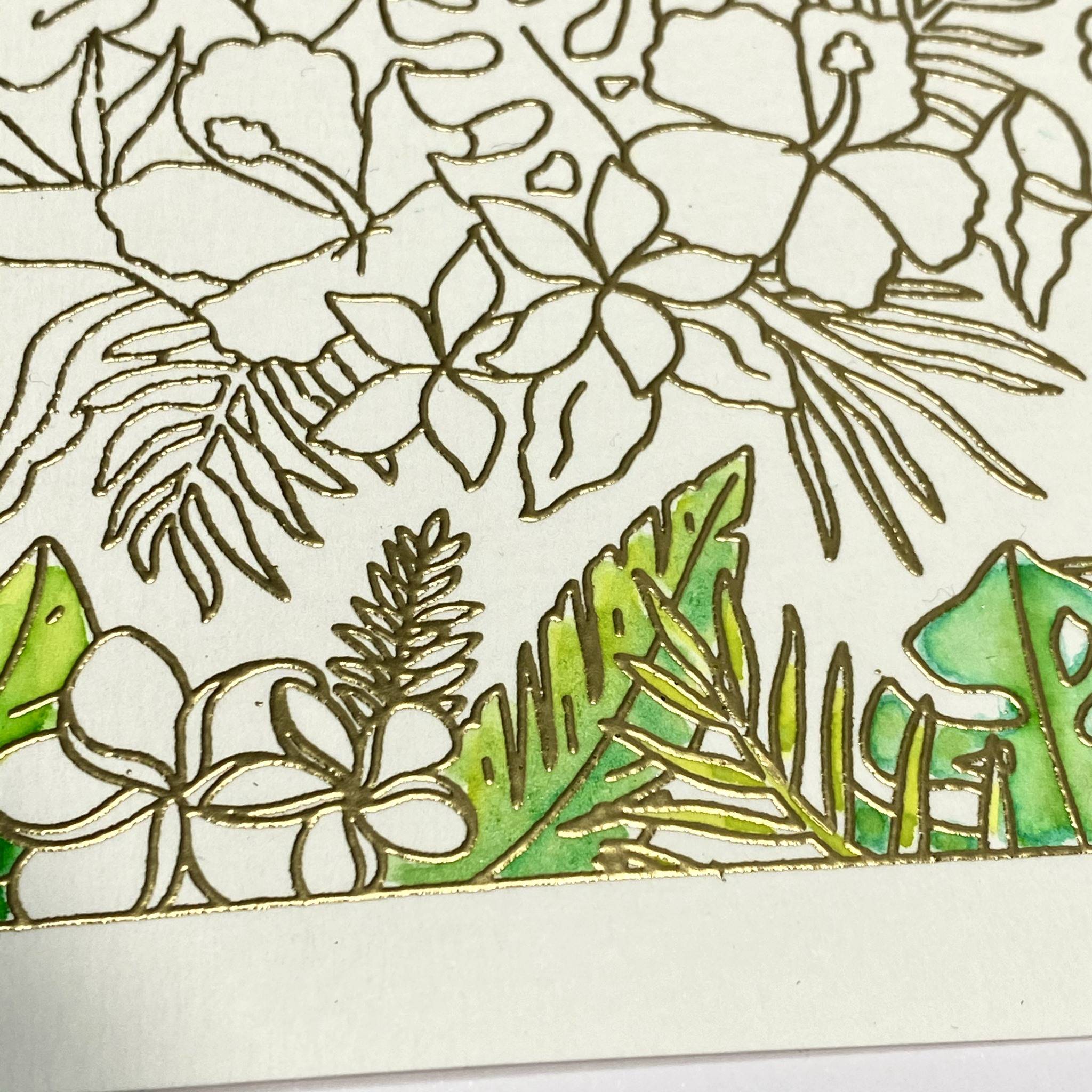 Blend out for a smooth finish and allow all your leaves to dry.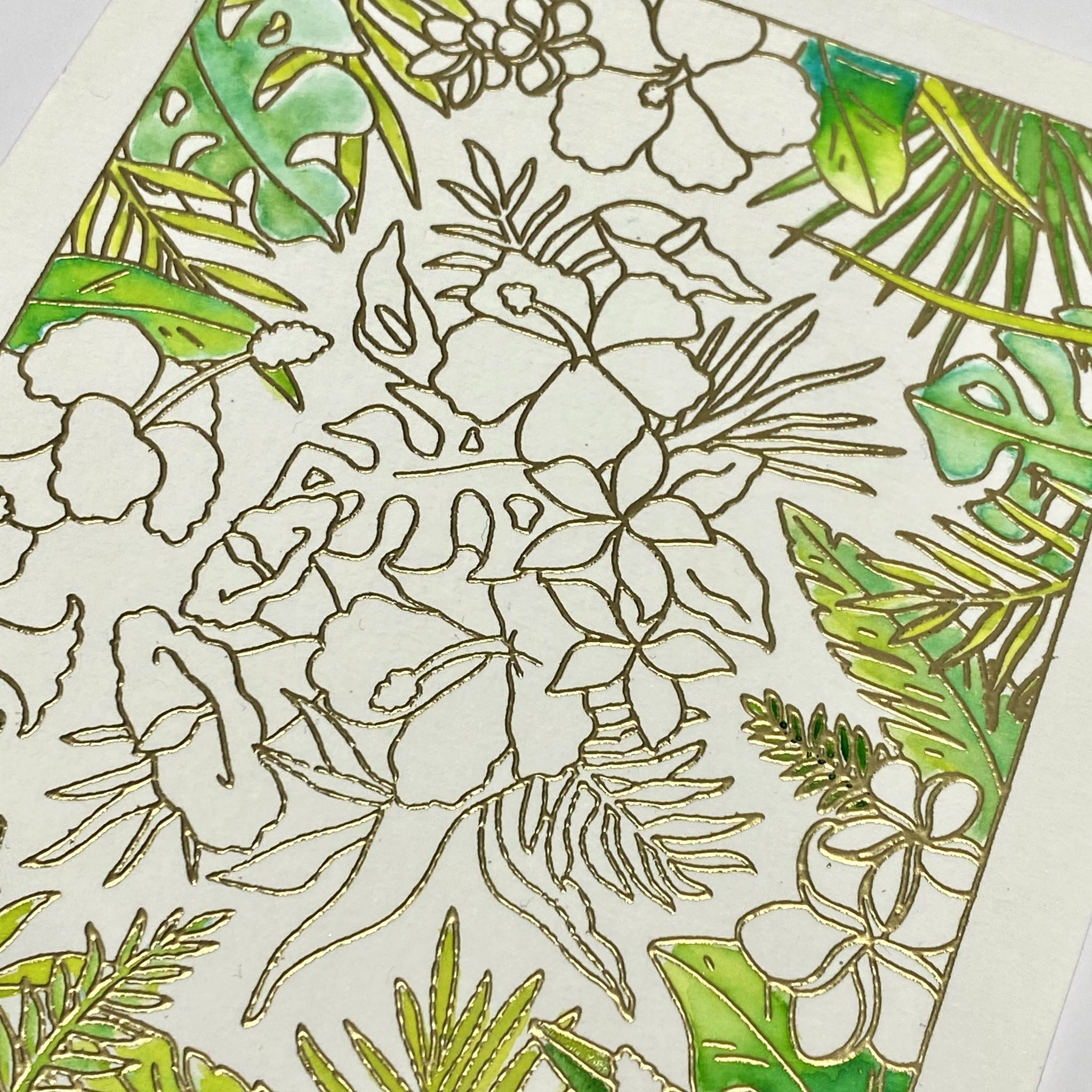 Once dry, add more colour for depth or to tidy up your image. Experiment with these colours, you'll be surprised at how many different combinations you can make. This really helps to distinguish all the foliage in this large, stamped image.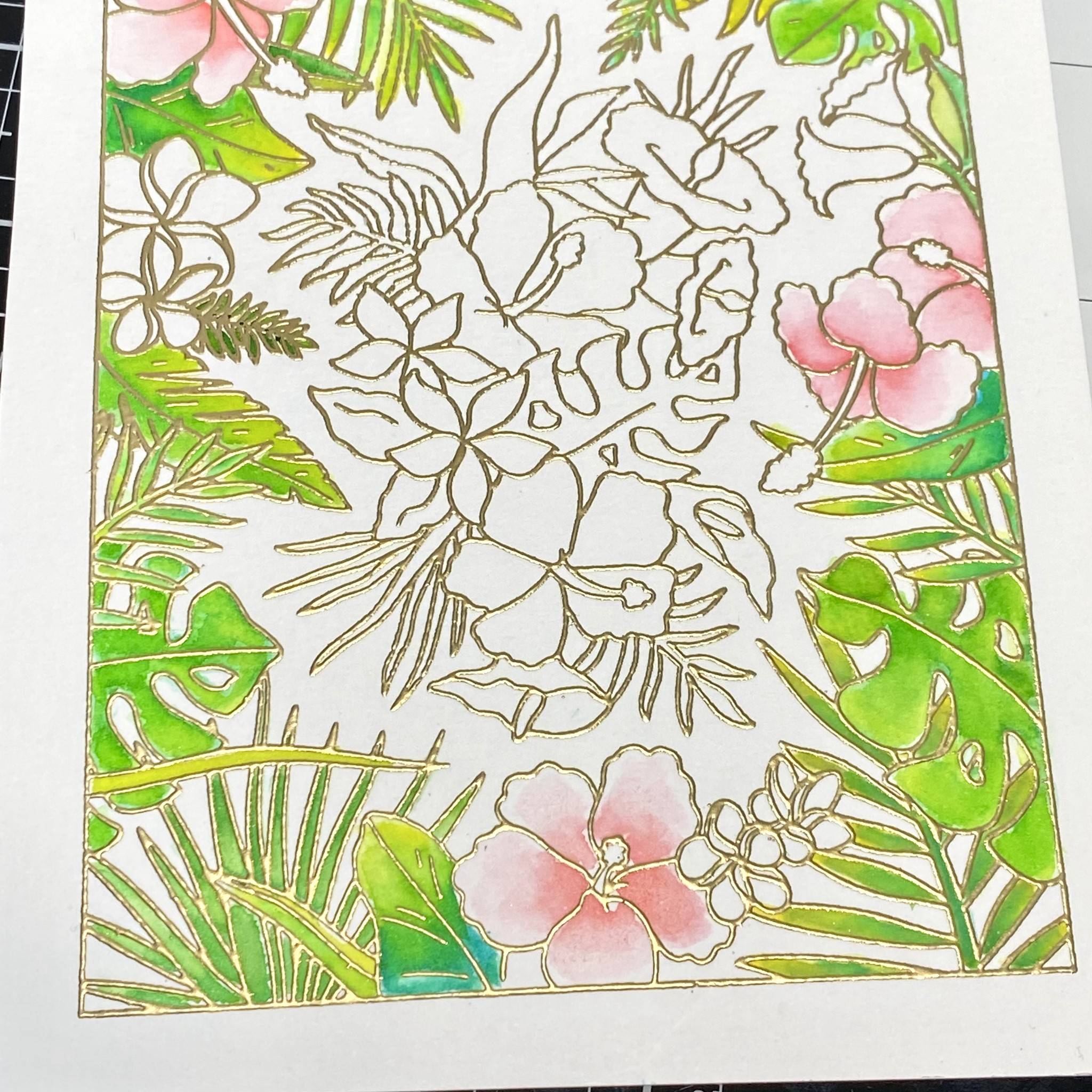 Add Pink Lemonade to all the Hibiscus flowers.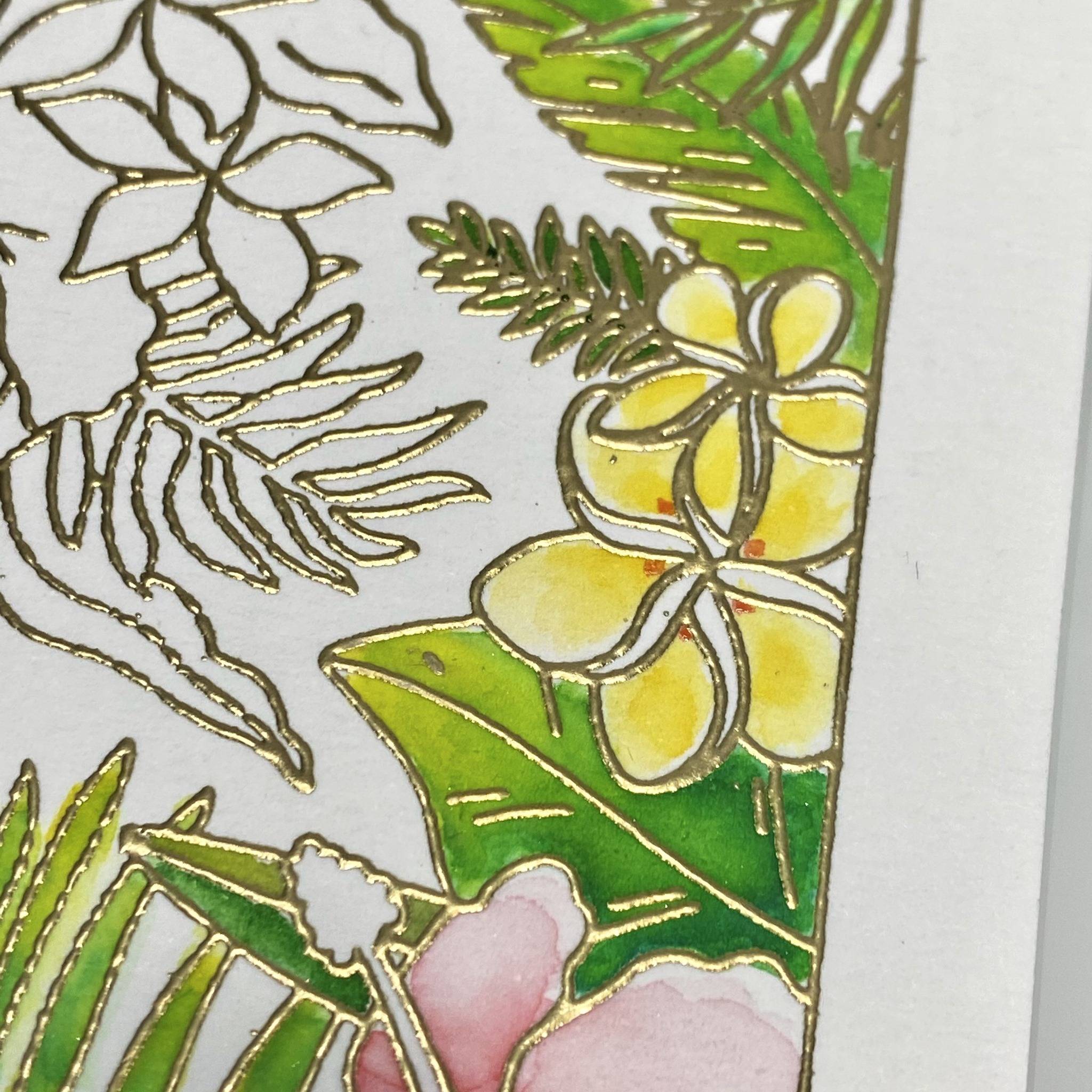 Add Lemon Zest to the smaller florals, then add a little Mango Mimosa for vibrance and once dry add a dot of Pink Lemonade to create a vibrant orange hue. Blend out.
Repeat the technique on the bell-shaped flowers.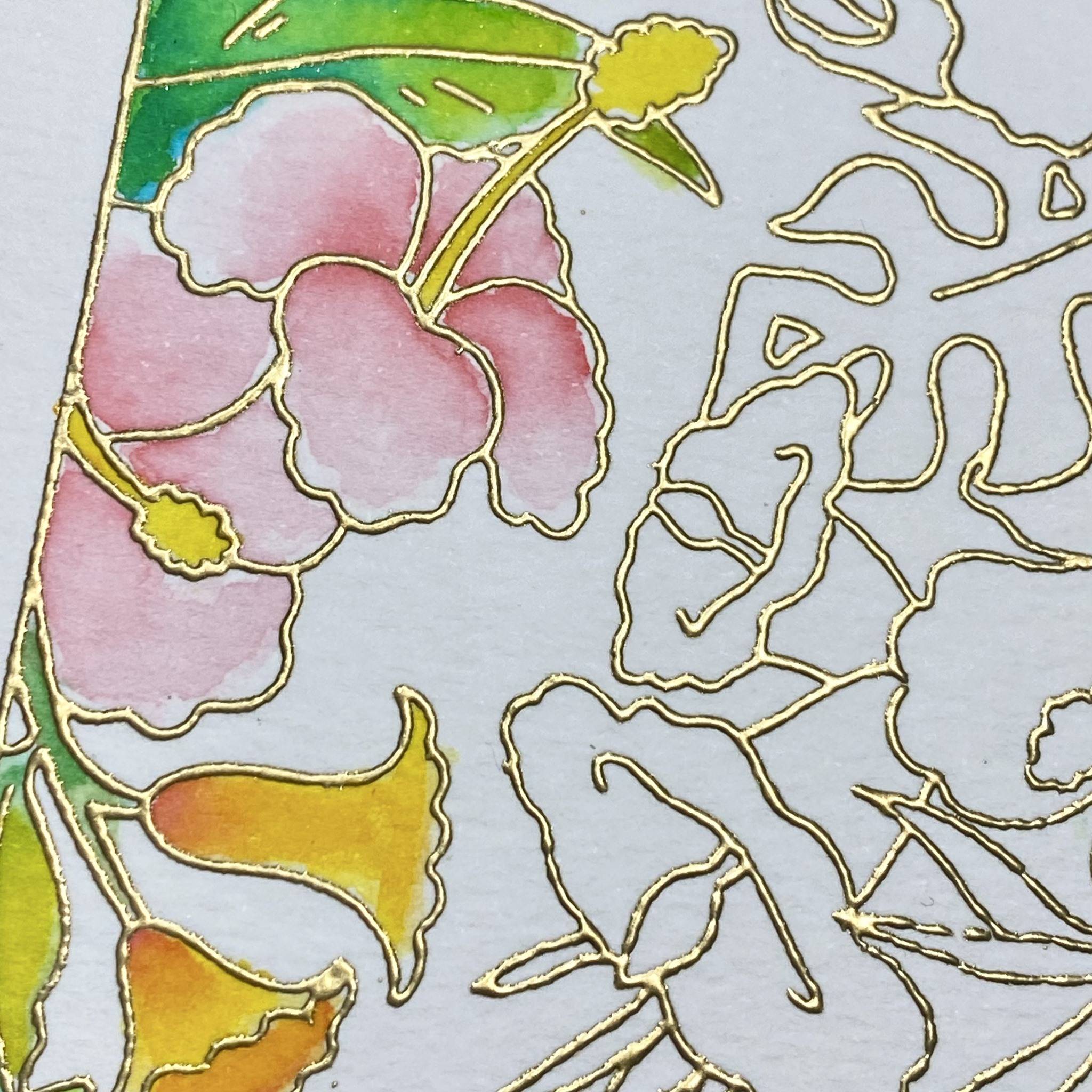 Add Mango Mimosa to the stamen and your coloured panel is complete.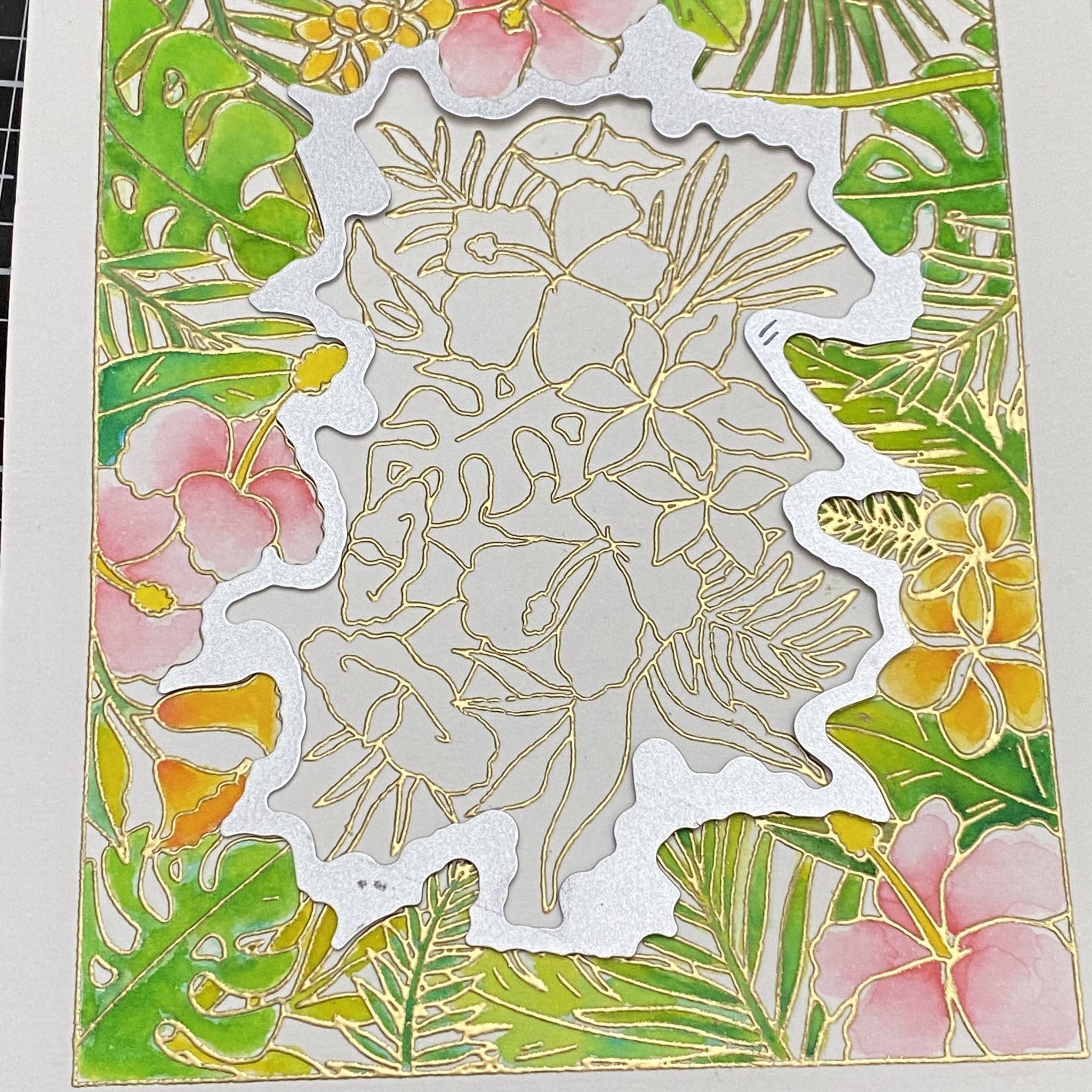 Die cut your centre floral image using the largest of the two dies. This will give you a clean frame.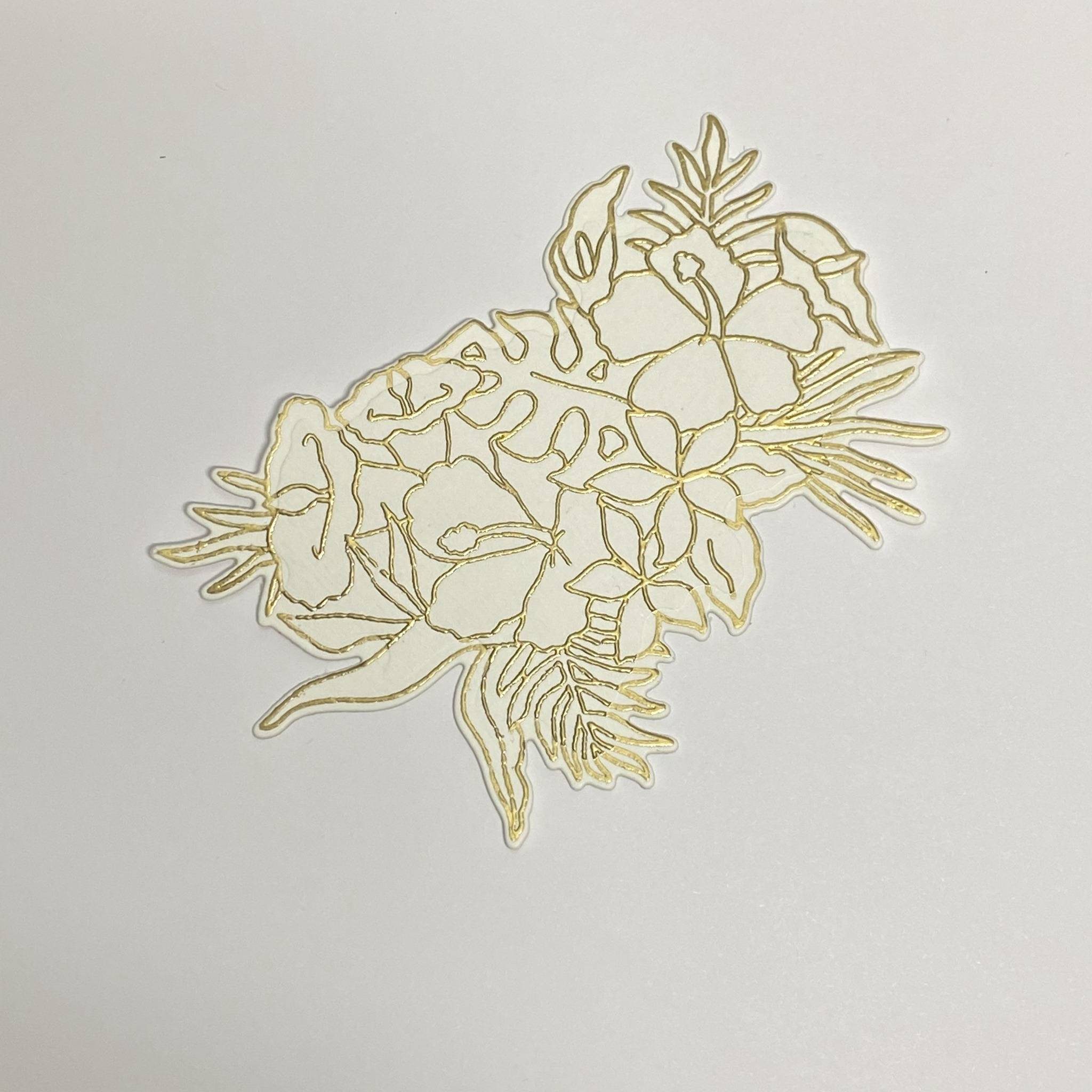 Using the smaller of the two dies, cut out your small floral centrepiece.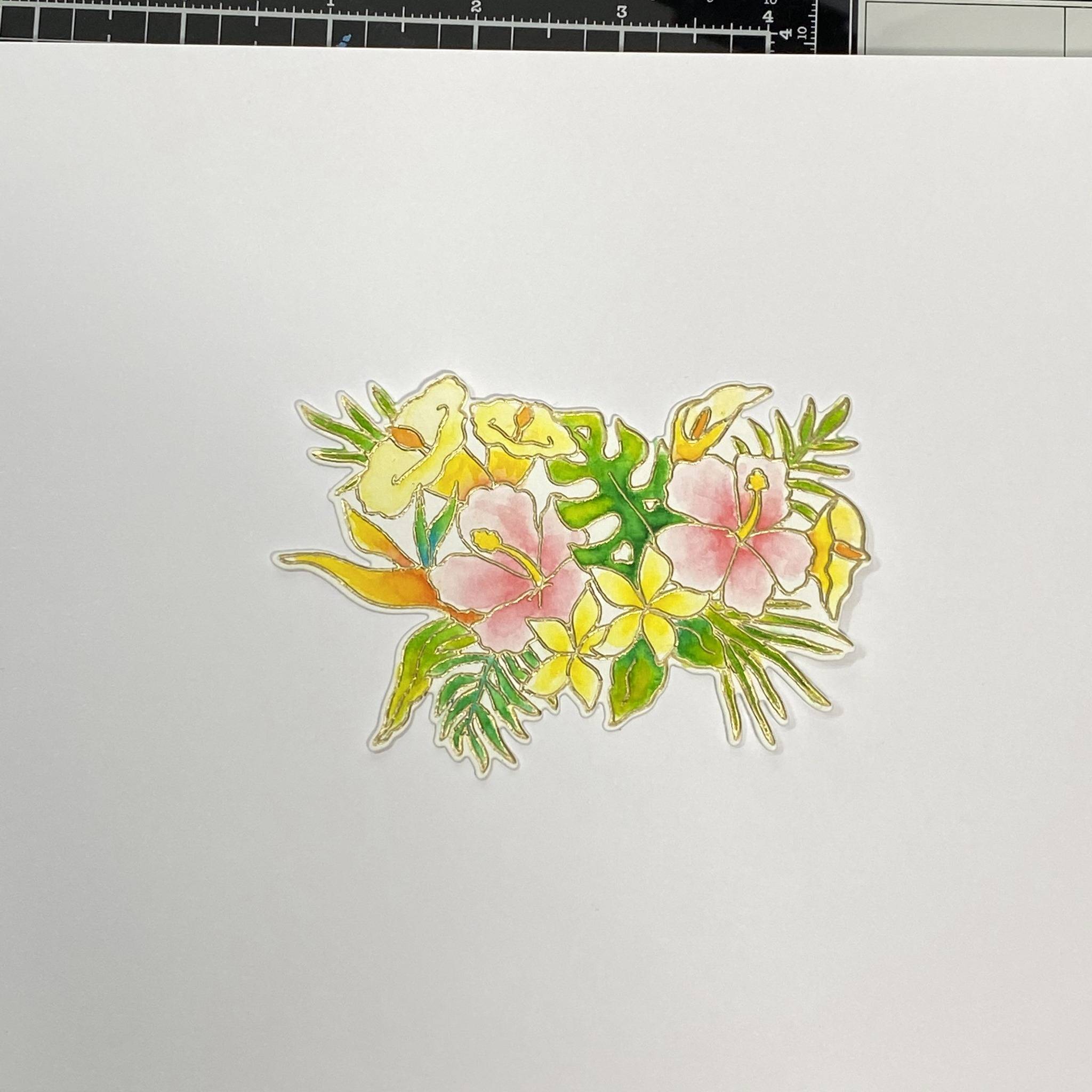 Colour in with the same Aqua Flow colours as the above frame.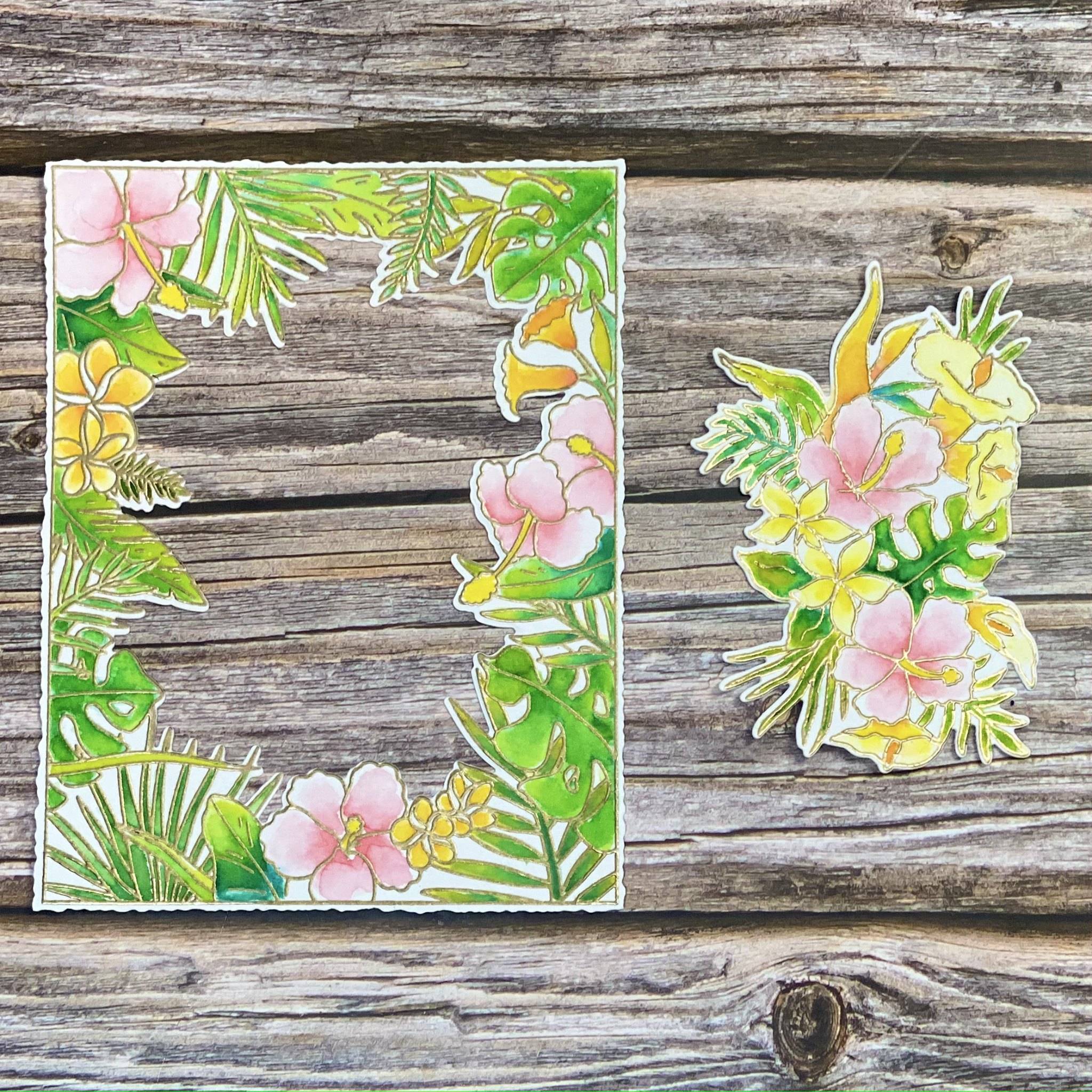 You will now have two beautiful watercolour pieces.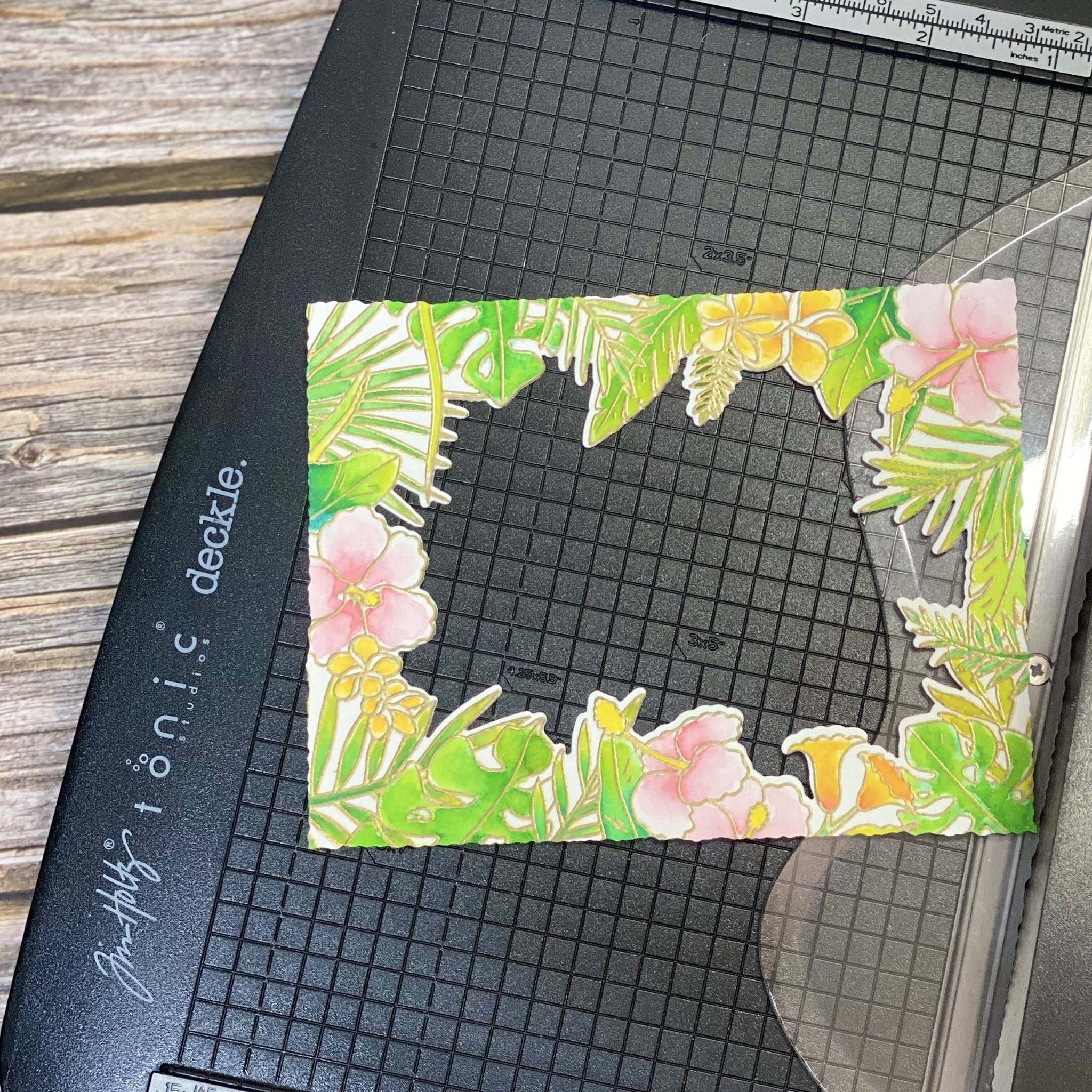 Trim the frame down to 5.5 inches by 4.25 inches with the Tim Holtz Deckle Trimmer and set aside.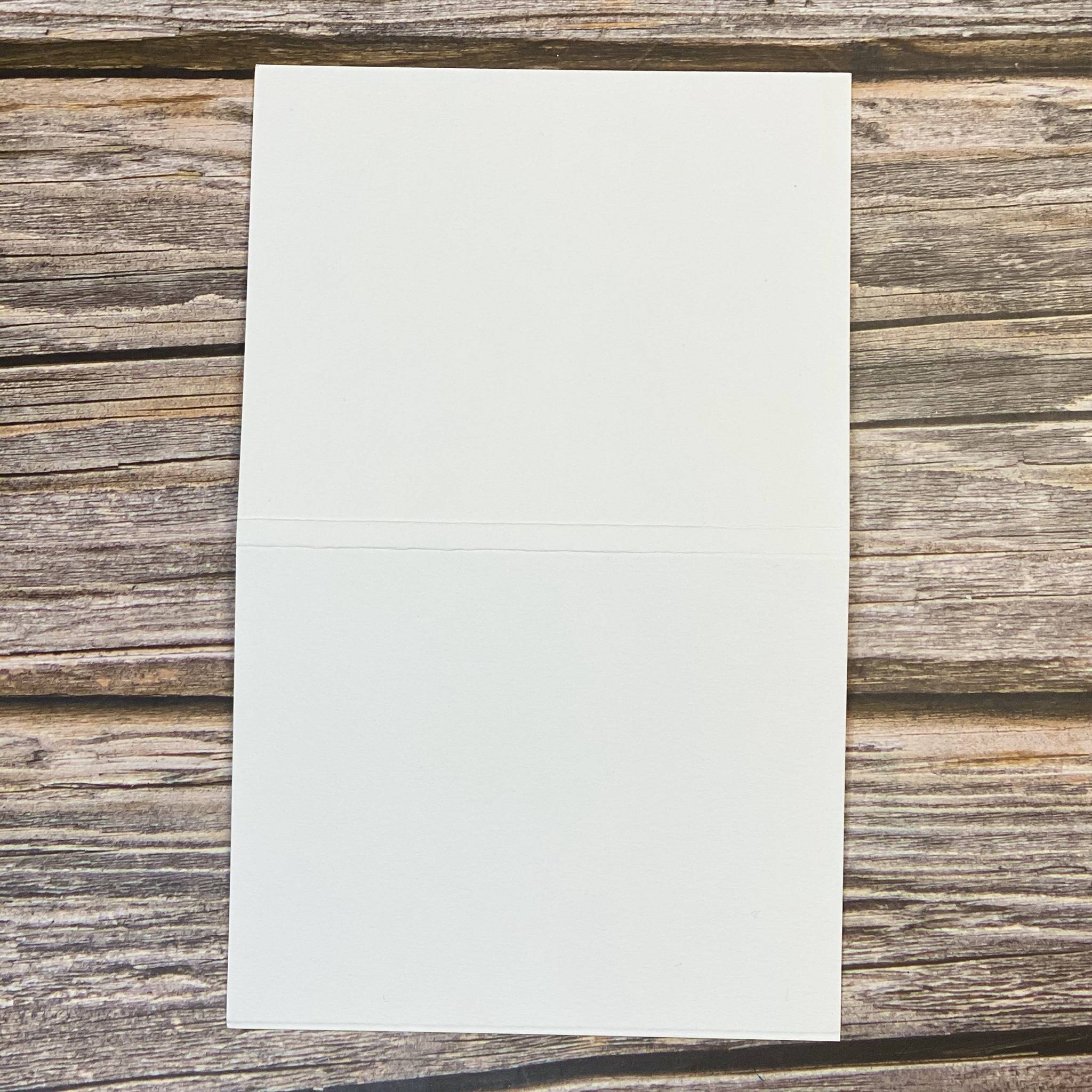 You can use a normal A2 card blank (5.5 inches by 4.25 inches) or you can make once with .25-inch depth. To do this, cut a piece of 300gsm card 5.5 inches by 8.75 inches. Score on the long side at 4.25 inches, and 4.50 inches. This will also give you're an A2 size card but with added depth.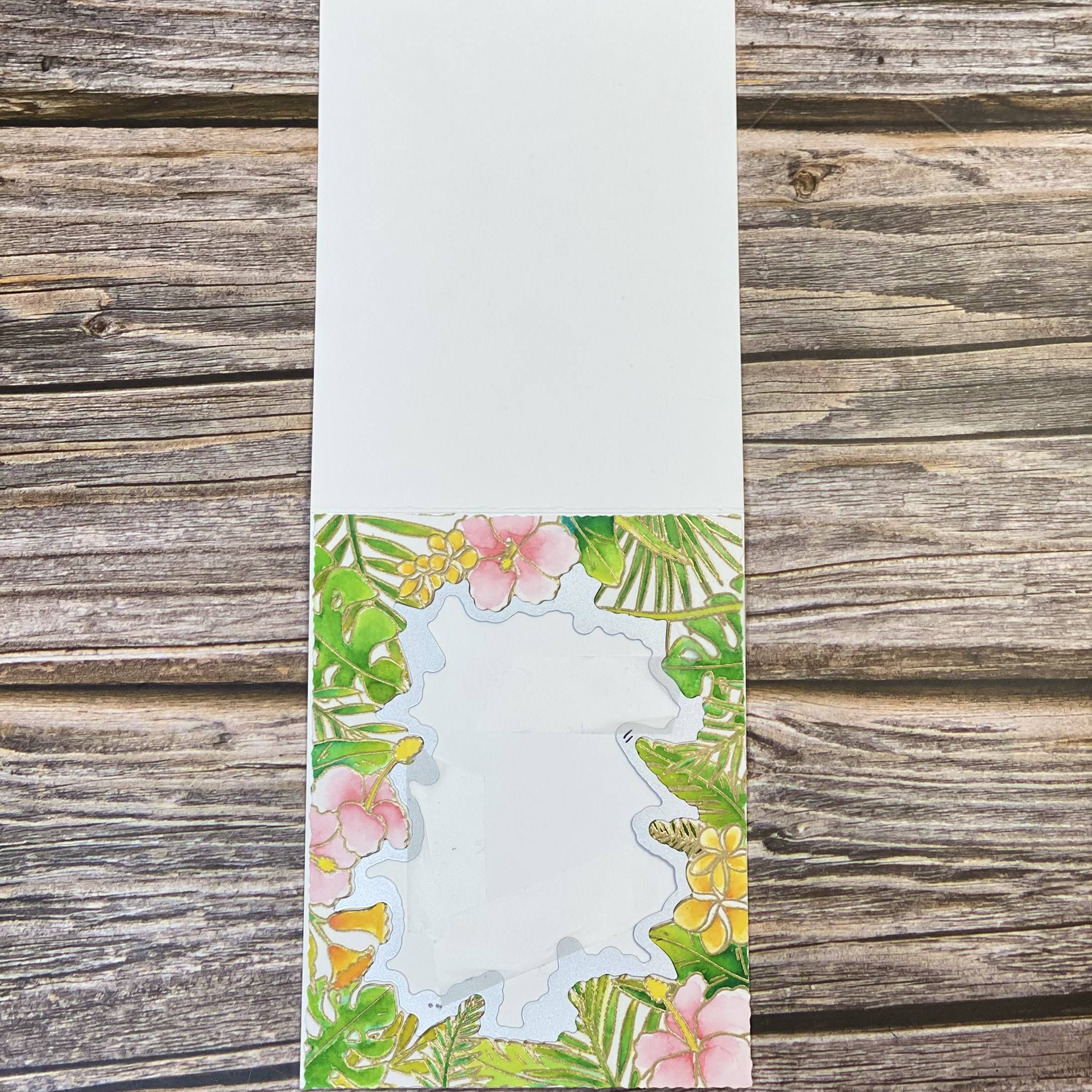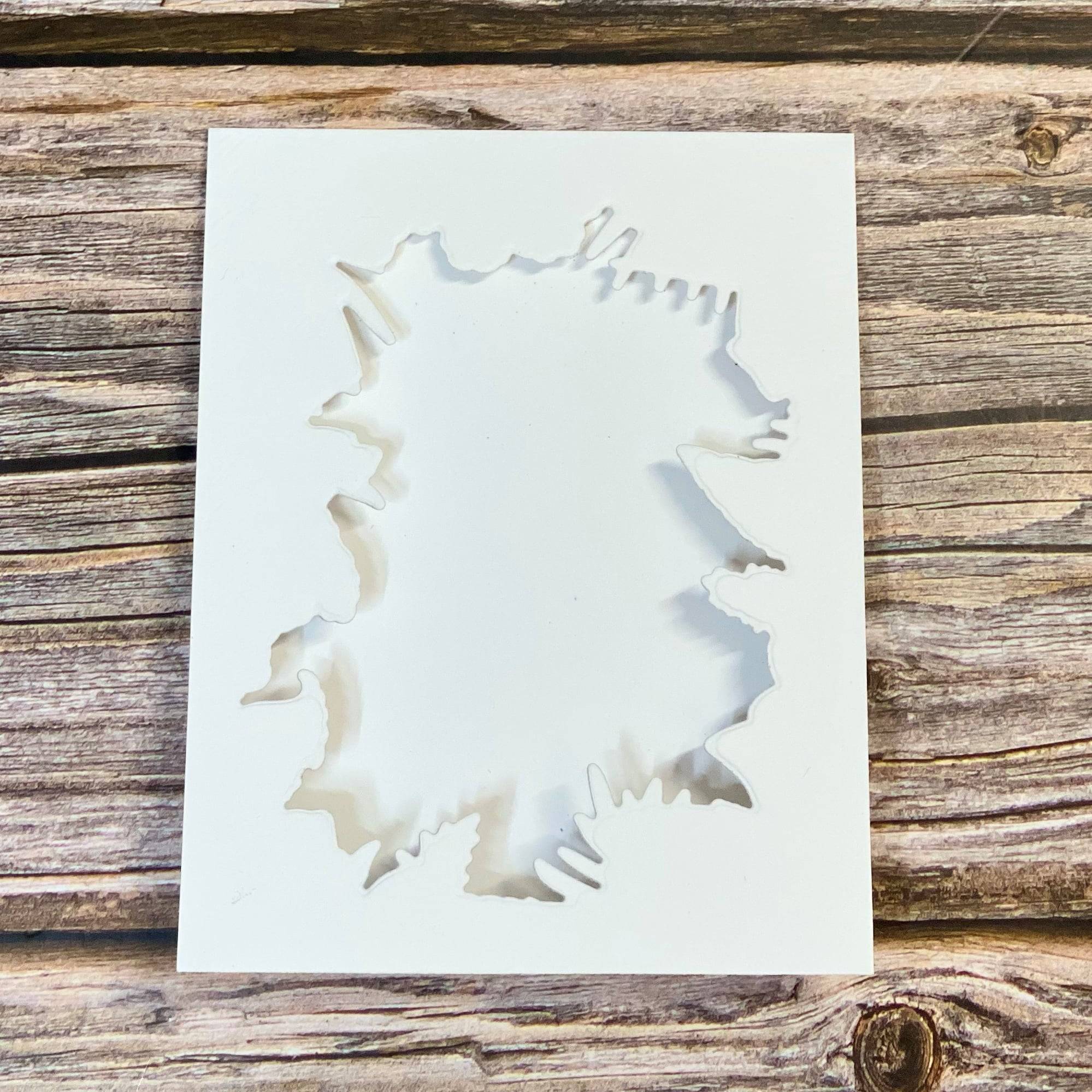 For perfect alignment, place your frame over the top of your card and insert the largest die back into the centre. This will cut out the middle of your card blank.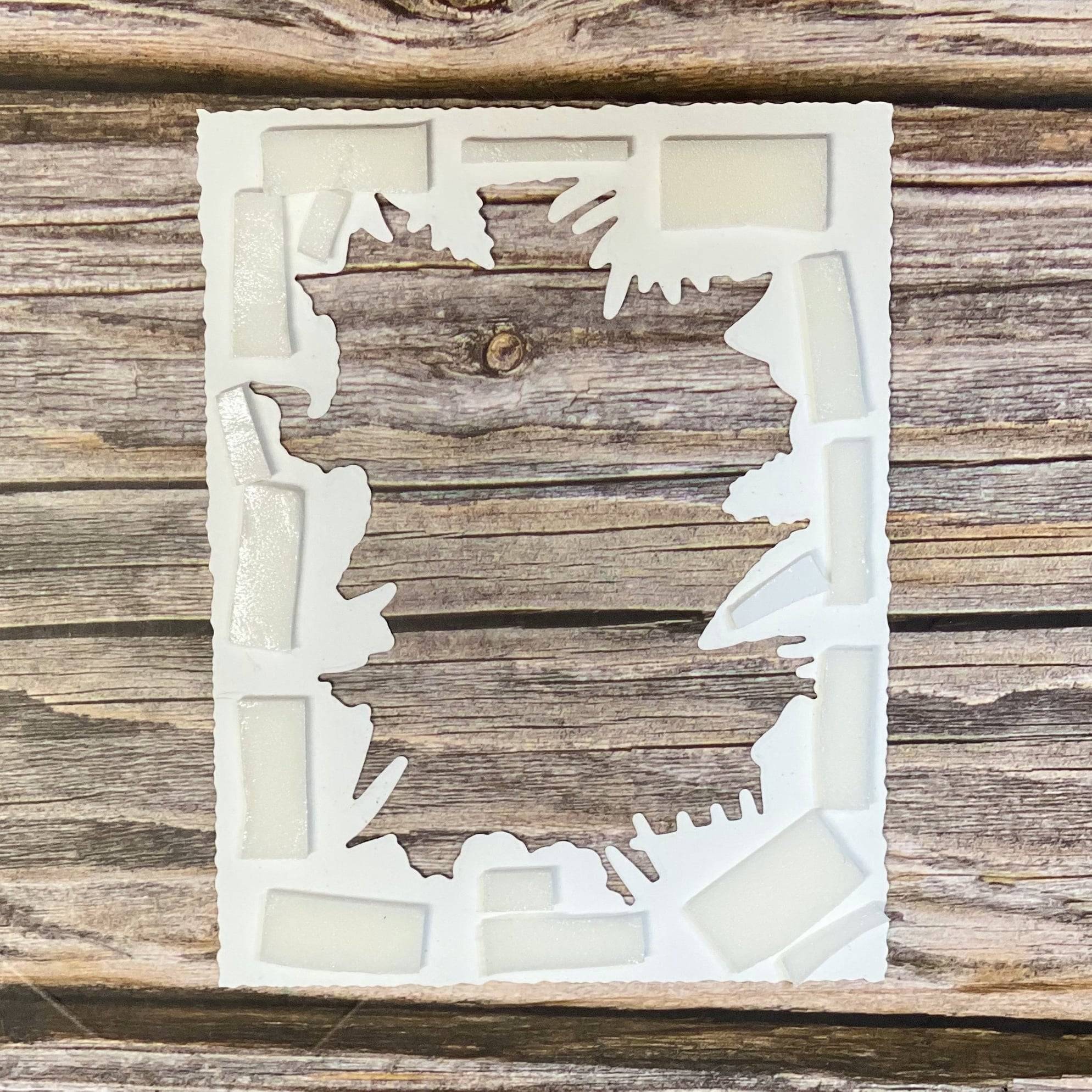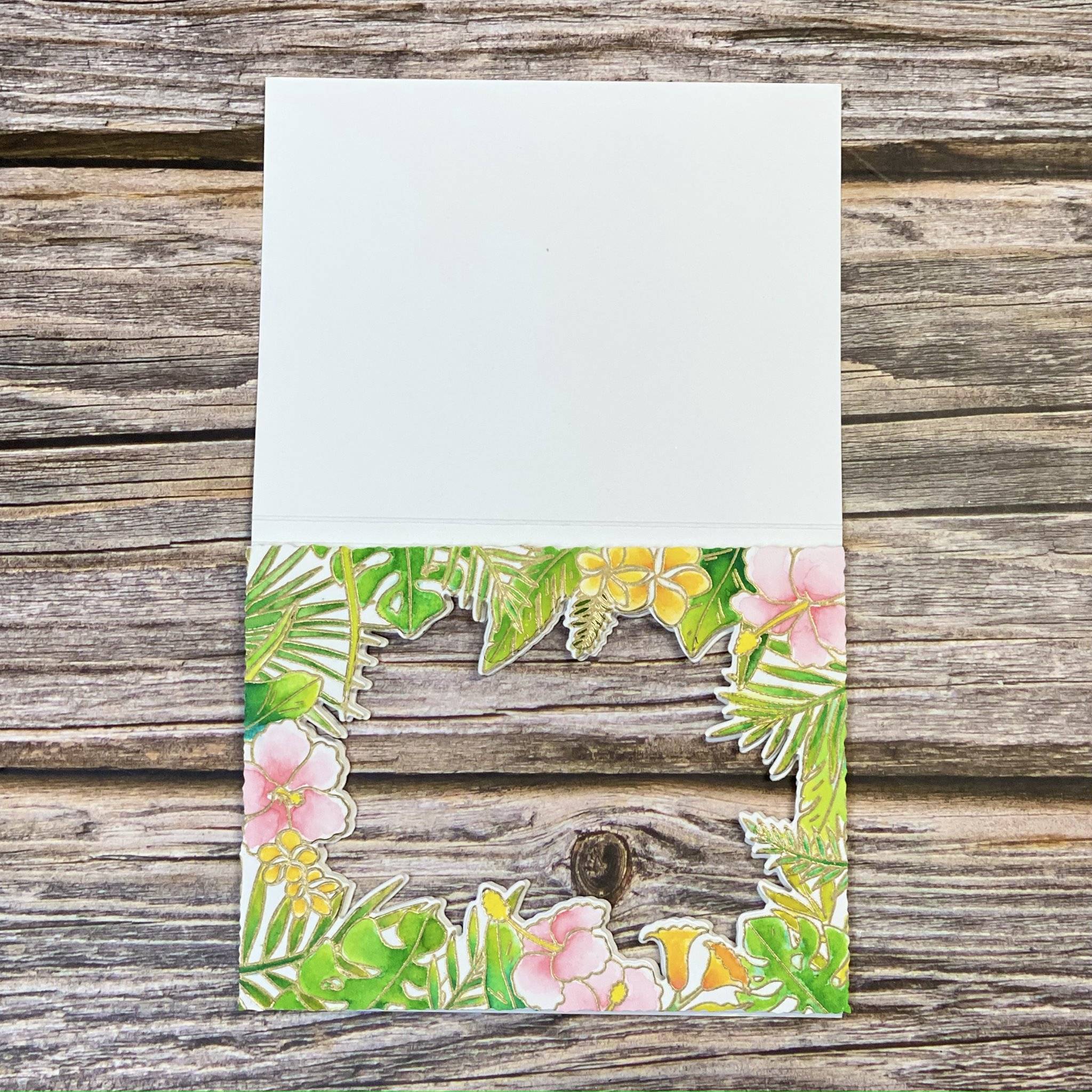 Add foam pads to the back of your frame and adhere to the front of your card.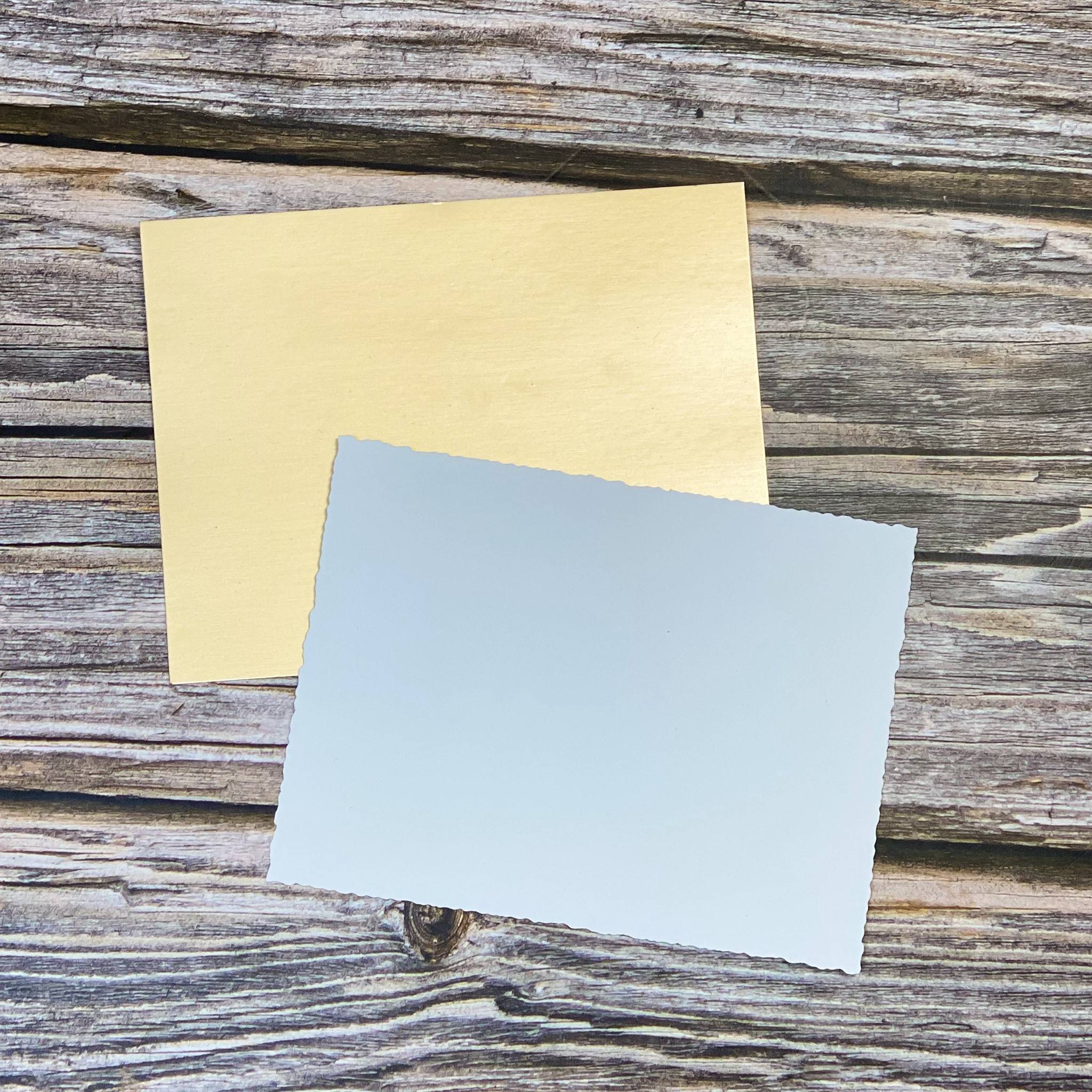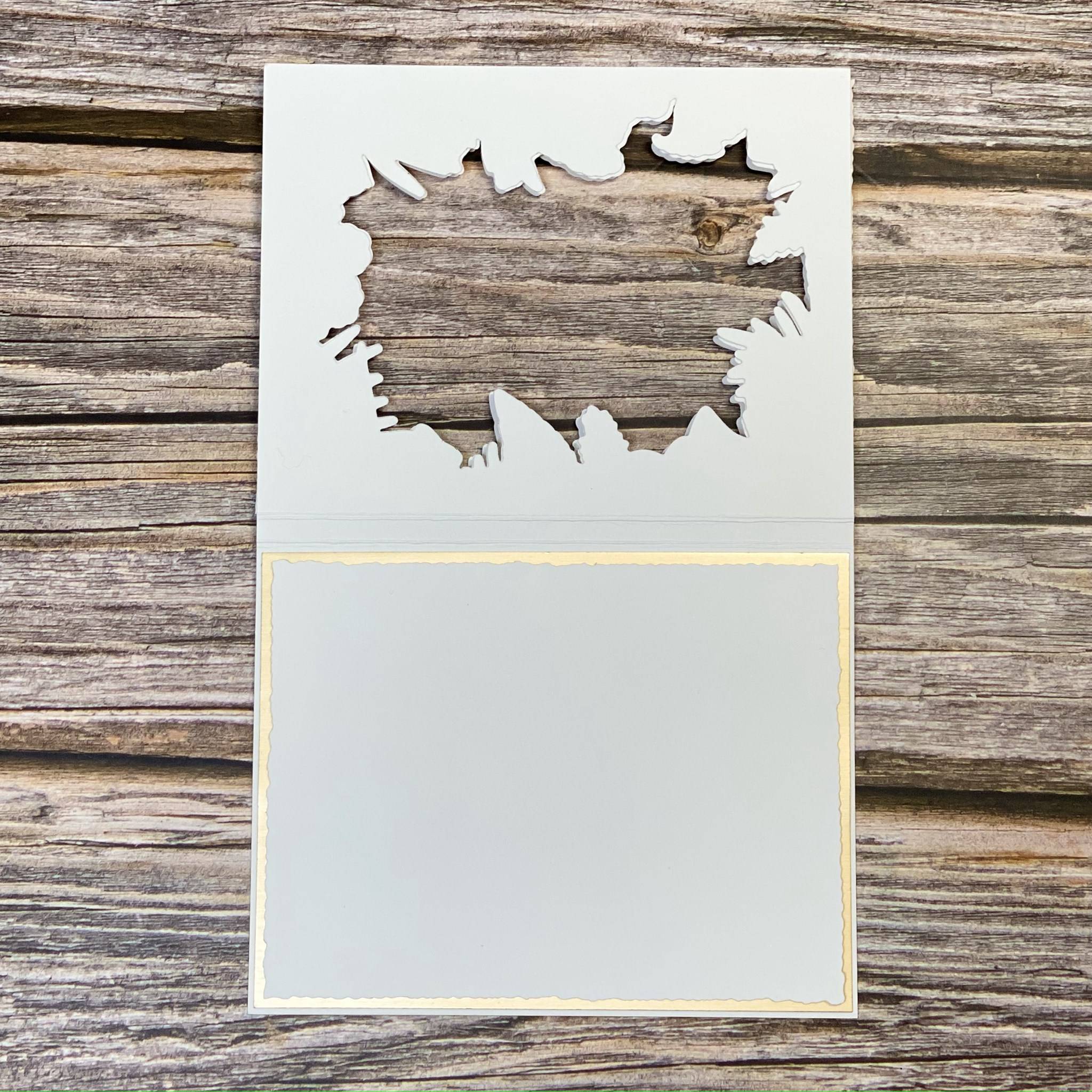 Cut a piece of Honey Gold Satin to sit inside your A2 card and using your Deckle Trimmer, cut a piece of white watercolour card about .05 inches smaller for a mat and layer.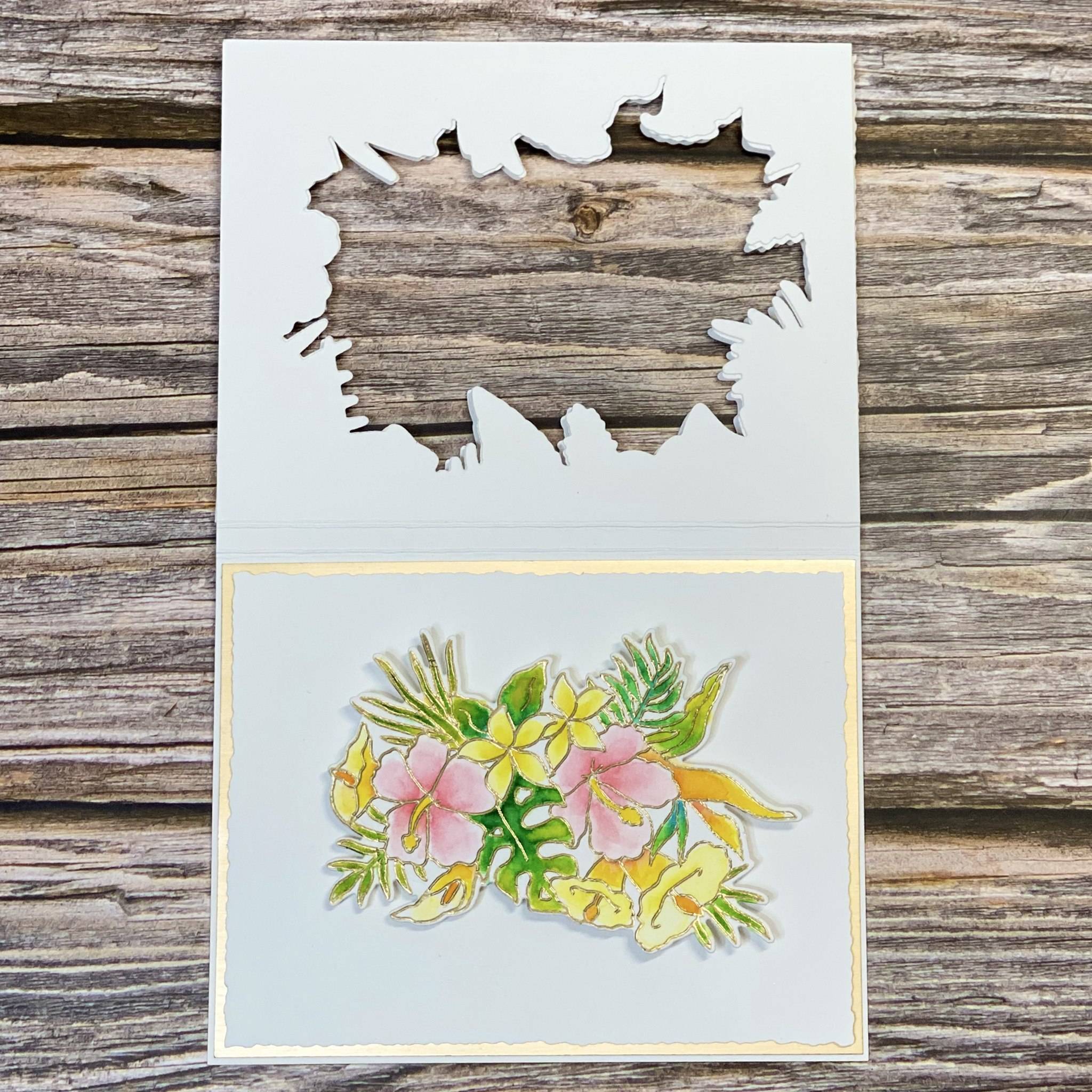 Using foam pads add the smaller centre floral piece to the inside of your card – ensuring it's positioned in the middle.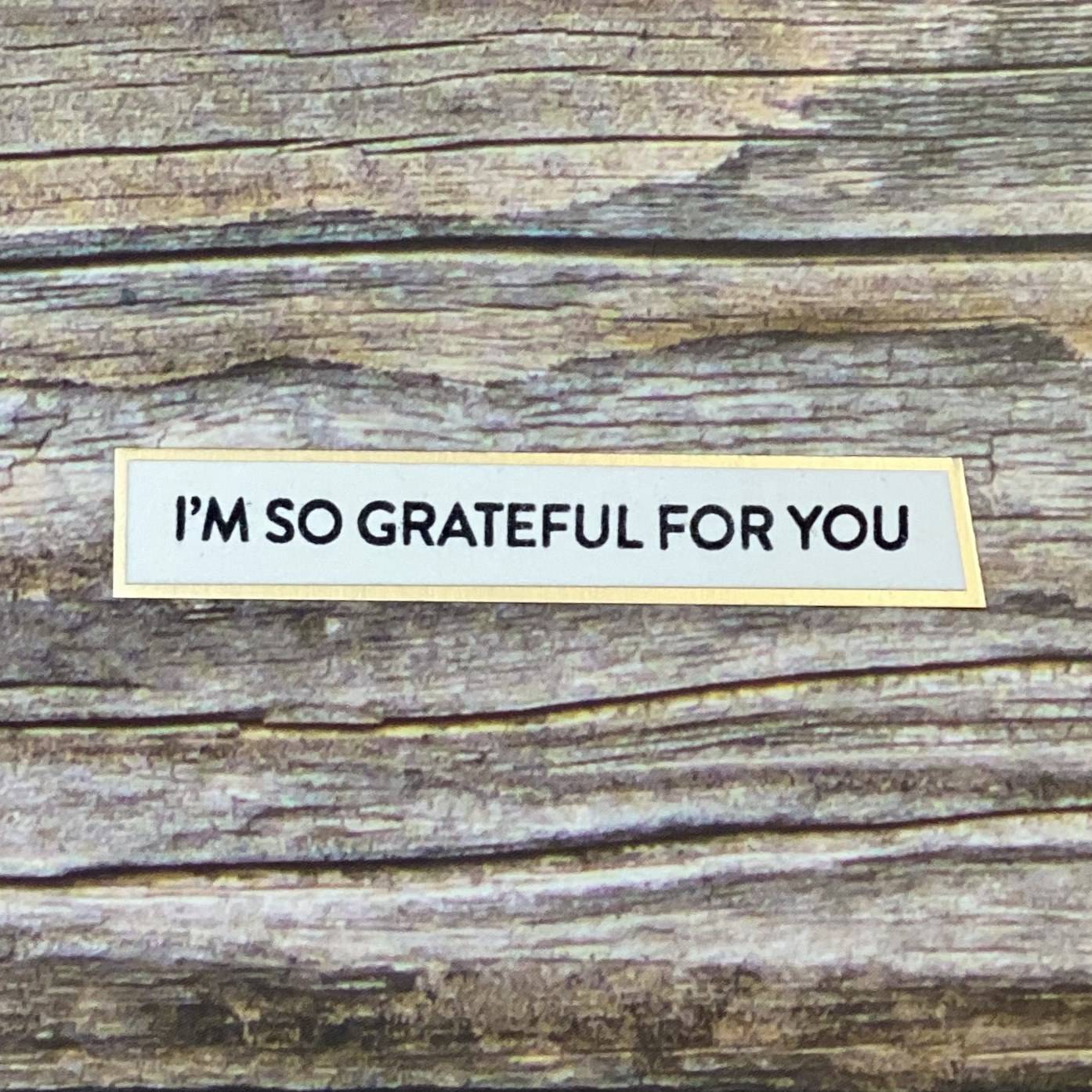 Stamp out, 'I'M SO GRATEFUL TO YOU', on white watercolour card using Nuvo Black Shadow Hybrid Ink. Cut a smaller piece of Honey Gold Satin and trim both this and the sentiment to size.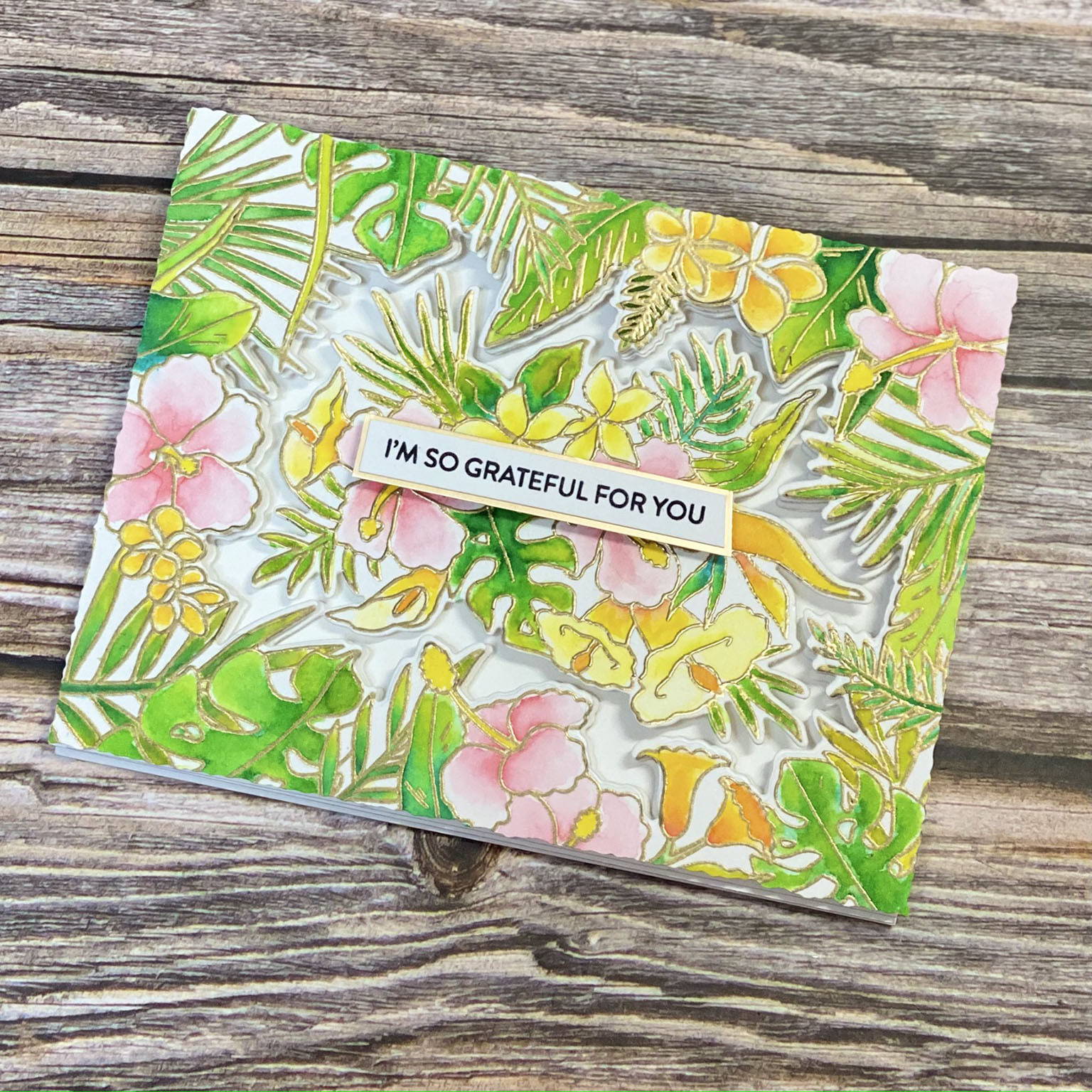 Add sentiment to the inside of your card.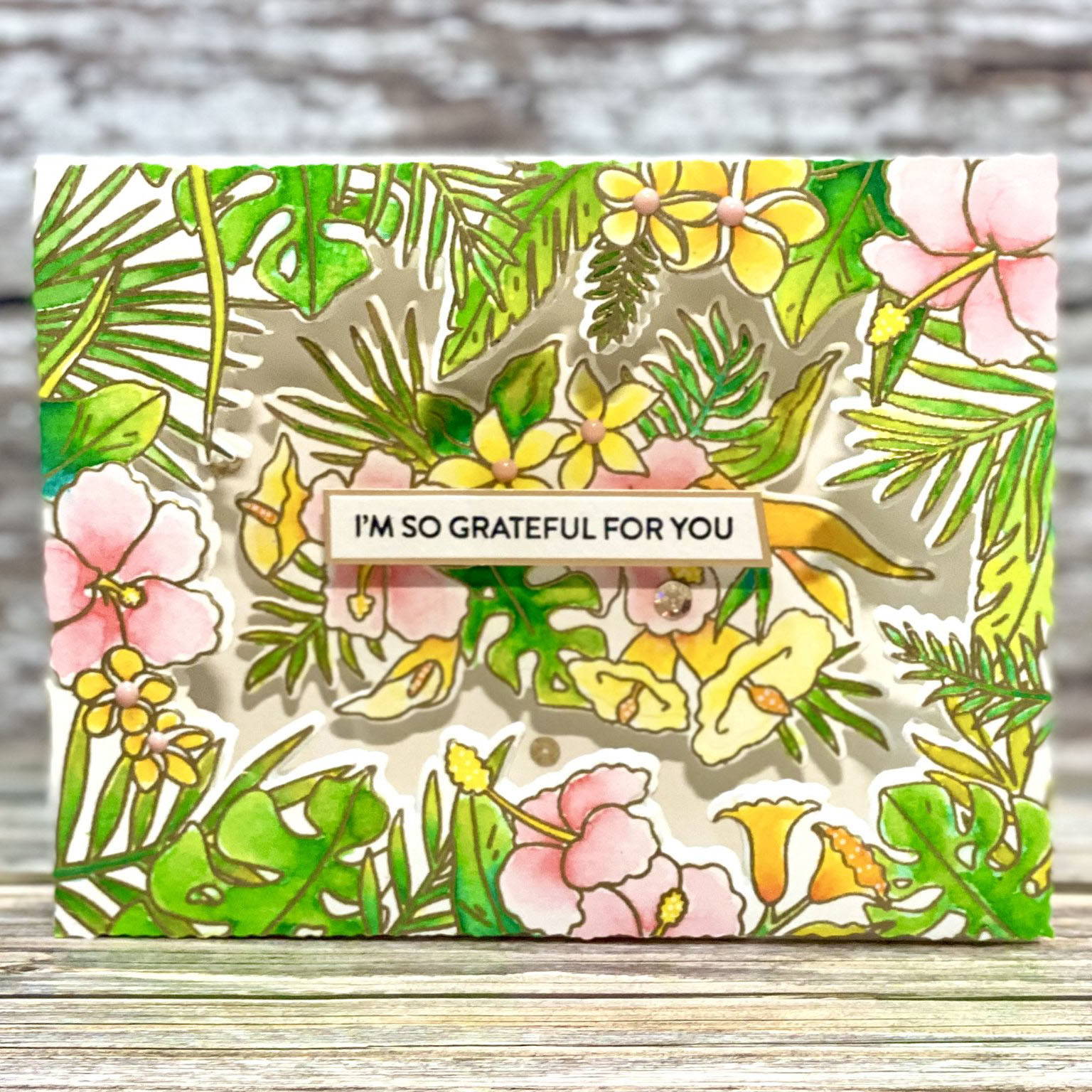 Champagne Shine Sequins and Bubblegum Blush Nuvo Drops to complete this beautiful project.
Phew! That was longer than usual as I wanted to give you as much visual detail as possible. I am sharing more card ideas and inspiration both on my blog and YouTube Channel.

Thank you so much for taking the time to read my post today, it means the world to me.
All the very best and sending tons of love.
Jen Kray xx