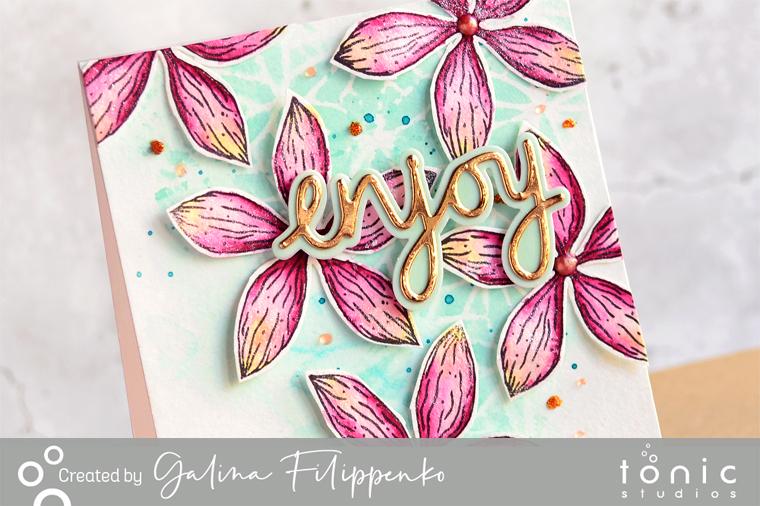 Hi everyone! My name is Galina Filippenko and I'm very excited to share with you my first post as a member of Tonic's Social Media Design Team. I'm a big fan of Tonic. My first "serious" stuff for cardmaking was from Tonic Studios and I'm happy to continue my craft journey with this brand.
So, I want to show you how to create a card using only one medium. I used Nuvo Aqua Pens only and nothing else to add colours to this card background and to the images.
I'm also featuring Dainty Daisies a beautiful stamp set by Tonic.
Please, enjoy my video tutorial to get inspired and find more information about the cardmaking process.
For the card background, I used watercolour paper. For me, the easiest way to apply water on the watercolour paper is using Nuvo spray bottle.
To embellish this card I used few colours of the Nuvo Drops: Golden Sunset (with gold glitter inside) and Bubble Gum (nice crystal pink colour).
I got a few flower leftover after I made the first card and I decided to use them to create a second card. Applying the same techniques and ideas than for the card above.
I used Black and gold Nuvo drops to embellish and gold glitter cardstock for the sentiment.
Hope you like these cards! Will you try to create a card only with one medium? It's so fun
Thanks for stopping by!
Hugs,
Galina