If you want a quick burst of colour on your cards, Shimmer Powders are just the thing! You can use them to create complete backgrounds or, as I have done here, backgrounds in specific areas which you can then stamp onto. You can use the backgrounds to die cut from too! As you can see from the photo above, they are ideal for making batches of card as you can prepare several pieces if card at the same time.
For these cards I have used: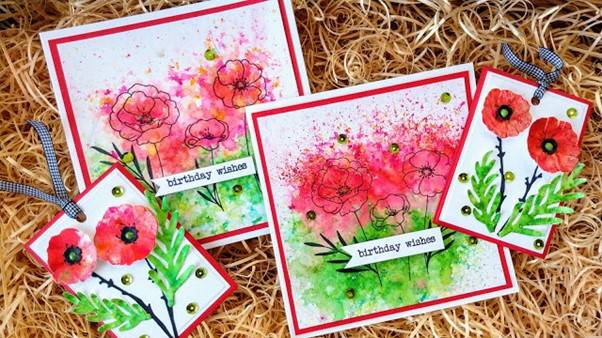 Stamp Club 6 - Compassion and Poppies
Craft Perfect 6x6 card blank
Craft Perfect Bright White Smooth card
Craft Perfect Chilli Red and Jet Black card
Shimmer Powders - Catherine Wheel and Falling Leaves
Nuvo Deluxe Adhesive
Prickly Pear Sequins
Pioneer Green Vintage Drops
Black ink
Nuvo Light Mist Spray Bottle
Hole Punch
Ribbon
Cut a 13.5cm square of white card and gently tap a little Catherine Wheel Shimmer Powder on the top and a little Falling Leaves Shimmer Powder on the bottom. I always do this inside a cardboard box to keep my desk clean.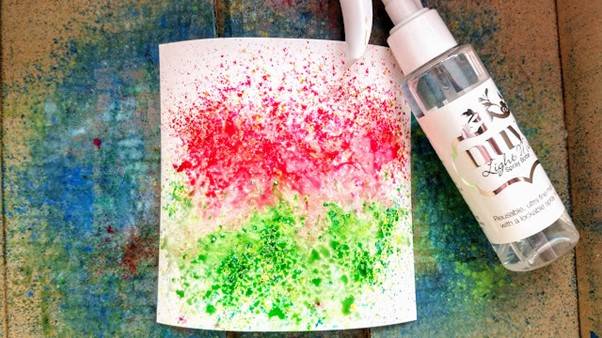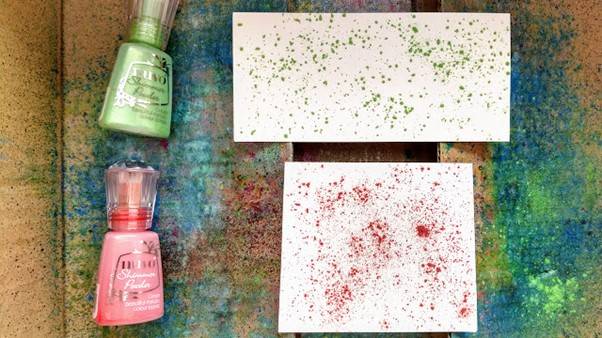 Tap some of each colour onto pieces of white card to die cut for the tag.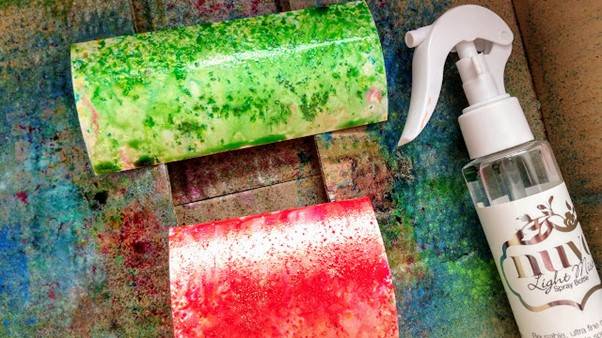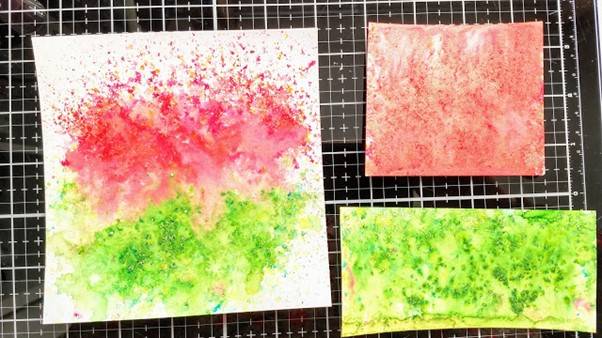 Set aside to dry or use a heat gun.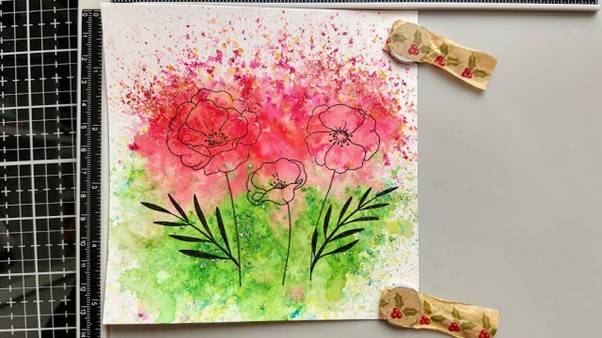 Stamp the poppies, draw stems and stamp the leaves. I have used a Stamping Platform to keep everything in the correct position. I also masked off a little part of the bottom of the leaves by covering the unwanted fronds with masking tape, adding the ink and removing the masking tape before stamping. You can also use a light fixative such as hairspray to set the powders so that you can carry on without waiting.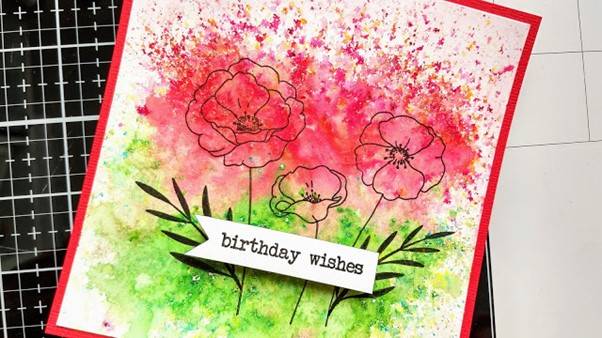 Stamp the sentiment onto white card, cut into a banner shape and attach with 3D foam pads. Layer the background onto a 14.5cm square of red card.
Layer onto the card front and add sequins.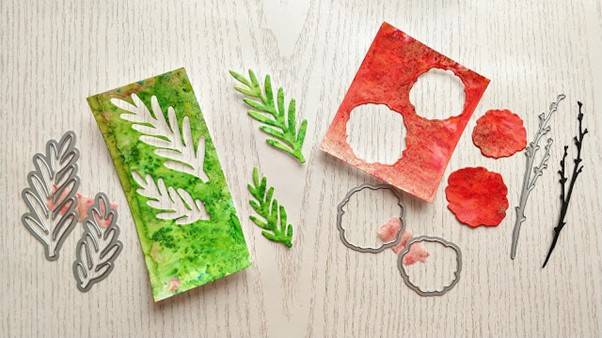 Die cut the leaves and 2 poppies from the prepared card and the stem from black card.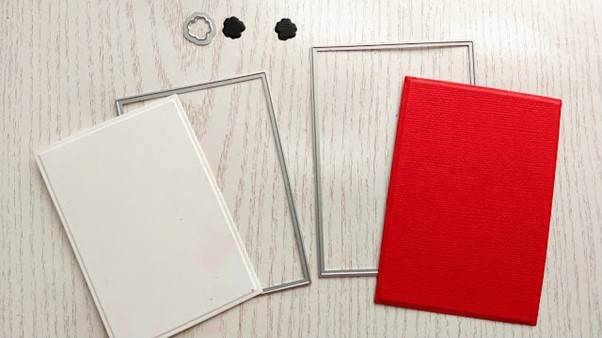 Die cut the tag shapes from the frames in the die set in red and white card. Die cut the 2 small flower shapes from black card.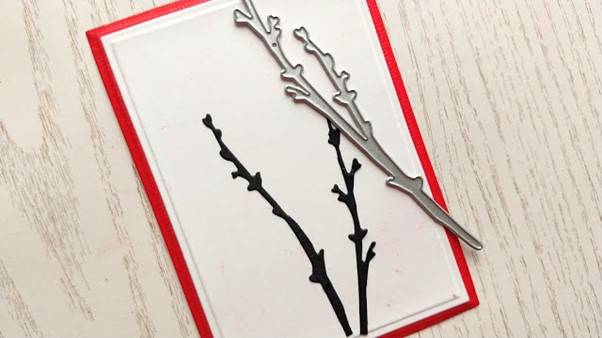 Snip the stem into 2 pieces and glue to the tag.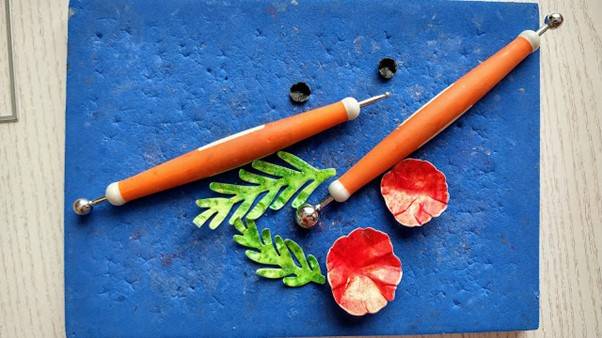 Shape the leaves and poppies with an embossing tool.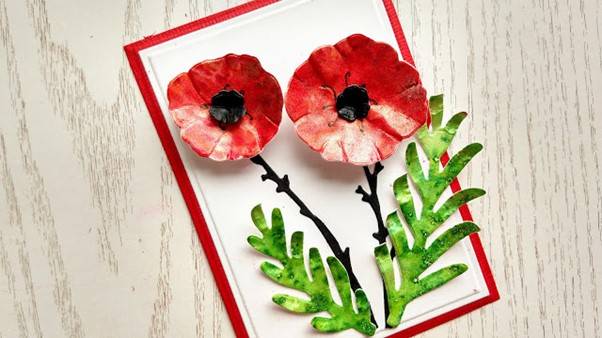 Glue the flowers to the stems.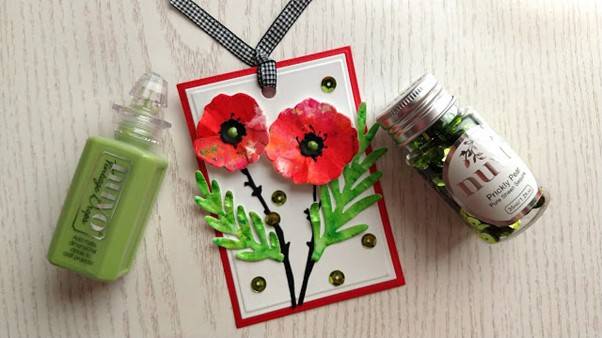 Add Vintage Drops to the centres of the flowers and sequins around the poppies. Punch a hole and add ribbon.