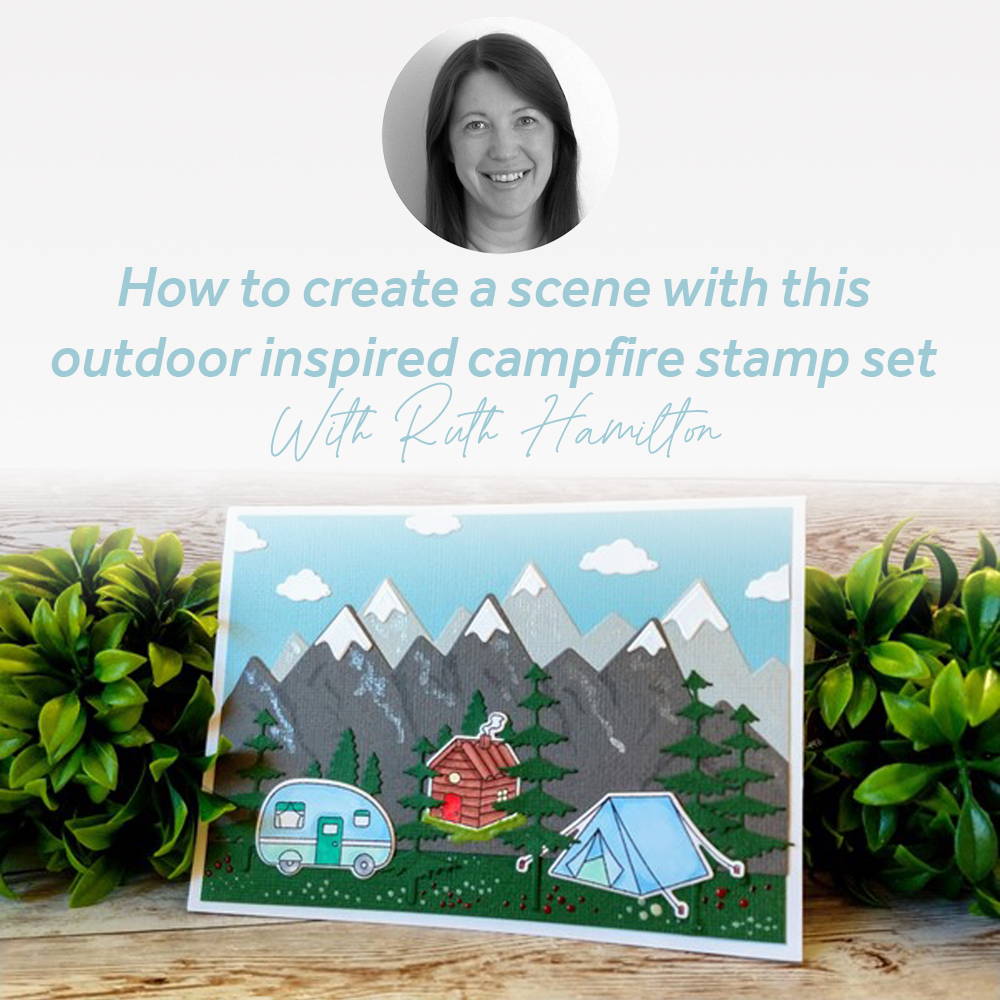 This set has lots of cute small stamps with coordinating dies which can be used in many combinations to create scene cards and projects.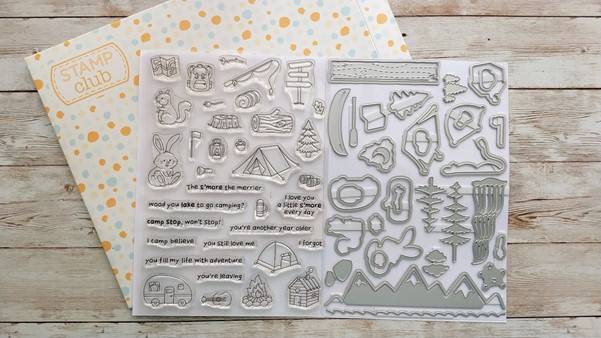 - Campfire Critters Stamp Club Stamp and Die Set
- Craft Perfect A6 Bright White Card blank
- Craft Perfect Card - Arctic Blue, Misty Grey, Pewter Grey, Avocado Green
- Smooth White Card 300gsm
- Nuvo Deluxe Adhesive
- Nuvo Alcohol Markers - Dark Slate, Lemon Drops, Plum Tomato, Coconut Shell, Skylight Blue, Aqua Spray, Natural Patina, Soft Taupe
- Black Ink
- Crystal Drops - Buttermilk and Red Berry
- Vintage Drops - Pioneer Green
- Nuvo Glitter Gloss Aqua Shimmer Pen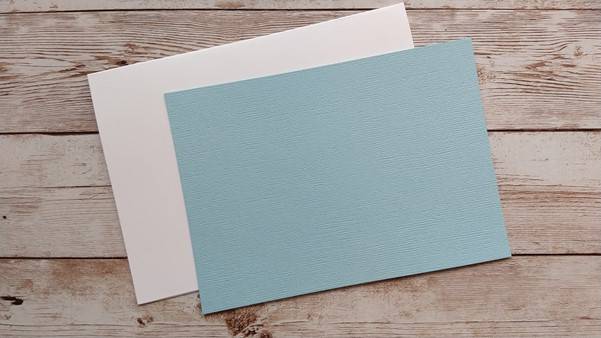 Cut a piece of Arctic Blue card to 15cm x 10.5cm.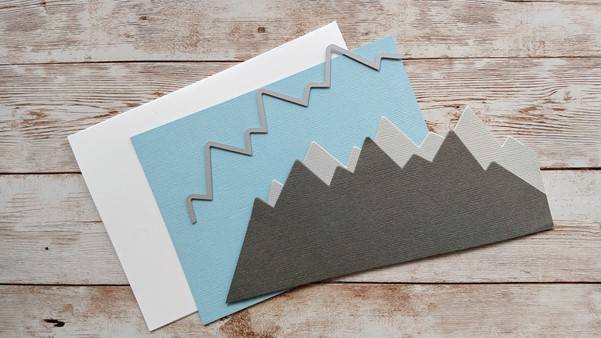 Die cut 2 mountain ranges, one from Misty Grey and the other from Pewter Grey. NB leave 8cm from the highest peak to the bottom of the grey card. Glue the Pewter Grey on top of the Misty Grey, offsetting slightly.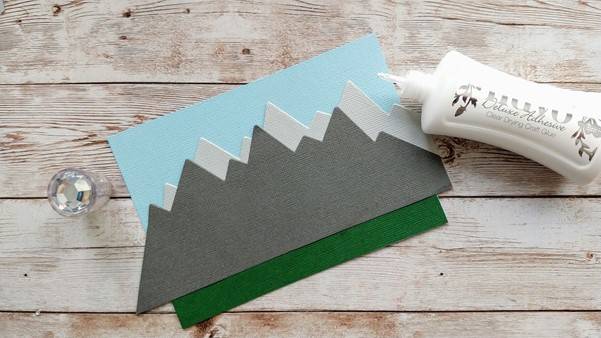 Cut a strip of Avocado Green card measuring 15cm x 1.5cm and glue to the bottom of the Arctic Blue card. Then glue on the mountain ranges above this.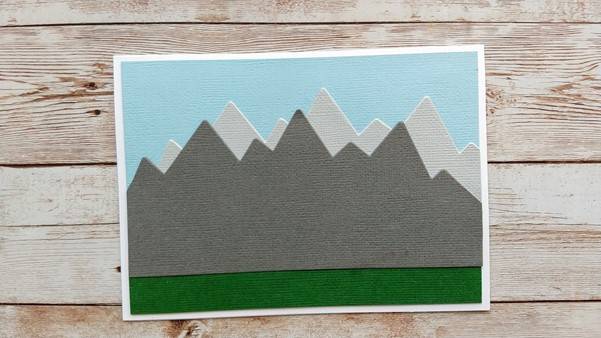 Trim off the excess grey card and glue the panel onto the white card base.
Add shading to the Pewter Grey mountains with the Dark Slate marker.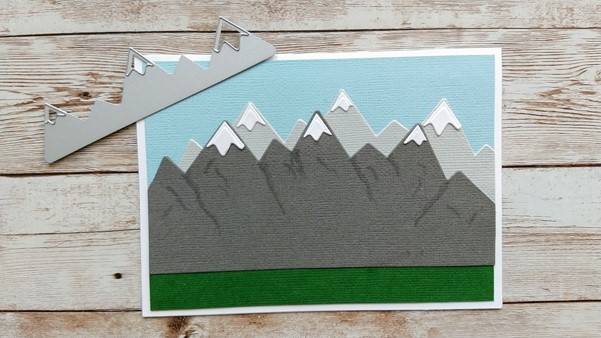 Die cut some white snow caps and glue to the tops of the mountains.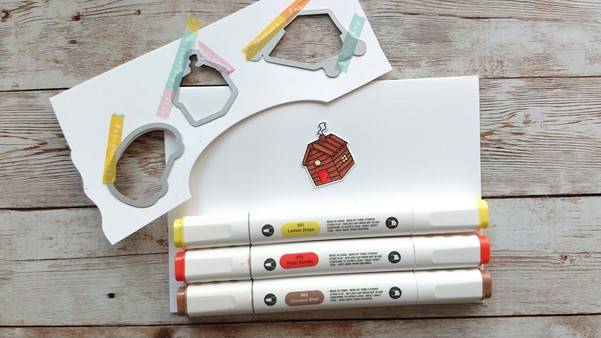 Stamp and die cut the log cabin, caravan and tent.
Colour the log cabin with the Coconut Shell, Plum Tomato and Lemon Drops alcohol markers.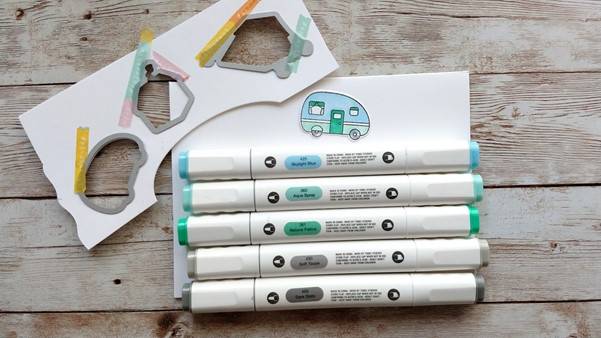 Colour the caravan with the Skylight Blue, Aqua Spray, Natural Patina, Soft Taupe and Dark Slate markers.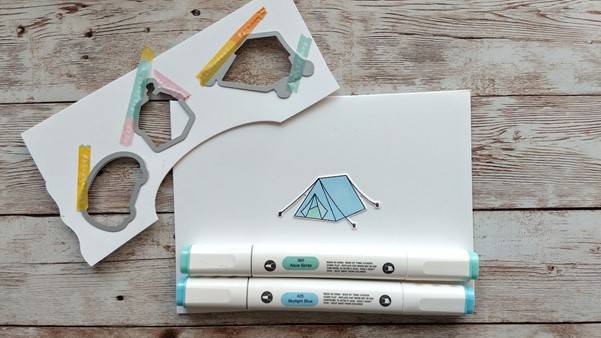 Colour the tent with the Aqua Spray and Skylight Blue markers.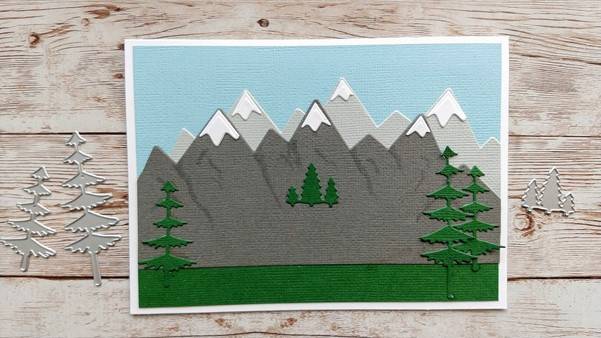 Die cut the trees shown in the photo and glue in place.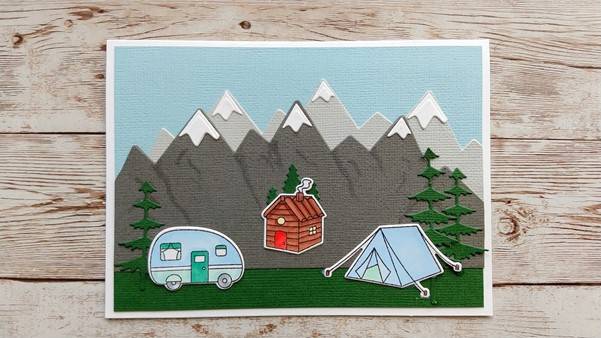 Glue the coloured images in place as shown, leaving some space behind the caravan free from glue to add more trees.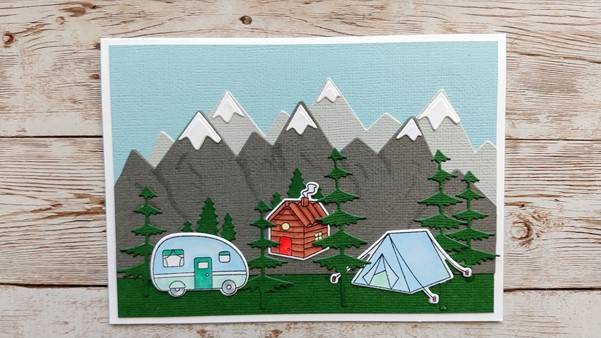 Add more trees as shown, tucking the smaller ones in behind the caravan.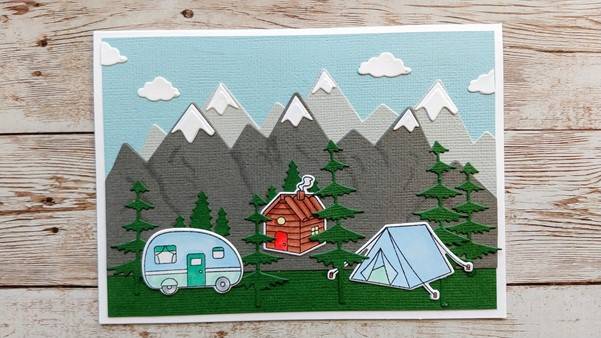 Die cut clouds and glue into place.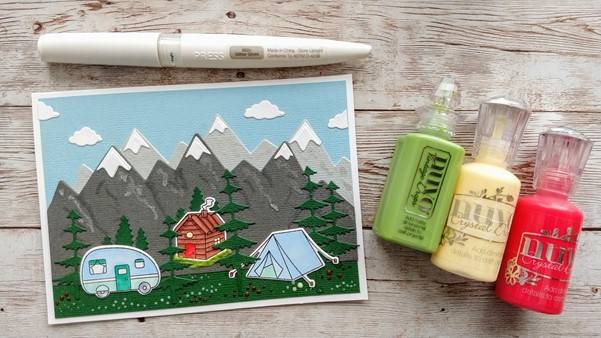 Add detail to the mountains with the Glitter Gloss pen. Create a grassy area around the log cabin with the Pioneer Green Vintage Drops and some flowers in the foreground with the Buttermilk and Red Berry Crystal Drops.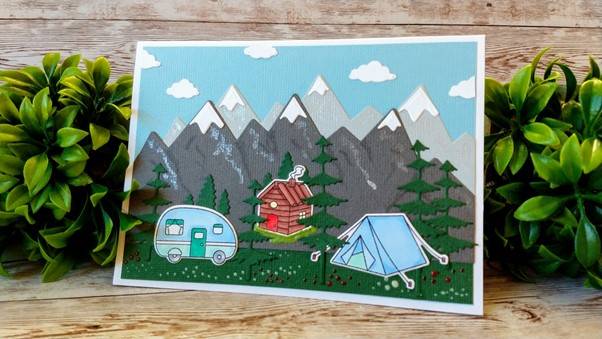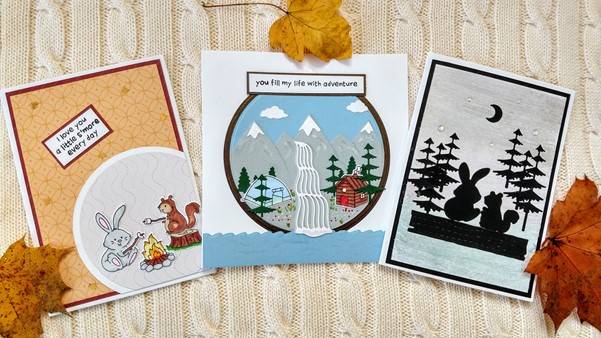 I have also made 3 completely different cards using the same set and you can see them in my video here