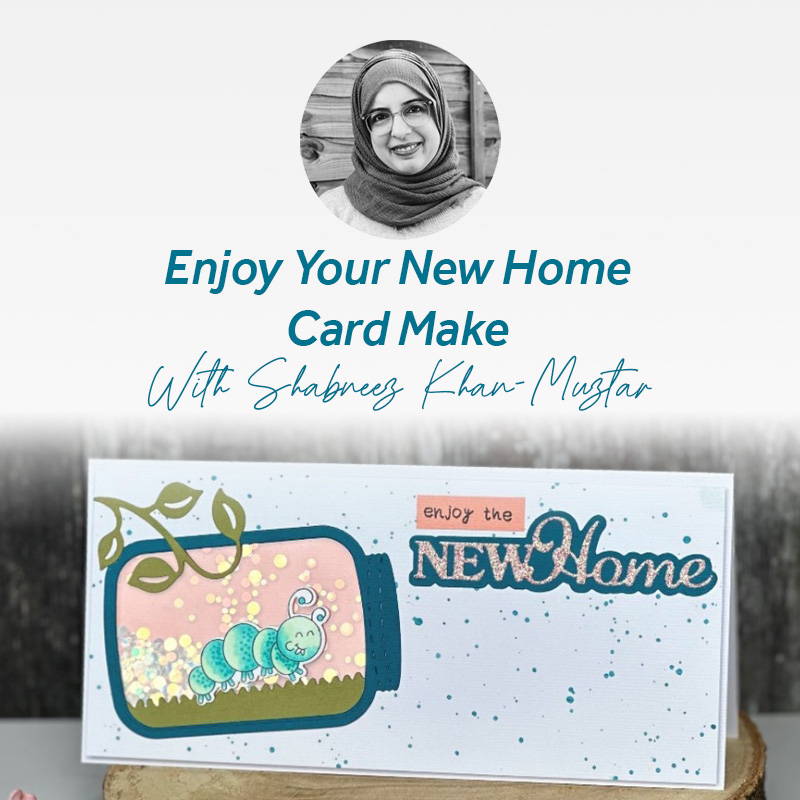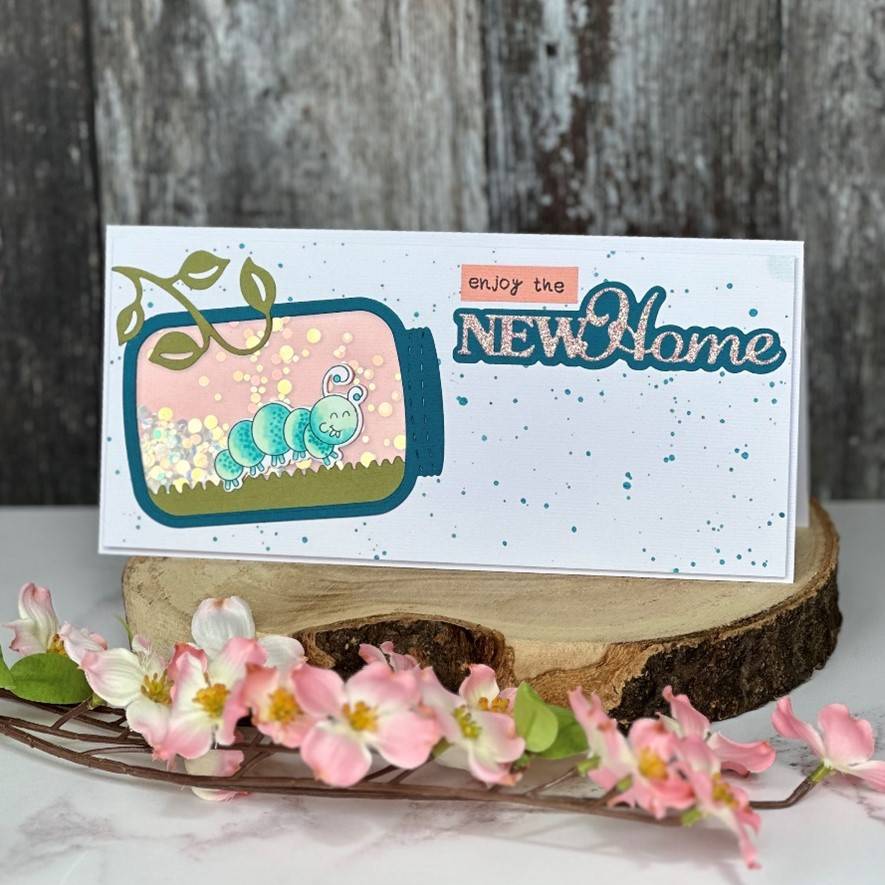 - Bright White 12x12 Card
- Teal Blue Card
- Olive Green Card
- Bubblegum Pink Card
- Pink Glitz Glimmer Card
- Nuvo Pure Sheen Iridescent Circles
- Pacific Teal Embellishment Mousse
- Double Sided Foam Tape
- New Home Sentiment Die Set
- Tonic Studios Stamp Club – A Very Bug Deal Stamp & Die Set
- Tonic Studios Tangerine Die Cutting Machine
- Nuvo Paint Brush Set
- Nuvo Black Shadow Ink Pad
- Nuvo Aquamarine Alcohol Ink Pen Collection
- Nuvo Deluxe Adhesive
- Scissors
- Paper Trimmer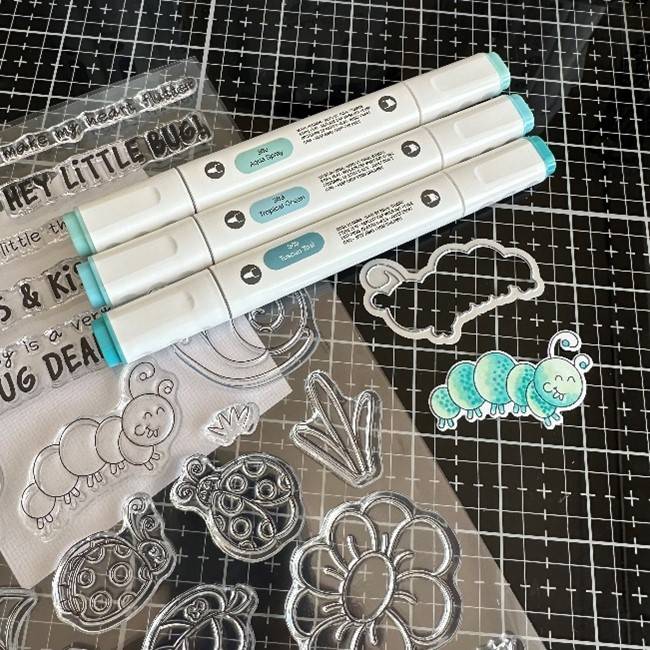 To colour in the caterpillar: Use the lightest colour pen from the pack, Aqua Spray, to colour in the entire caterpillar then add the Tropical Ocean to the right side of all the circles on the body, go over with the light colour again. Add dots with Tuscan Teal on the dark parts. Die cut the caterpillar with its coordinating die.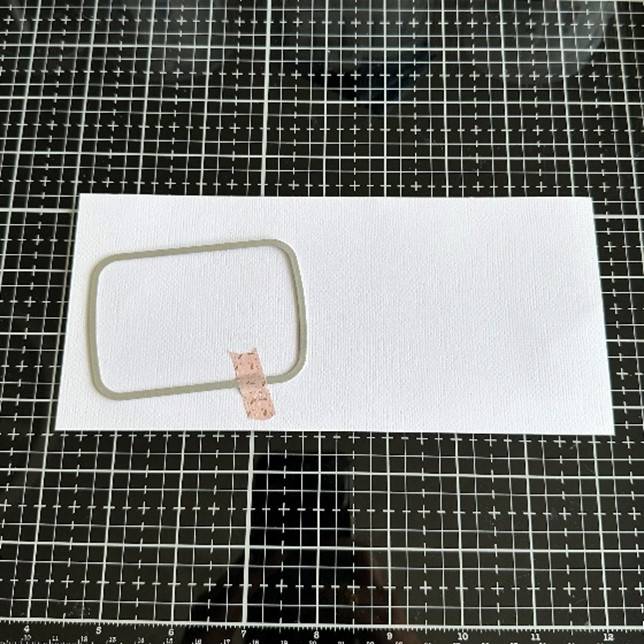 Cut a sheet of white card slightly smaller than DL which is 99mm x 210mm. Place the inside of the jar die on the left hand side as shown and pass through your die cutting machine.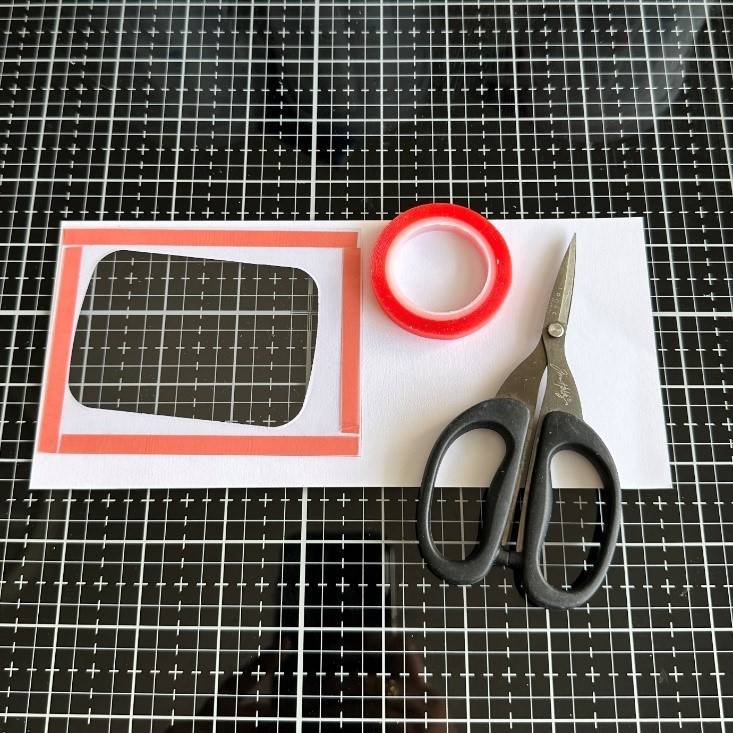 Turn it over and stick some red liner tape around the edges of the hole. Stick a piece of acetate over the top.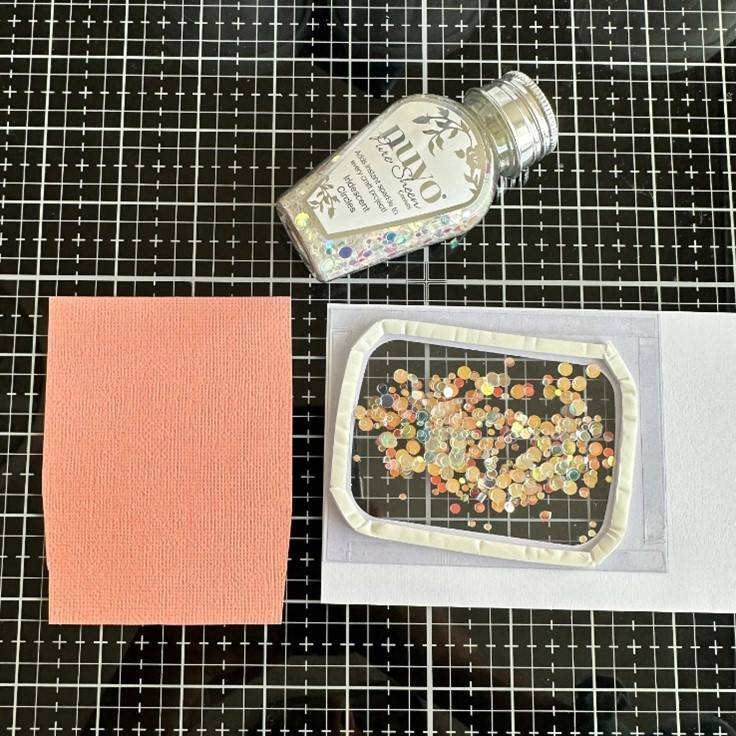 Adhere some double sided foam tape around the edges of the jar on top of the acetate and fill with the Nuvo Pure Sheen. Cut a piece of the Bubblegum pink card and stick on top of the jar once filled.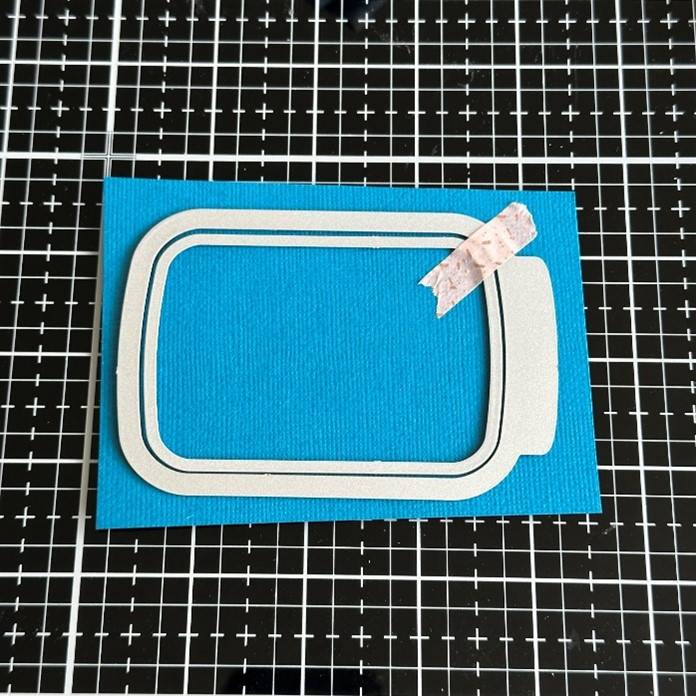 Take teal blue card and cut out the frame for the jar as shown.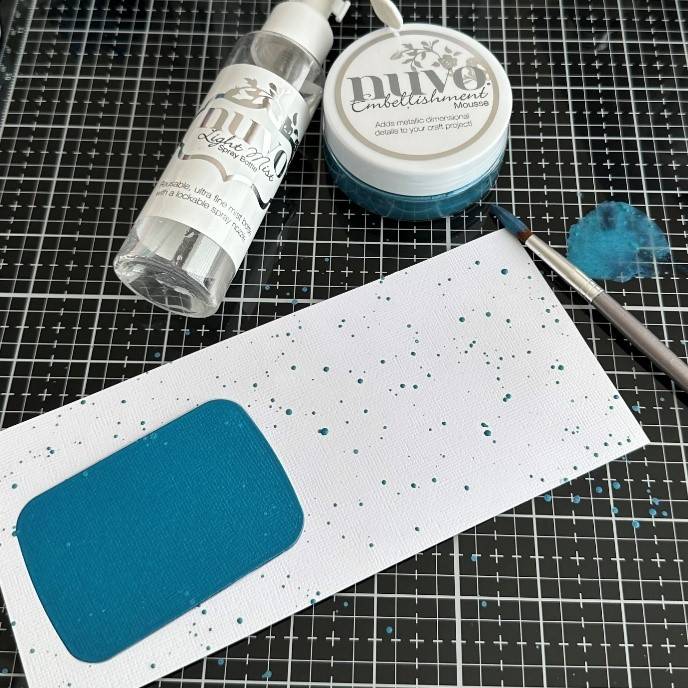 Use the inside piece of the jar to cover the acetate shaker part to protect it from paint. Mix some Nuvo Embellishment mousse with water and spatter with a paint brush to create your background. Remove the blue die cut and leave to dry.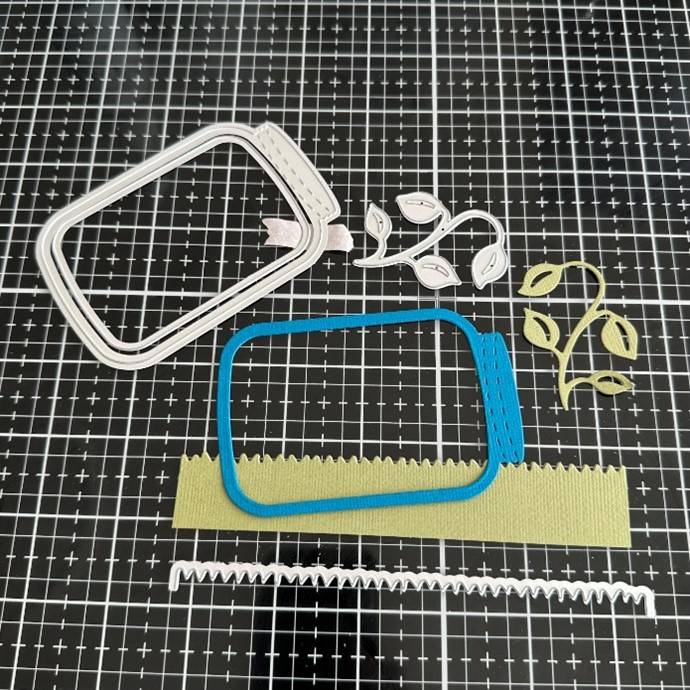 Die cut some leaves and grass from the olive green card. Stick the grass to the jar frame as shown with glue then cut away the remainder of the grass using scissors.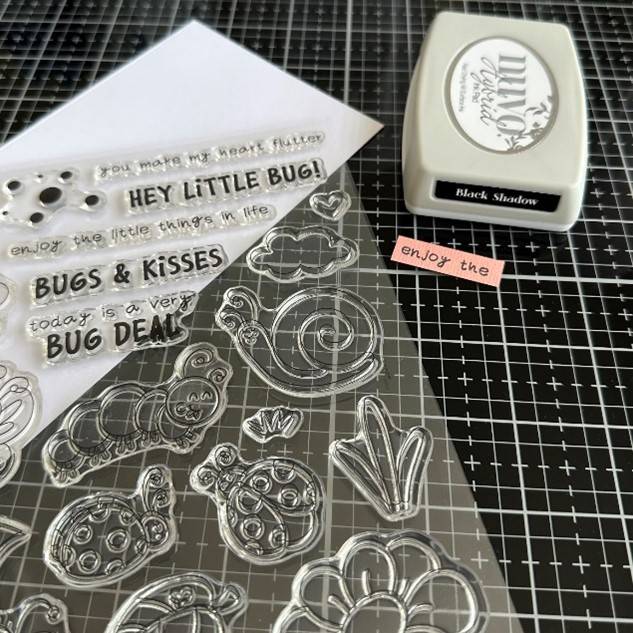 Stamp 'enjoy your' on Bubblegum pink card in black ink.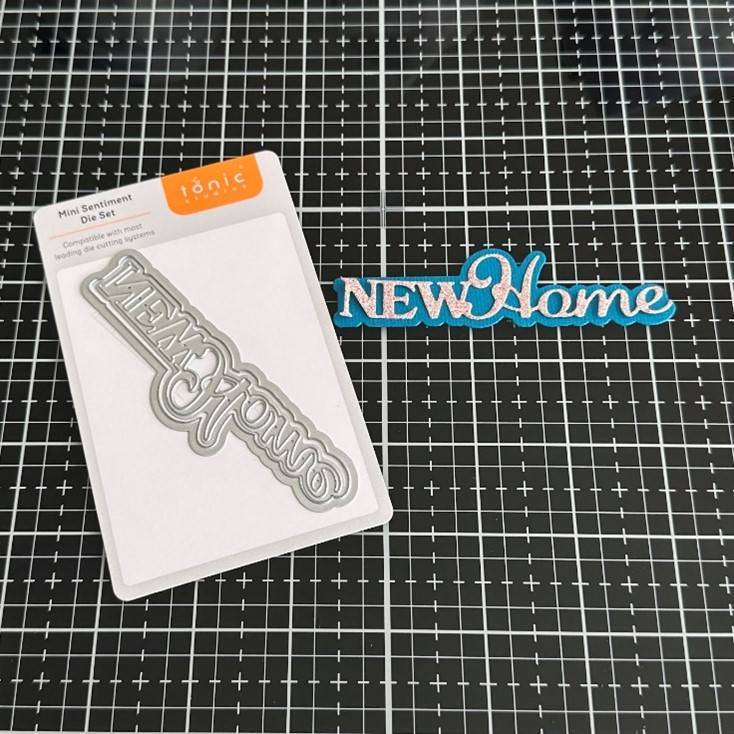 Die cut the New Home sentiment using teal blue and pink frosting glitter card.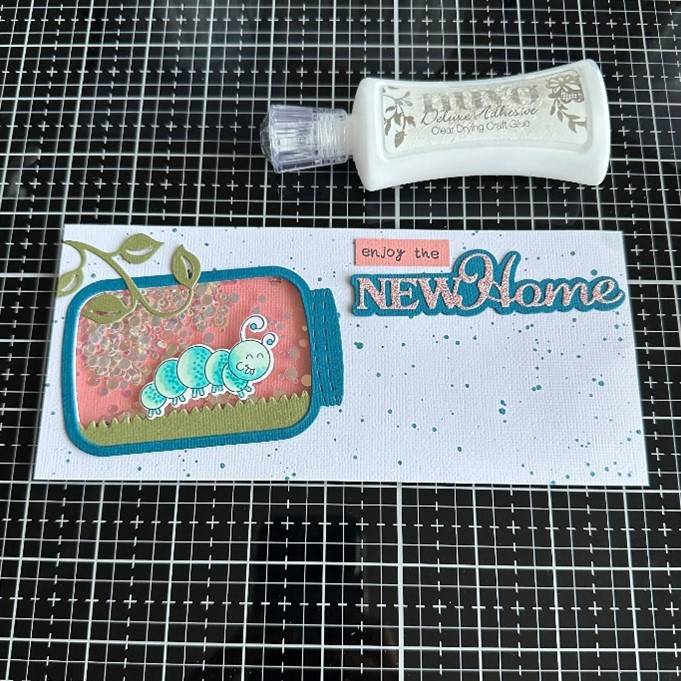 Adhere the jar frame, leaves and sentiments to the card front with glue. Use double sided foam tape to stick the caterpillar to the card.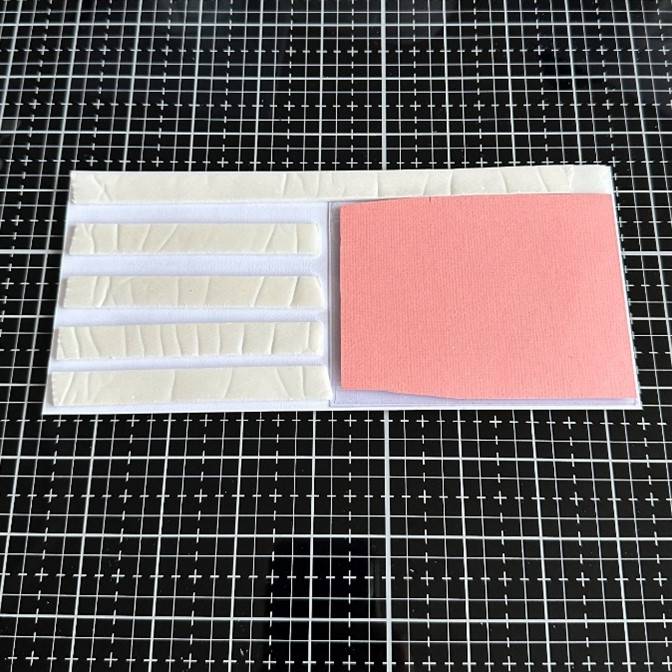 Add double sided foam tape to the rest of the back of the card before sticking onto your white DL card blank, made from 12x12 bright white card.