Hello crafty friends, it's Dawny P with you today here at the Tonic Studios blog.
Ok so what have we got here then? Well, today we are focusing on the beautiful cardstock range that is available on the website and I wanted to put something together to show how these different cardstocks will all work really nicely together. And I also thought that as I'm told how tricky people find it to make masculine cards, I would make one of them for a change. But I haven't left the girls out because using the same layout but a different colour palette, I've made a feminine one as well.
I've kept this incredibly simple because I want to let the design and textures of the cardstock do their work here.
And this is the card I've made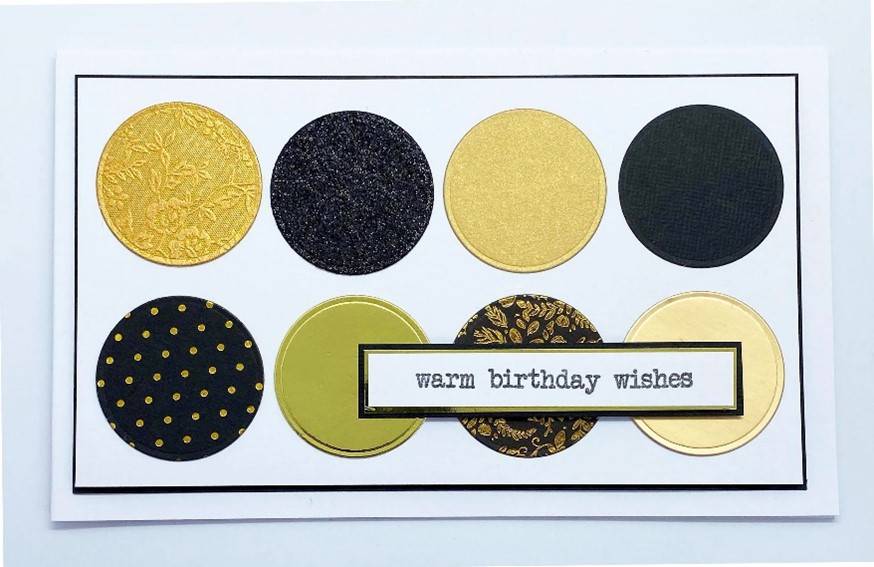 This uses just one die and a nice sentiment. If you don't have a circle die this would work perfectly well if you just cut out squares. Those gorgeous golds and black look fabulous together I think.
So let's make a start.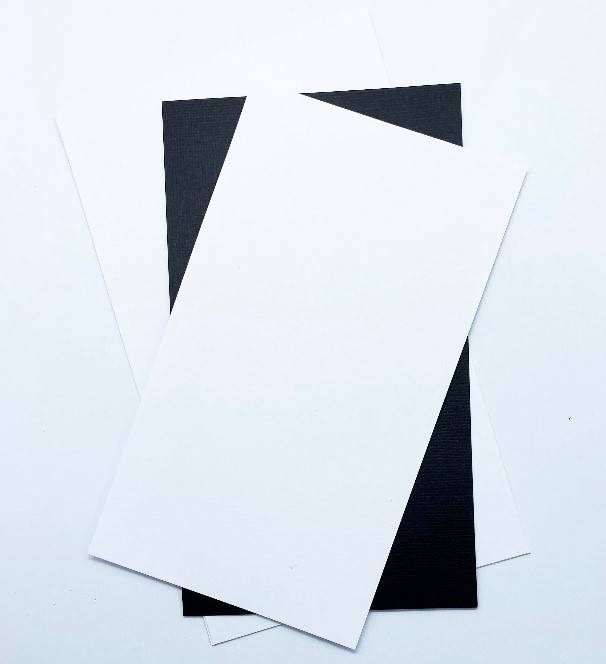 Firstly, cut down your card blank to measure 196mm x 118mm. This is a side opening card so the fold needs to be on the left hand side.
Then cut a piece of Bright White Craft Perfect cardstock to measure 178mm x100mm and a piece of Jet Black cardstock to 182mm x 104mm.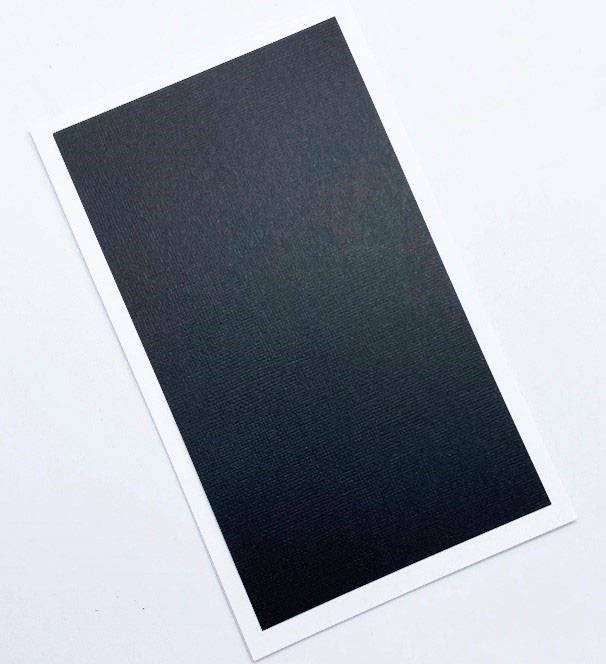 Mat the black cardstock onto the card base and set aside, along with the white cardstock, for a moment.
Now the fun begins – the choosing bit is the bit I love.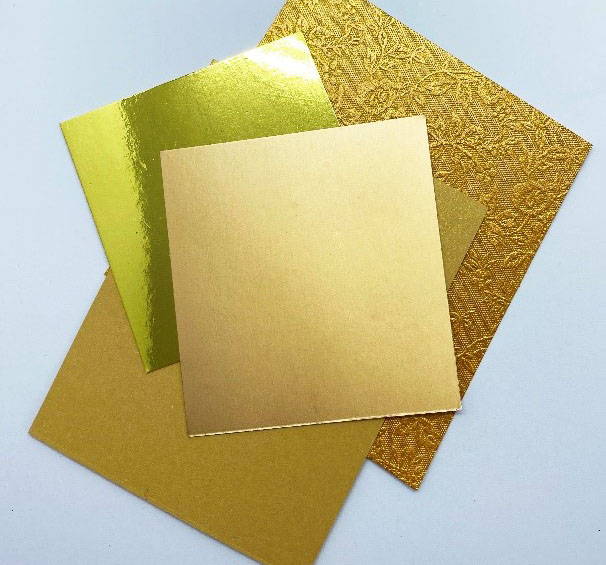 Choose your colour palette – stick to 2 and I went for gold and black. Then pick 4 different types of cardstock in those colours. Try to pick something with texture and something with a bit of shine. I think. These are the golds and I've gone for a specialty card, a high gloss mirror card, a satin mirror card and a pearlescent card. As you can see, they all work so well together.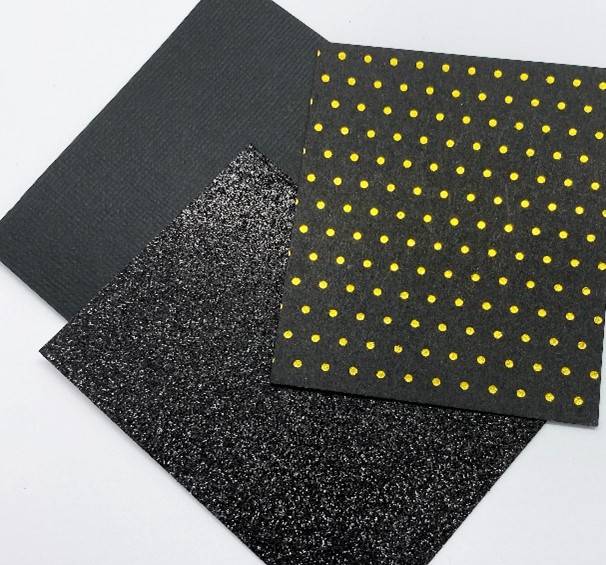 When it came to choosing the black cardstock, I found 3 that I wanted to use – a classic craft perfect, a glitter card and a foiled kraft card.
But I needed a fourth.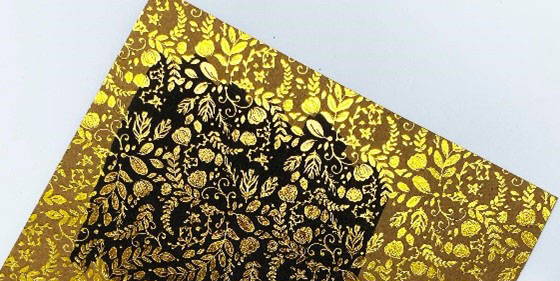 So I chose some specialty cardstock and coloured it with my Pitch Black Nuvo alcohol marker. If you are struggling to find a cardstock to match, try using your pens with this stuff – it's amazing, it looks fabulous and you will not lose that beautiful shiny foiled detail.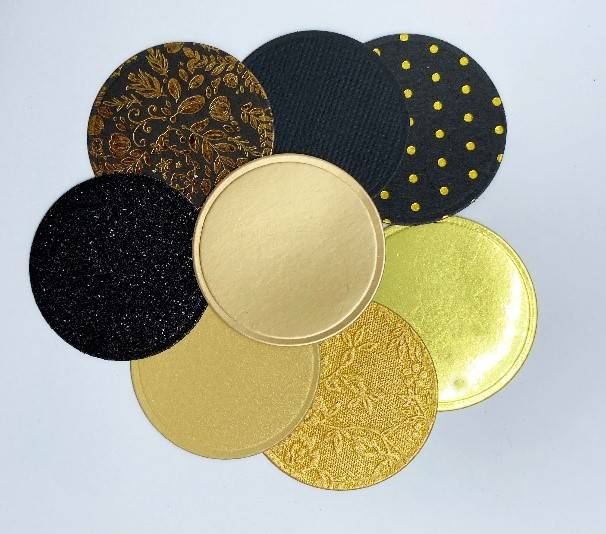 Now grab a circle die – mine is 4mm in diameter. But if you don't have one, then just cut up some 4mm squares instead.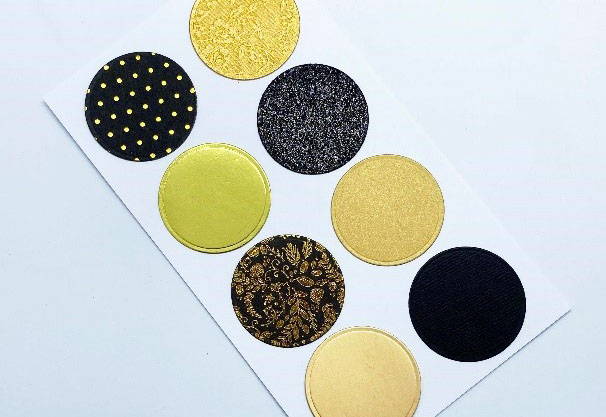 Arrange your shapes onto the piece of white cardstock we cut out at the beginning. Don't stick them down until you are happy with how they look. Try and arrange them so that you don't have 2 similar textures or finishes together. Then when you are happy, glue them down and stick to the front of you card base.
Now stamp your sentiment and trim to 88mm x 14mm. Cut a piece of mirror card to 90 x 16mm and a piece of Jet Black cardstock to 94 x 20mm.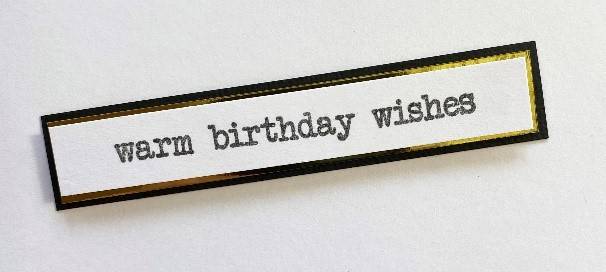 Mat the sentiment onto the mirror card using foam pads then mat that to black cardstock using Deluxe Adhesive.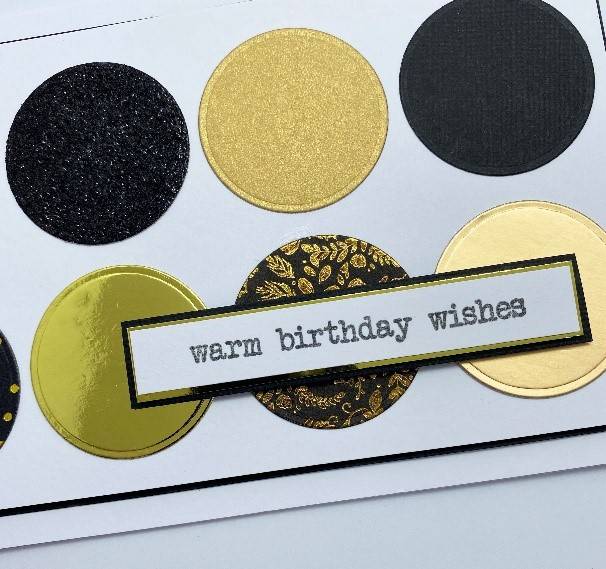 Finally, stick to the front of your card using foam pads.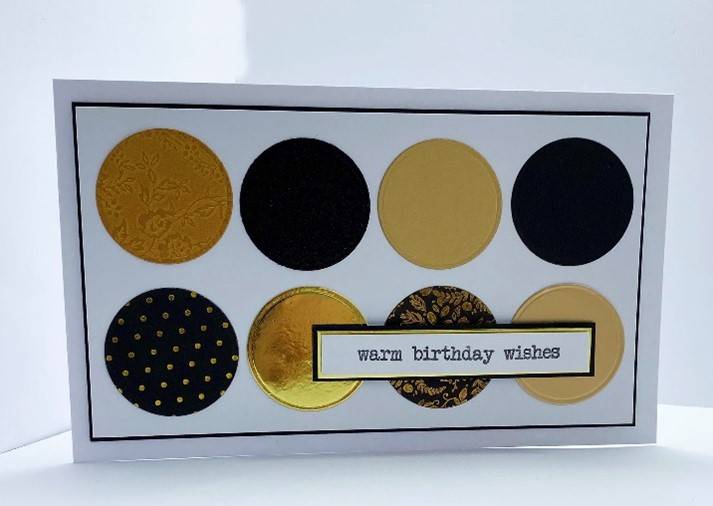 This is the girlie one. I just used 7 different cardstocks and added a bow and mirror card flower.