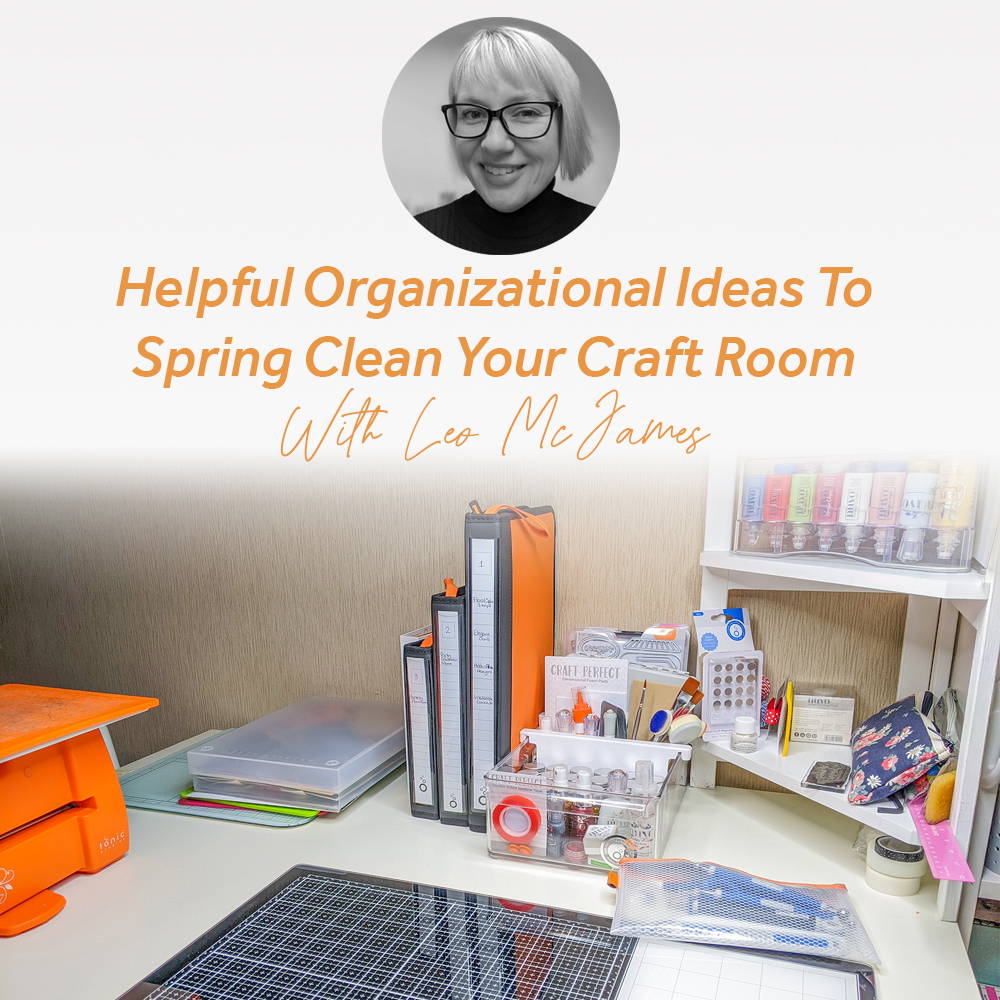 Spring is definitely in the air: the evenings are lighter, the weather is warmer and flowers are popping up everywhere. All this puts us in a spring cleaning frame of mind and, I need to confess, my crafty space could use a little tidying and coordination! Tonic's storage and organisation options cover so many different storage needs, I treated myself to help give my space a face lift.
- Craft Storage Pouch - Pencil Case
- Stackable Drop Storage
- Luxury Storage Tray
- Luxury Storage Divider Bar
- A4/US Letter Storage Box
- A5 Ringbinder Die and Stamp Storage Case
- Medium Ringbinder Die Case
- A4 Ringbinder Die Case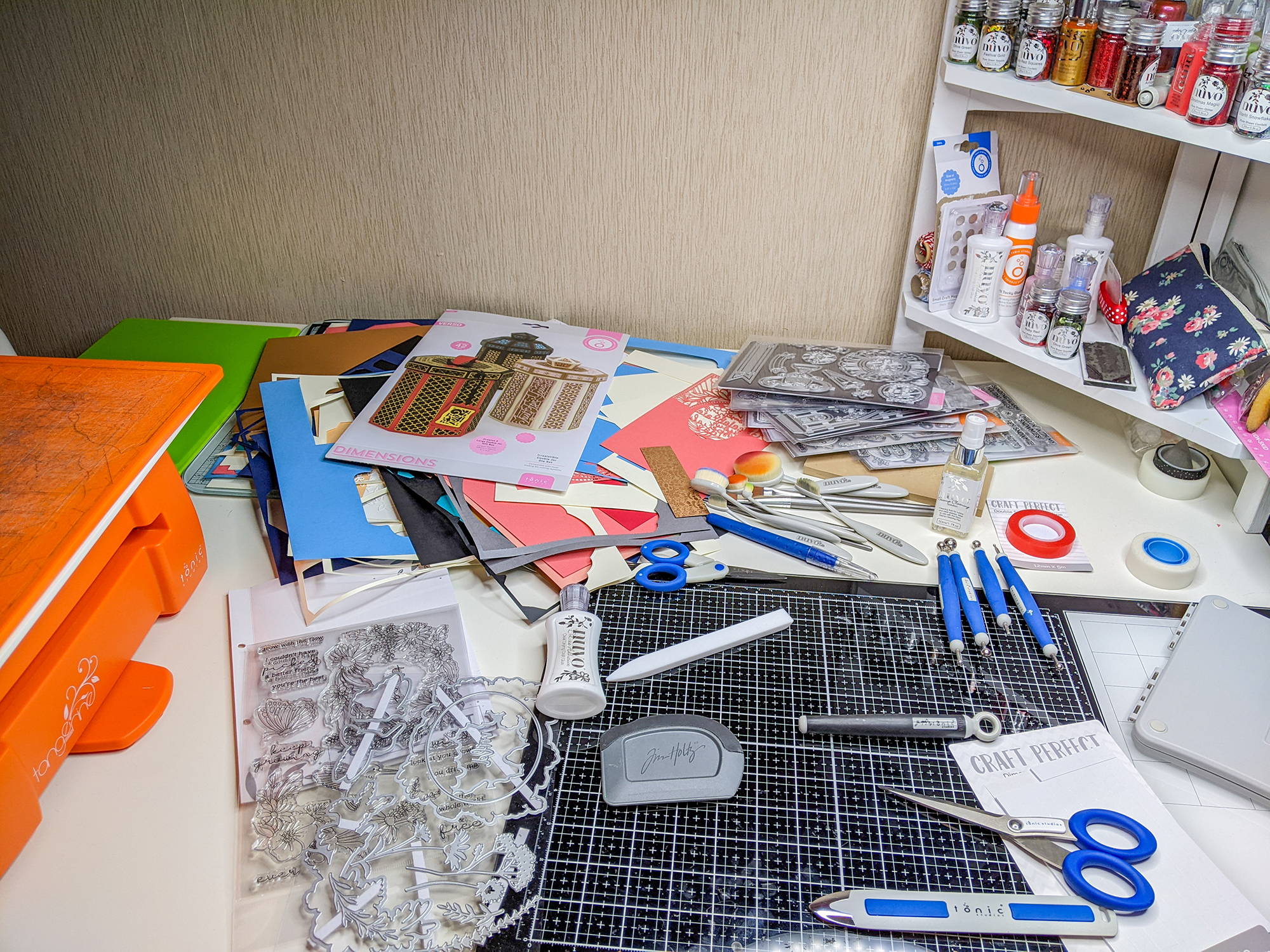 So, let's start with the "before" picture, I apologise in advance for the shocking sight, this is not how I like to craft normally! I've had a busy few weeks of back-to-back projects, and I haven't had a chance to really clear up in between, so my desk has been piling up around the edges. There are stamp and die sets, paper scraps, tools everywhere, and bottles of Crystal Drops and jars of embellishments that fall off my shelf everytime I use my tangerine.
Pencil Case Storage Pouch
I'm going to start with the tools, since they're mostly on top of the mess, and getting them corralled will help me see what else is on my desk! The Pencil Case sized Craft Storage Pouch is perfect for all those tools you use often in your crafting projects.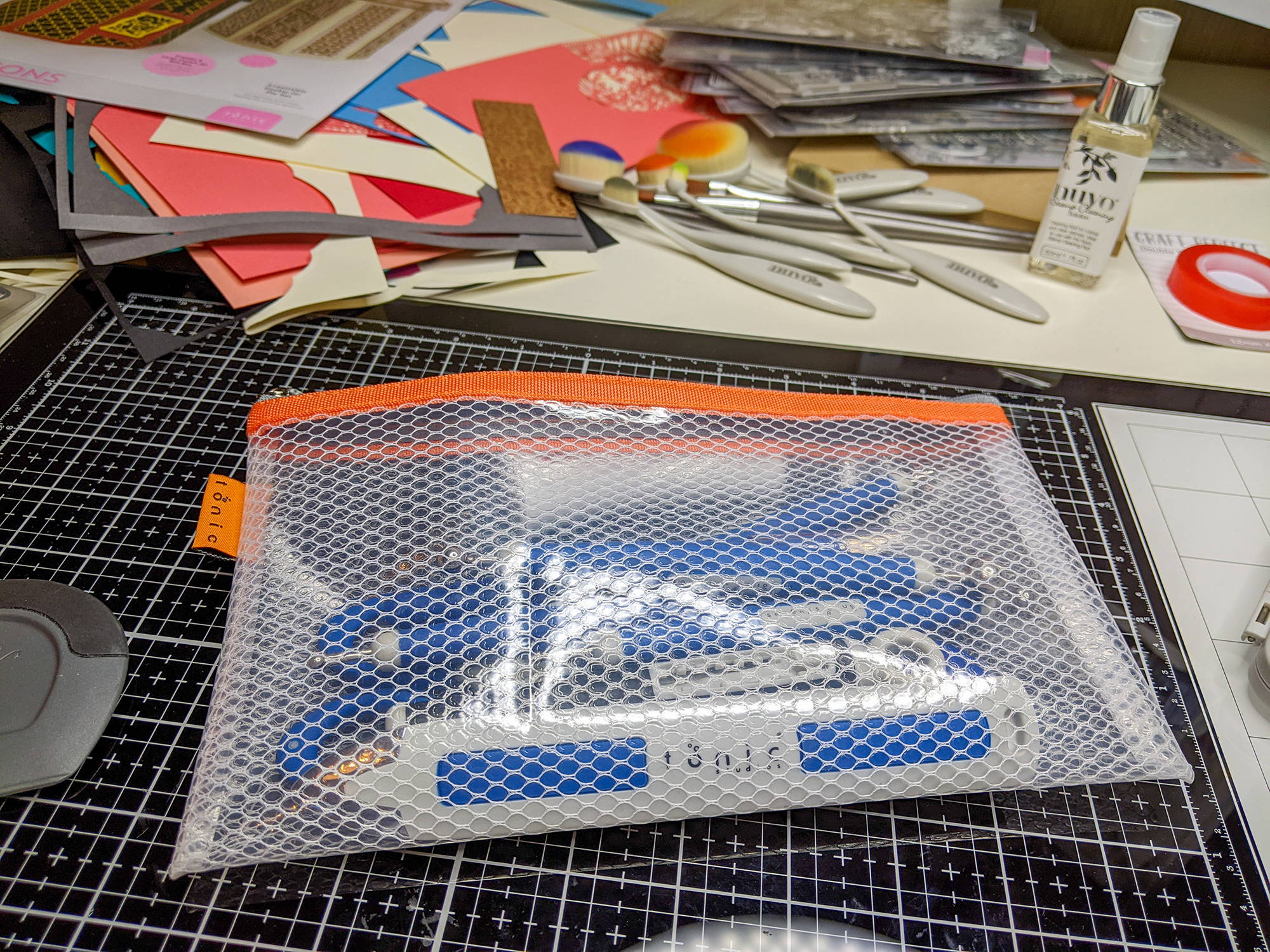 It holds lots and lots of tools, but is handy and portable, so you can take it with you wherever you're crafting. I love to craft with friends, so being able to grab this pencil case with all my tool essentials and take it with me will be perfect.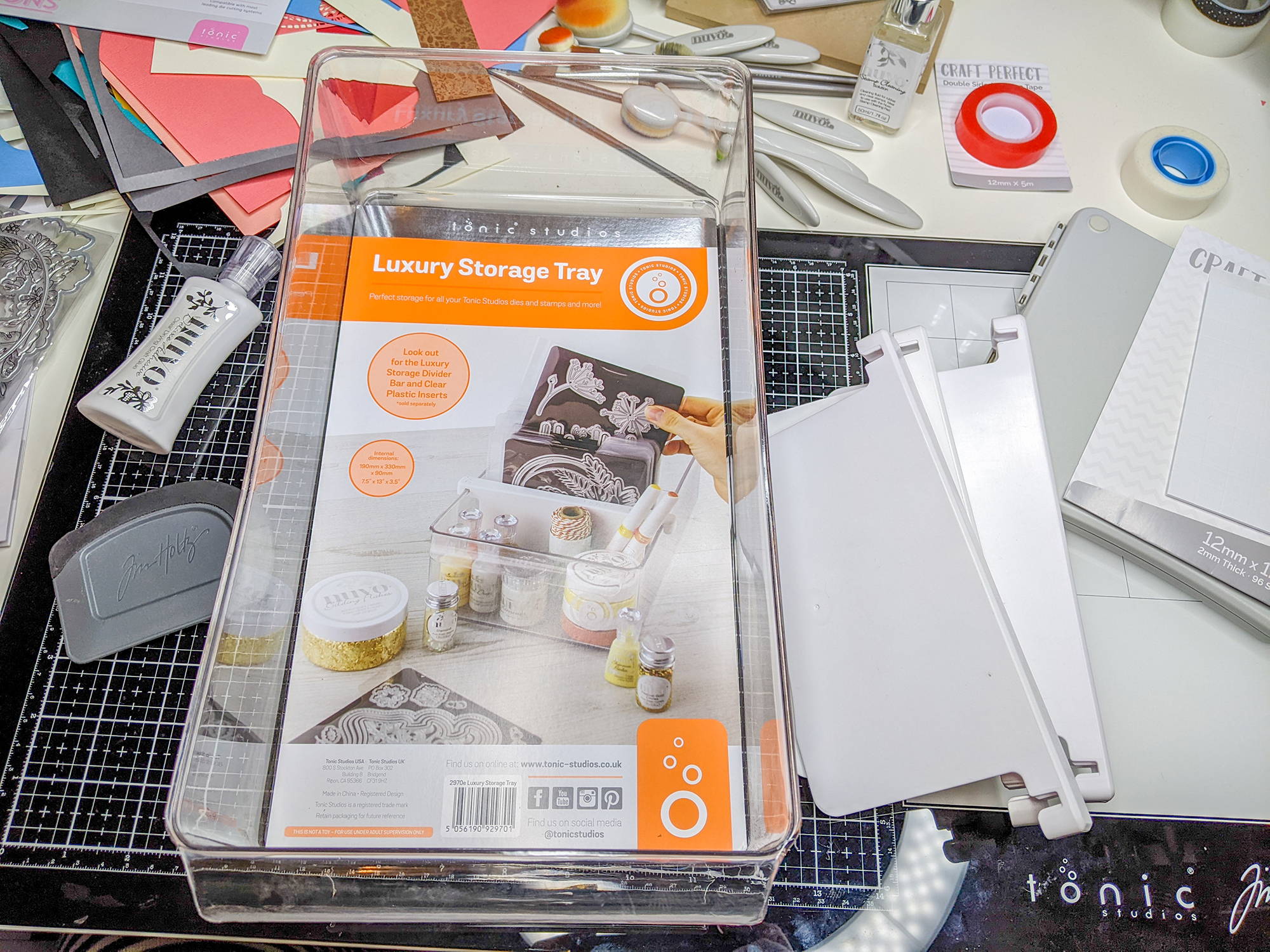 So, now the tools are under control, let's tackle some of the other small bits and pieces around the desk. These Luxury Storage Trays are brilliant, and I love the Divider Bars that you can add to them, to help separate out the things you want to store and organise.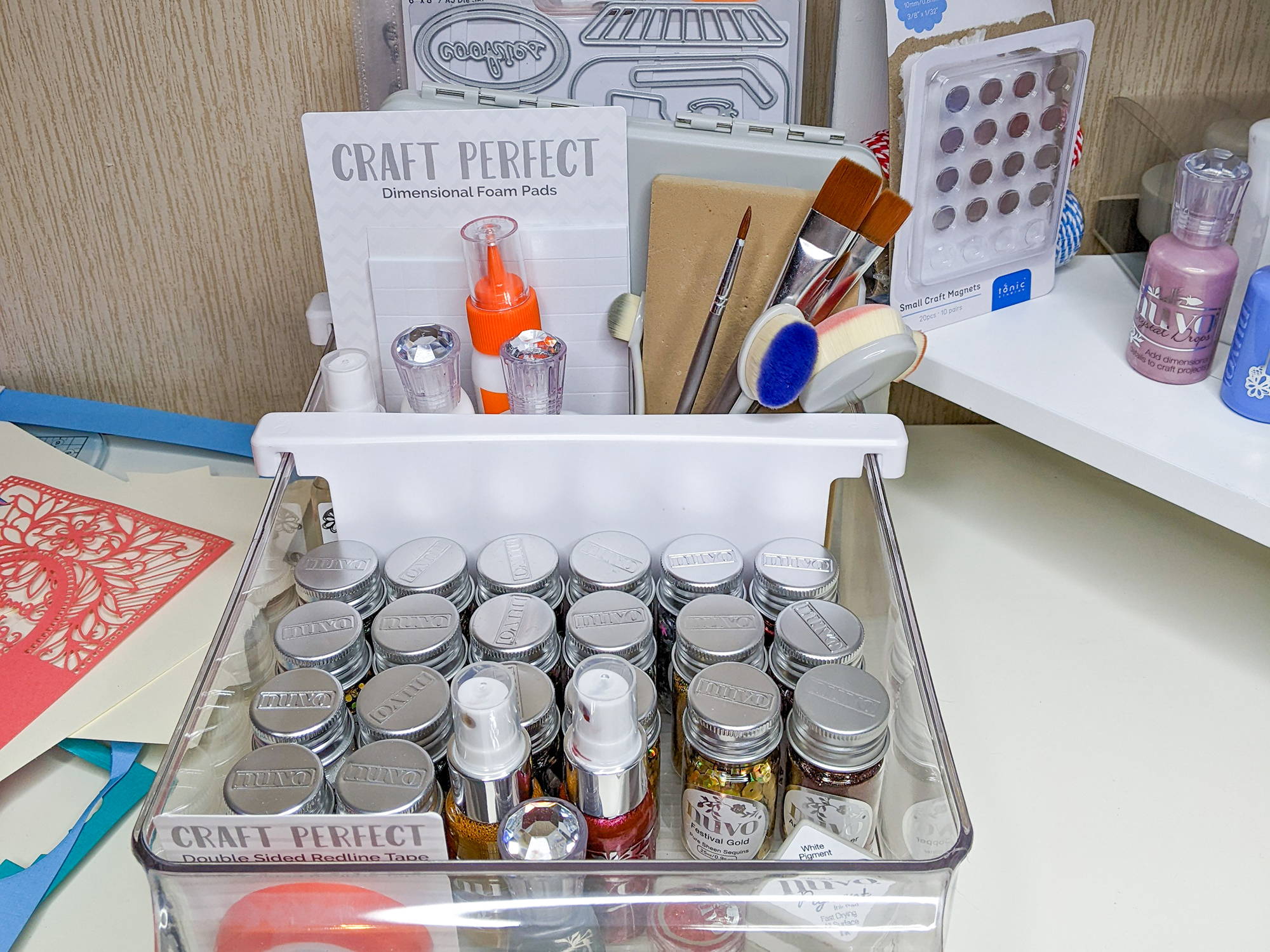 I've put all my Stamp Club wallets in the back section. This makes them super easy to flick through to find the set I'm looking for and keeps them neat and tidy. The middle section is perfect for my Stamp Cleaning Pad, adhesive, and colouring tools to keep them at hand and ready to use. Finally I created a larger section in the front to keep my jars of Nuvo sequins, confetti and glitter under control. Hopefully no more jars leaping off the shelf as I die cut in future!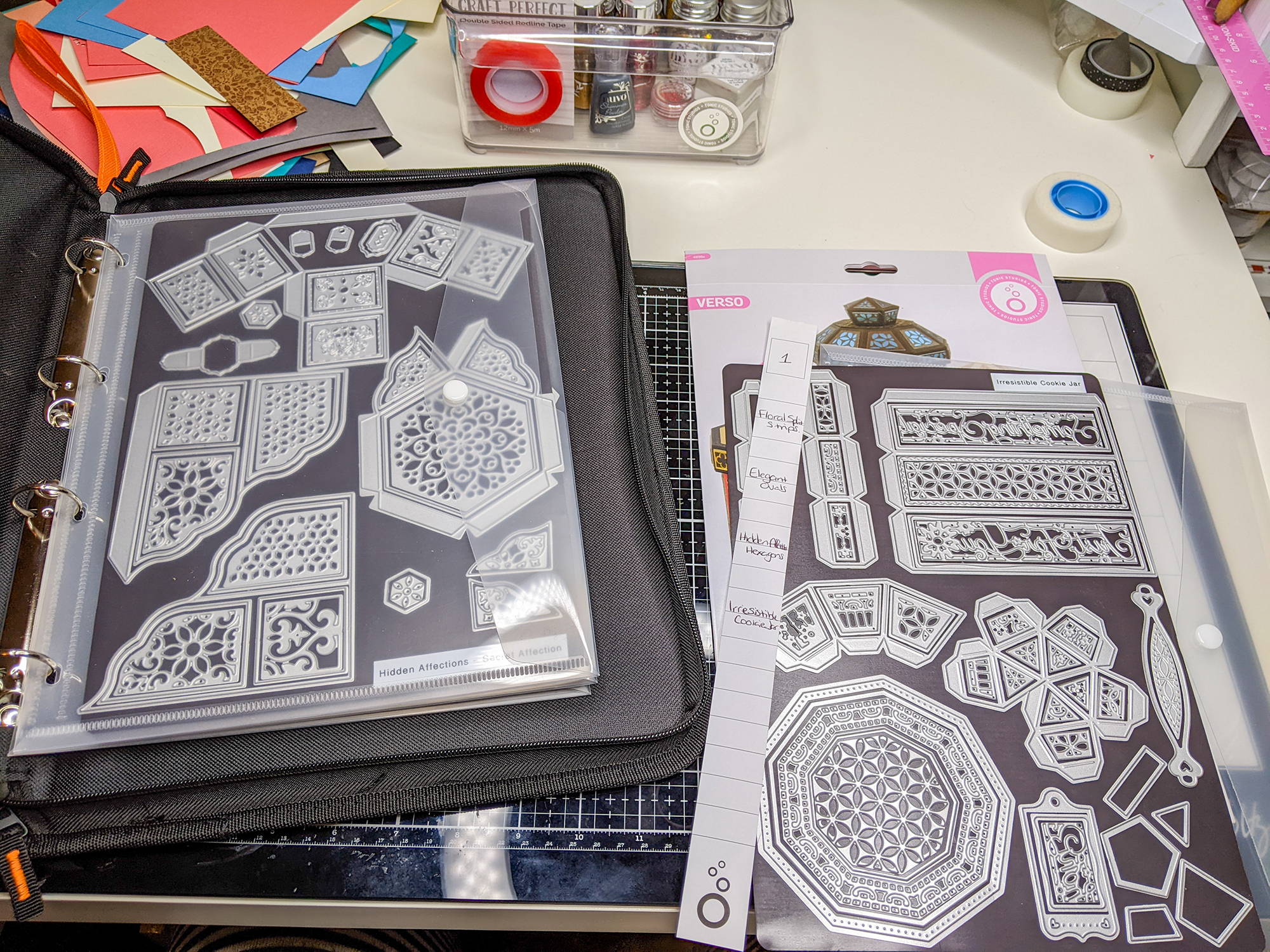 Now onto my larger die sets. I want to ensure these stay in perfect condition, but are easy to track down when I want to use them. The Die Storage Folders are fantastic for this: loaded with clear pockets and double-sided magnetic sheets, I can fit lots of sets in each wallet. I can label each magnetic sheet with the set name too to make them easy to identify.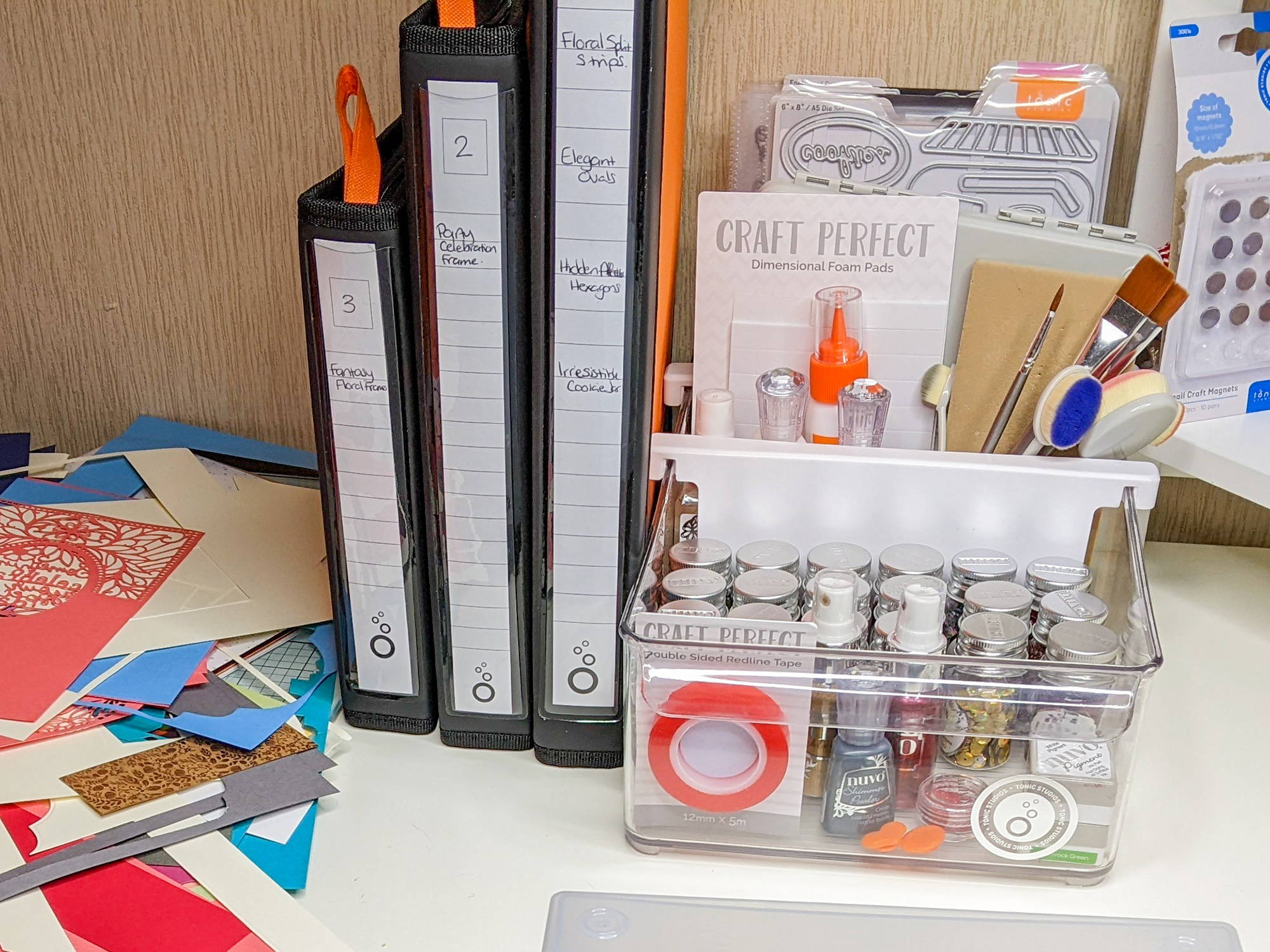 There's even a label down each spine, where you can both number your folders, and note which die sets each folder contains. Great for helping to keep everything organised! The desk is definitely starting to look better now. Just a few more things to tidy and store.
Scrap mountain definitely has to be next. Every crafter has one of these, that pile of half-cut sheets of cardstock and paper that you can't throw away "just in case" but never sit neatly anywhere! This photo really doesn't do this pile justice, there's a huge amount of pieces and they get into everything and in my way while I'm trying to work!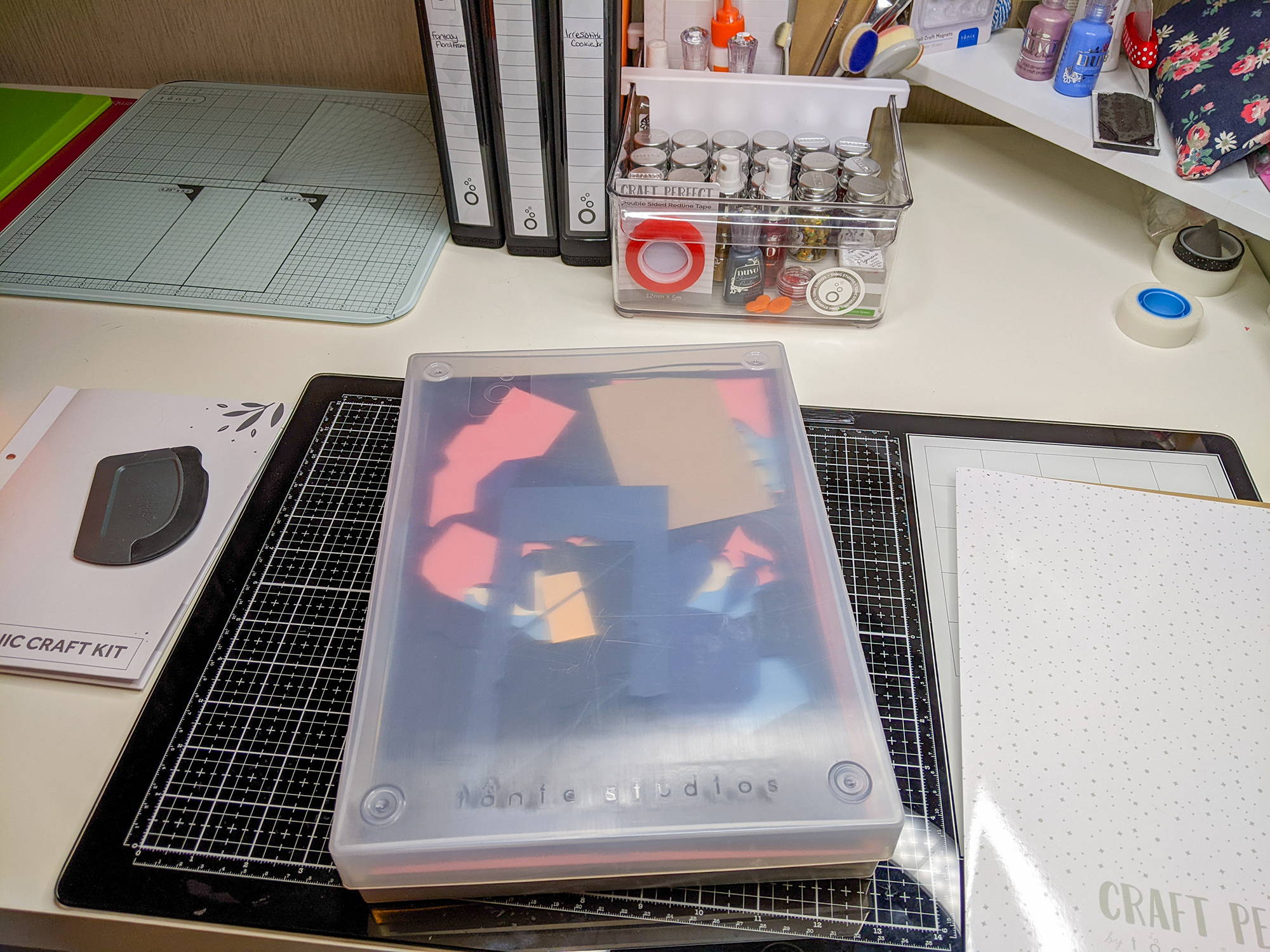 The A4/US Letter Storage Box is just the ticket to store this mess! It perfectly fits A4 or US letter paper and cardstock, it's stackable, it has a lid that lifts straight off so you can easily access your cardstock inside, and it's see-through so you can see what's inside straight away. The scraps are wrangled, my desk is reappearing, and I will soon be able to mess it up again making more pretty things.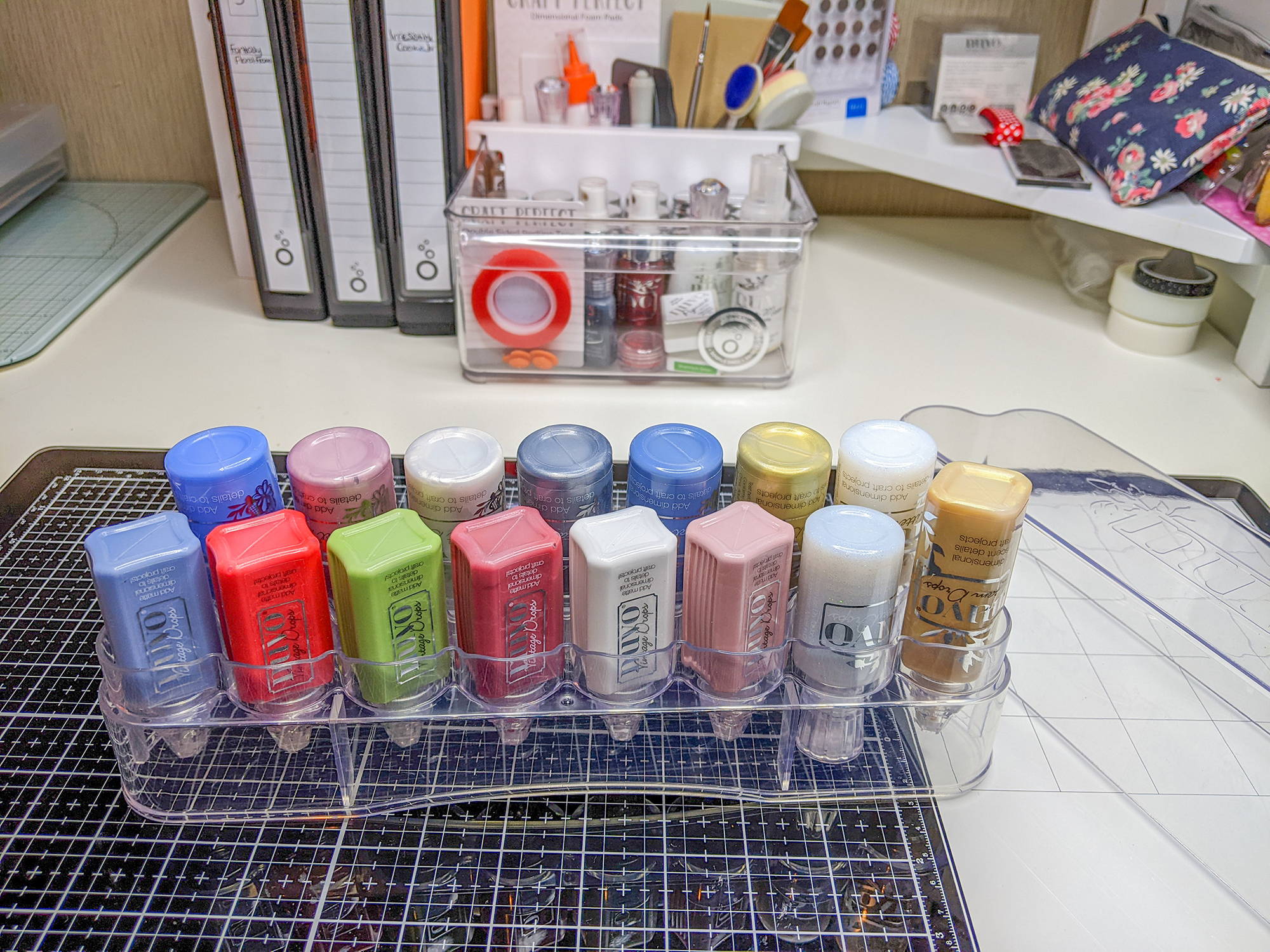 Last up, the Crystal Drops. For this it had to be the Stackable Drop Storage boxes. These hold your drops upside down, so they're always ready to use with the product in the tip. All your different drops bottles will fit, just make sure you put Dream Drops in the lower tray as the bottles are taller!
Slide to see the magical transformation!
Before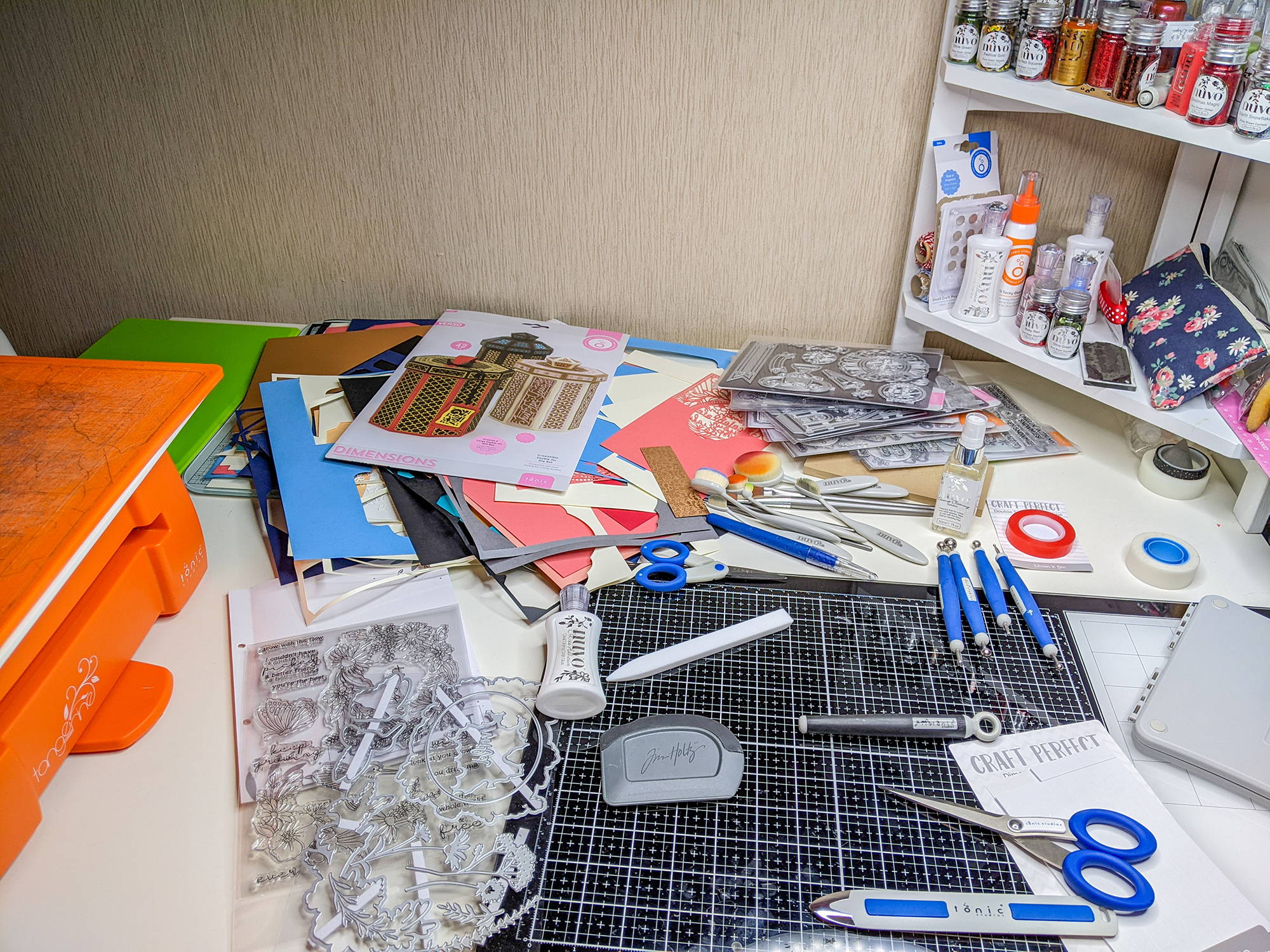 After
There, my space is looking clear and organised, and ready for me to make more crafty mess again! How do you store your craft supplies? Do you have any brilliant storage tips you'd like to share?