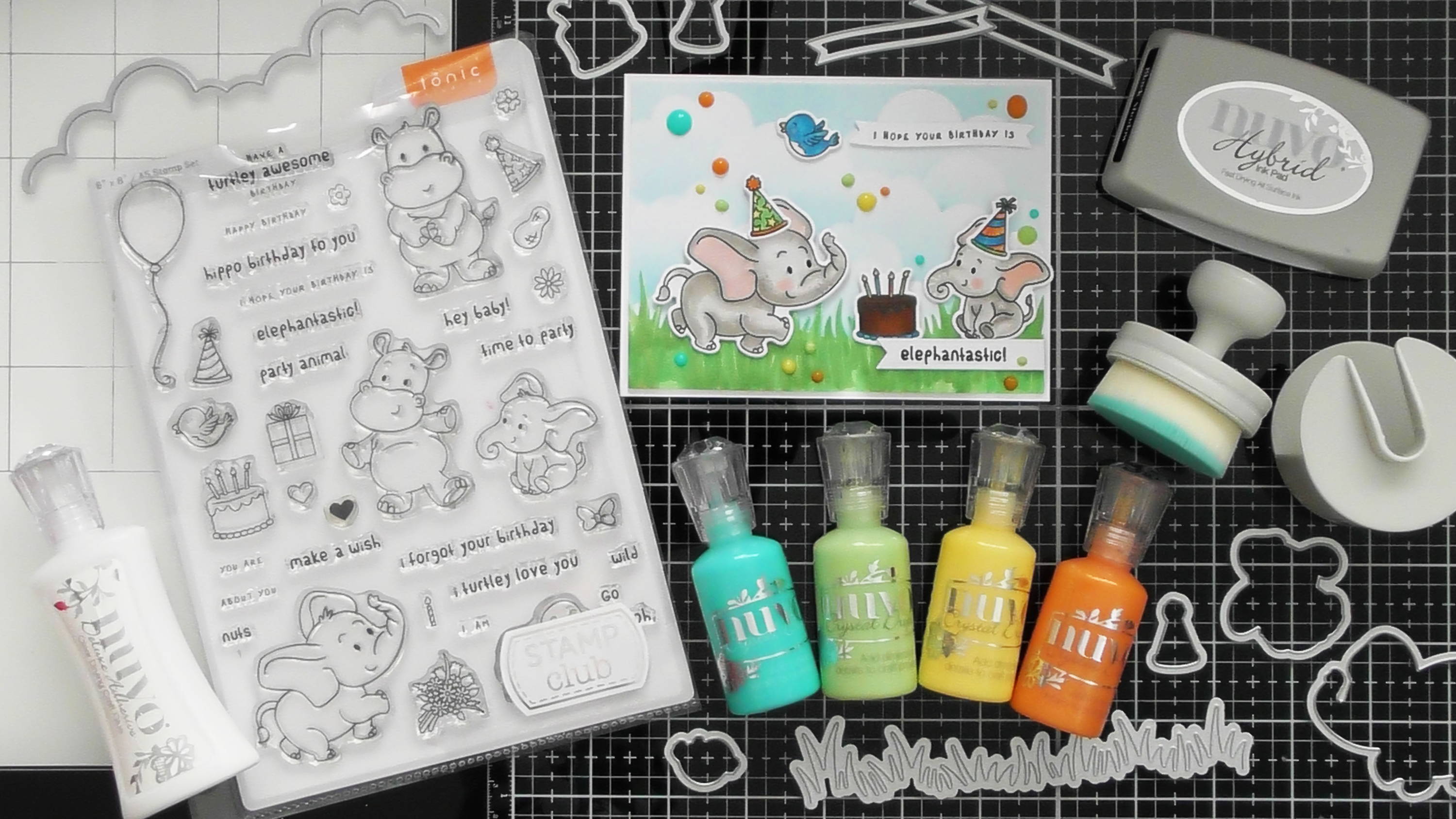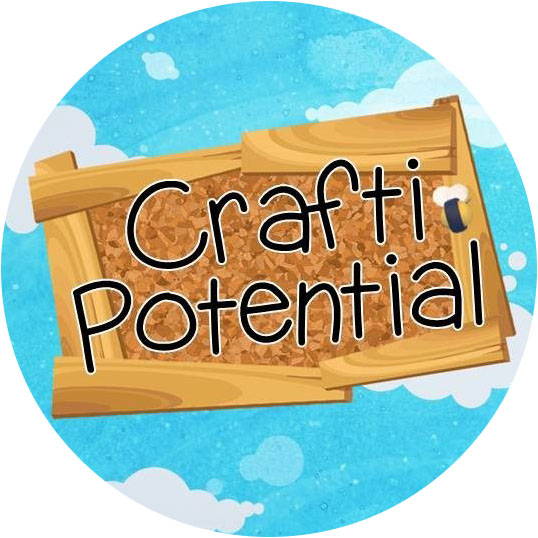 Hello, Christine here from CRaFTi PoTeNTiAl. I'm guessing you've all been eagerly awaiting the second Stamp Club release, well the wait is finally over, and Tonic has not disappointed, this month's stamp club is adorable!! And features such cute little characters that are perfect for the younger generation, or just for those of us who love cute little critters. I have to say, the tortoise is my absolute favourite, but I might be a bit biased because he reminds me of my tortoise Charles who is currently having his long winter snooze in the shed. In the coordinating die set for this months stamps, not only do you get a die for EVERY image, but you also get a grassy border die, and a cloud border die too, which I've used in my step by step to create an inky cloudy blue sky for the background of my card. And last month we had an add on stamp set, but this month we have an add on die set which is packed full of banners, rectangles, ovals, all sorts of different shapes that are perfect for cutting out all of the punny sentiments from this months Turtley Awesome stamp set. I hope you enjoy this months Stamp Club as much as me. I love that you get those two extra border dies in the coordinating die set as it just enables you to start instantly creating your scenes using your cute characters.
---
You Will Need:
Stamp Club #2 (stamps and coordinating dies)
Nuvo Large Blending Brush
Blue ink of choice
Nuvo Black Shadow Ink Pad
Stamping Platform/blocks
Nuvo Alcohol Pens
Tangerine Die-Cutting Machine
Nuvo Deluxe Adhesive
Craft Perfect Foam
Crystal Drops (Caribbean Ocean, Apple Green, Ripened Pumpkin and Dandelion Yellow)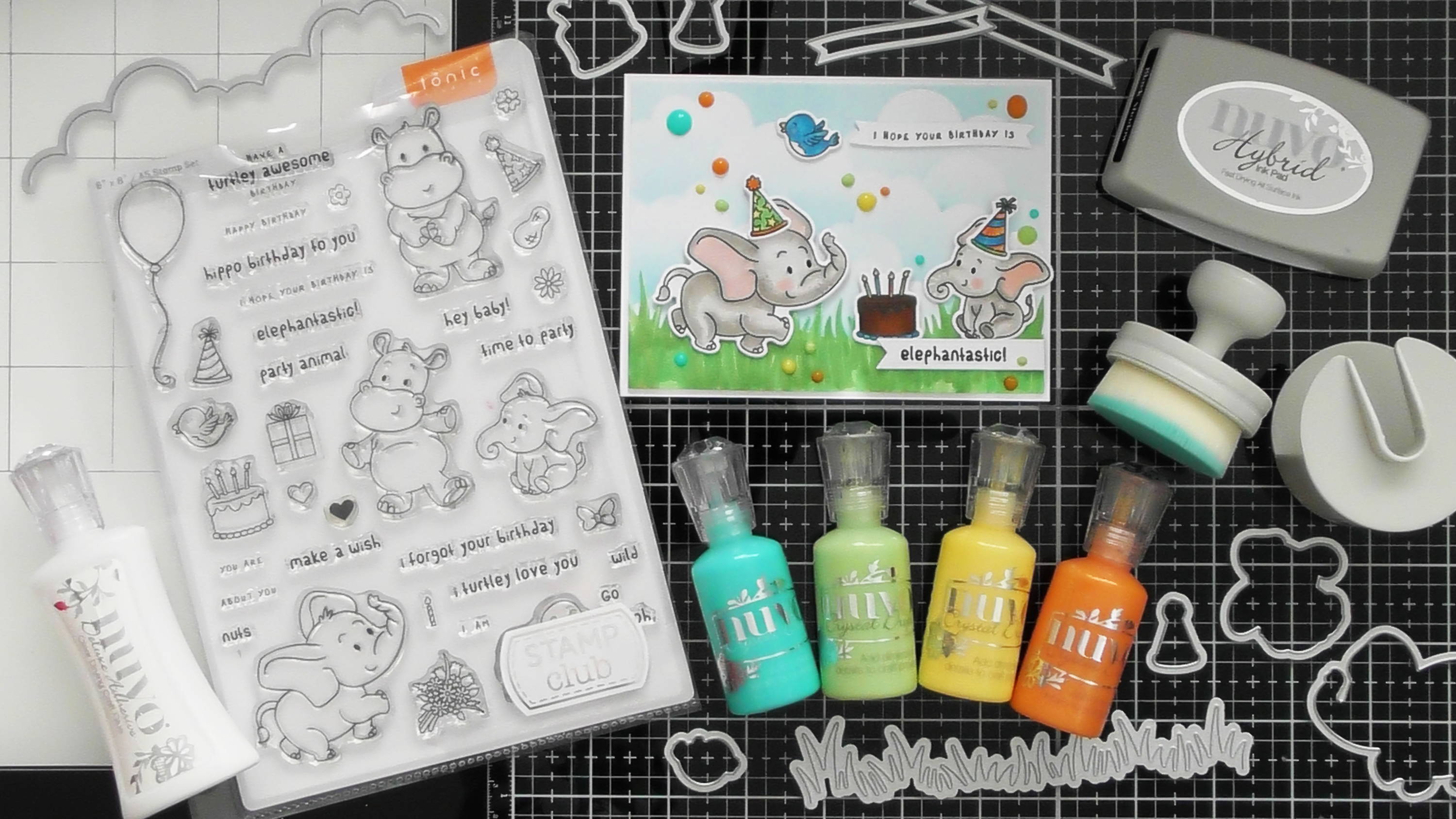 ---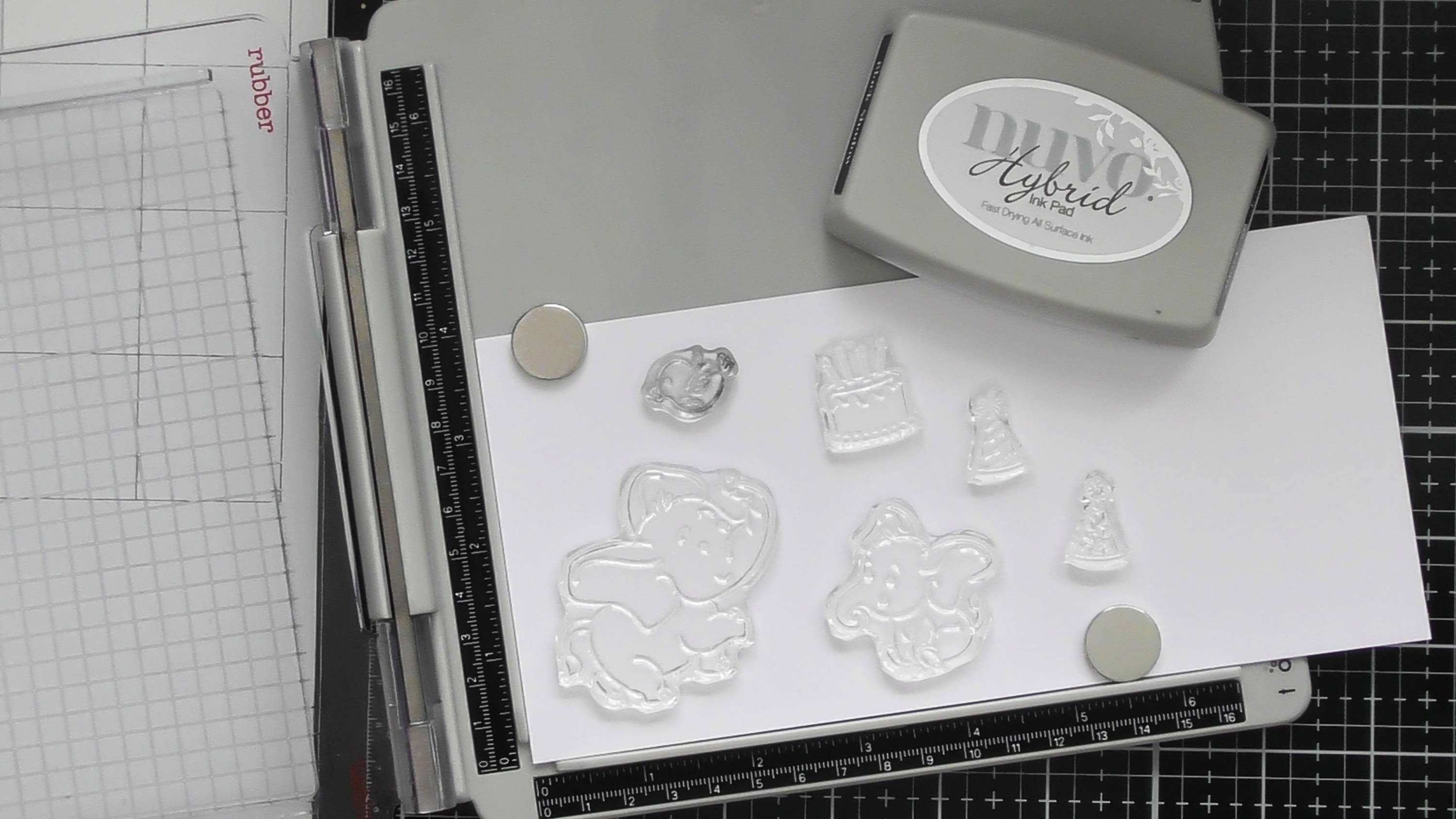 Chose your characters, I've got both Elephants and the Bird, plus for accessories I've got both hats and the birthday cake. Stamp them using the Nuvo Hybrid Black Shadow ink pad, then cololour with your favourite medium, I've used Alchol Pens.
Use the coordinating dies to cut out all of your coloured images. You'll also need a strip of grass, and a cloud die-cut that we'll use as a mask for creating our sky. And if you've invested in the extra die set this month, you'll also want to die-cut a couple of banners for your 2 part punny sentiment.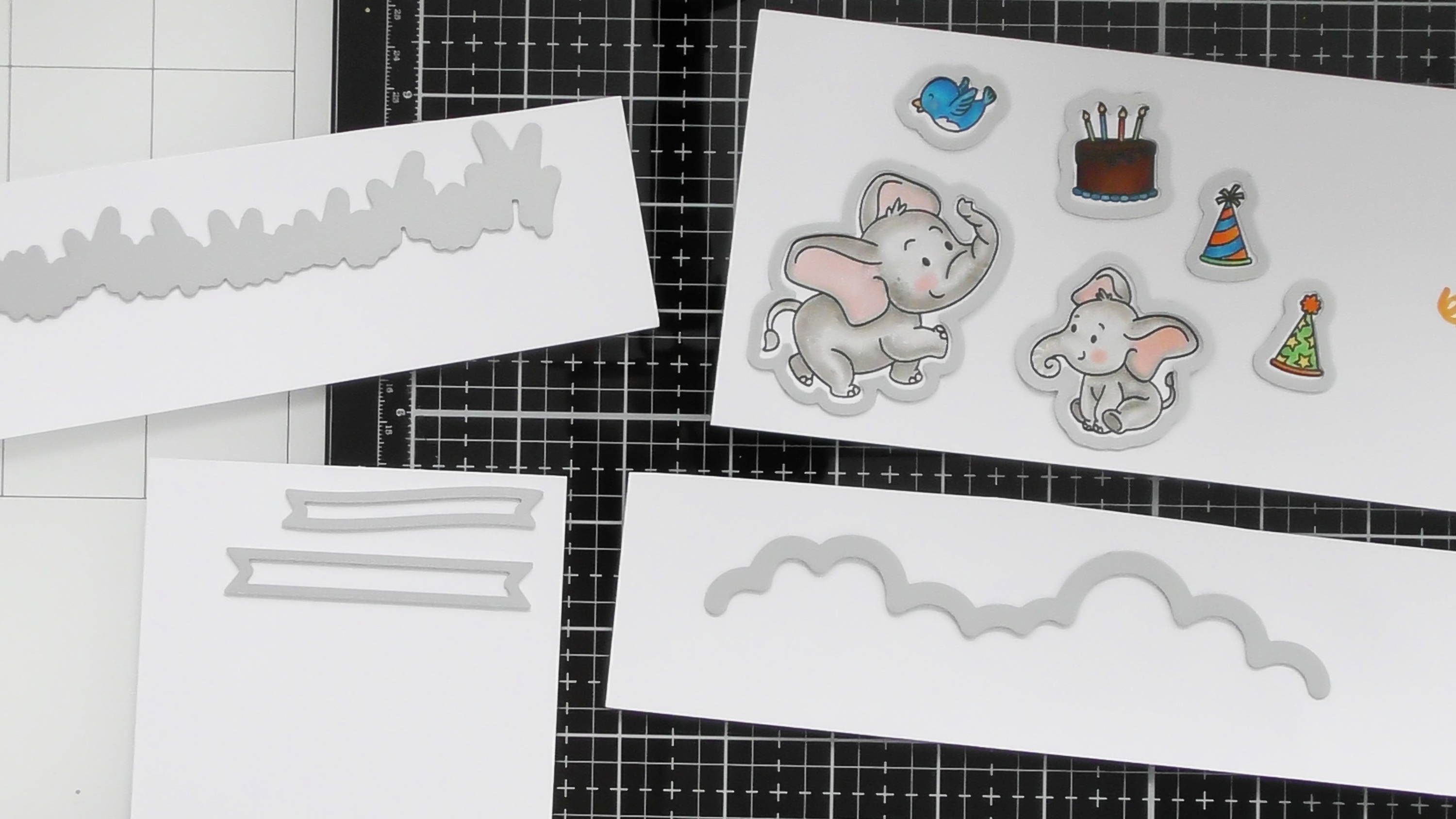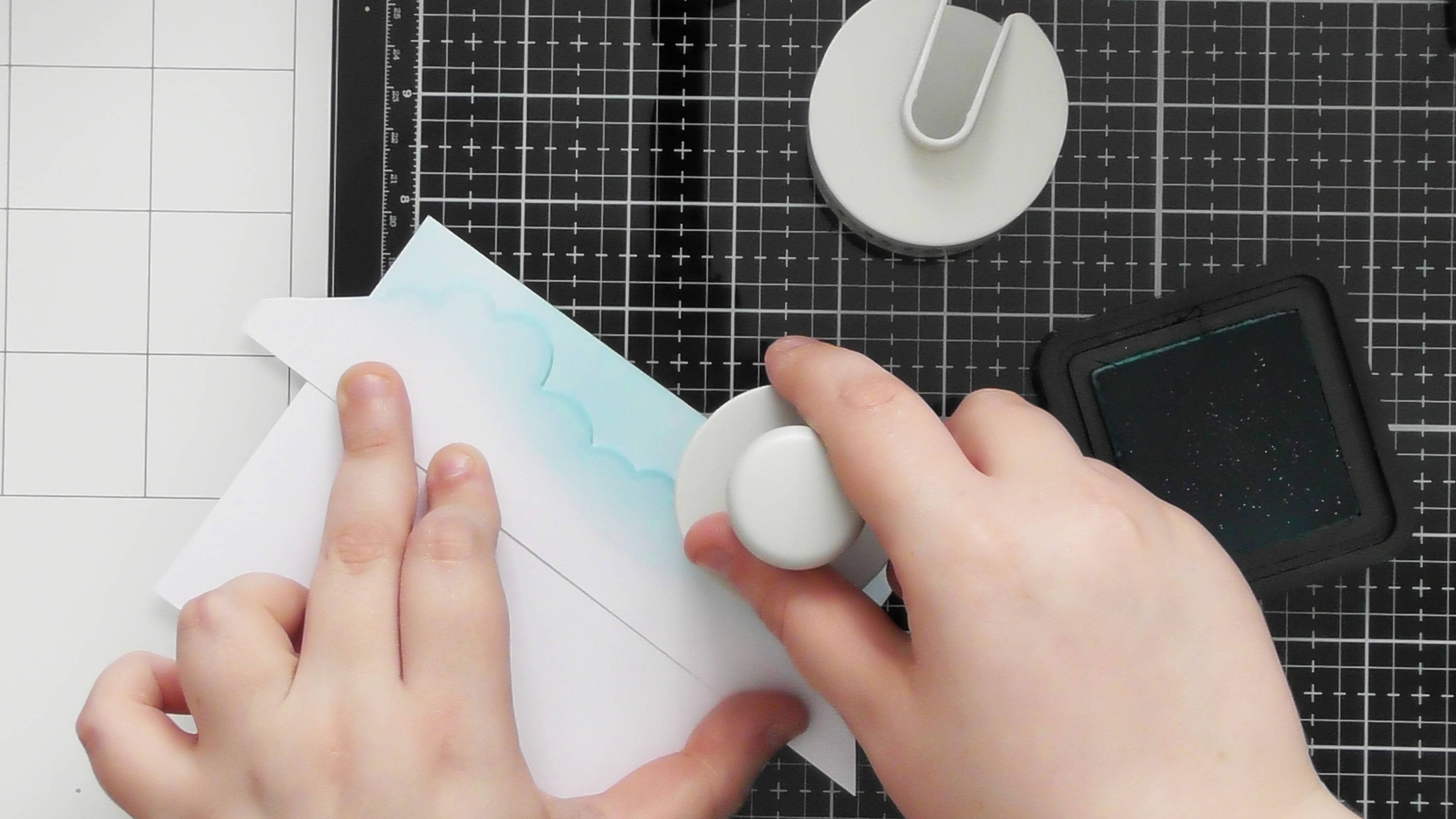 To create a beautiful inky cloud background, start off by selecting your favourite blending tool, I'm using the new Large Nuvo Blending Brush, and your blue ink of choice too. Place your 'mask' (so the actual cloud die-cut) towards the top of your piece of card and blend over to give your blue sky and mask your first lot of white clouds.
Keep moving your cloud mask further down the card, changing the angle to create a different cloud line each time, focusing the ink at the edge of the cloud and not blending it too much into the preious clouds, as shown. Continue this down the remainder of the card, then trim your panel to be landscape in orientation and 13 cm x 10 cm in size.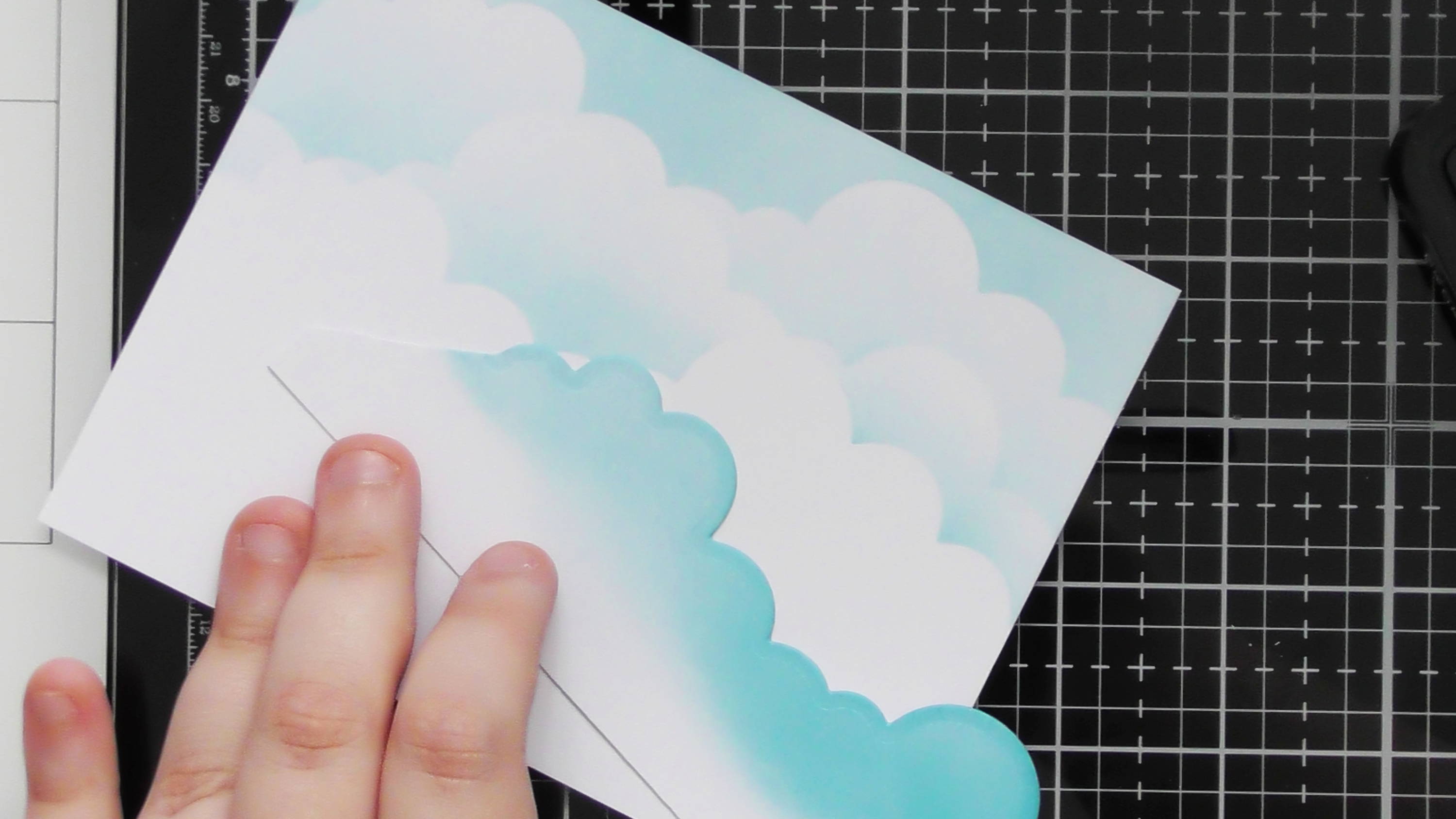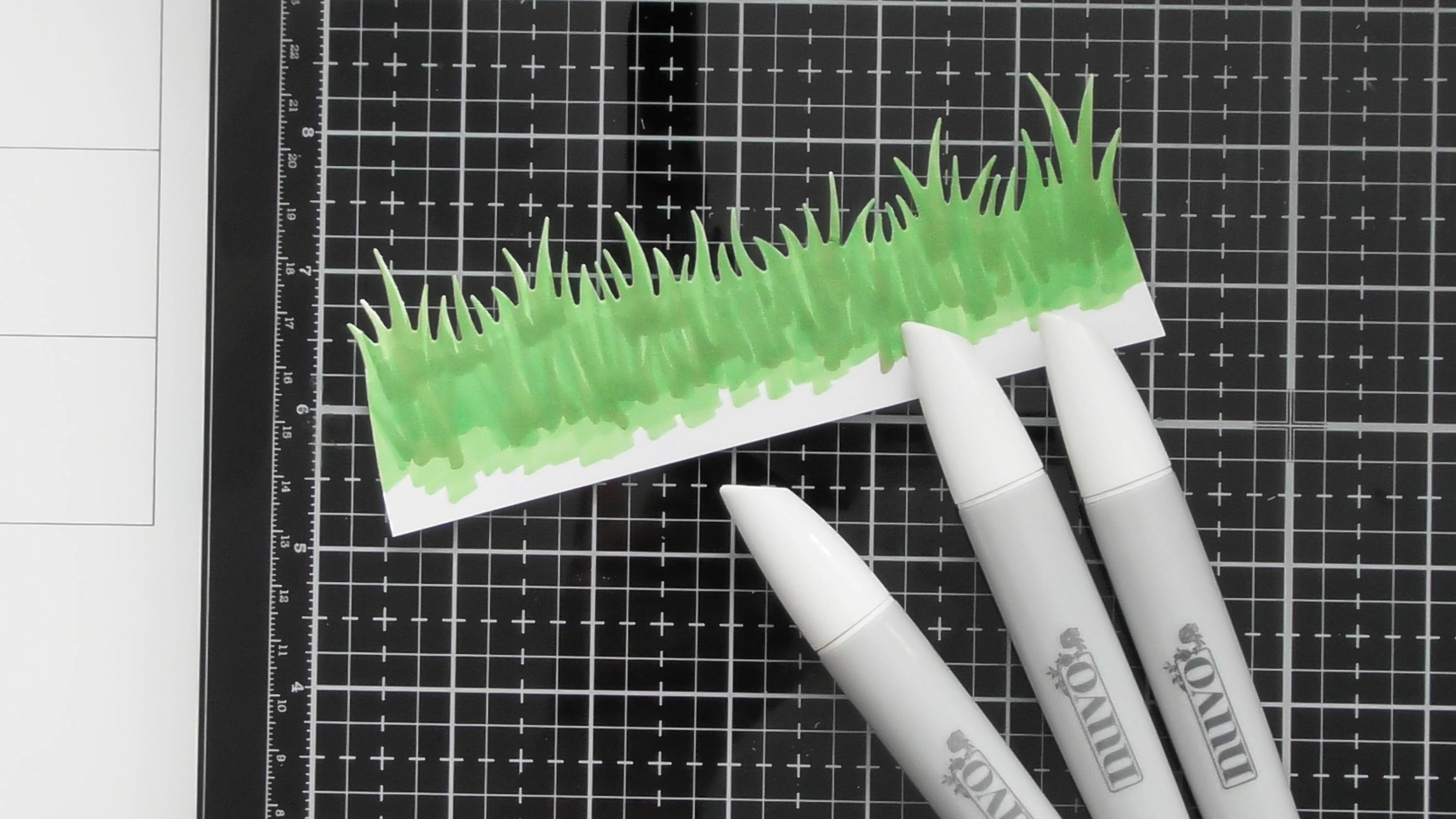 You could have used green card for the grass, but because the sky is ink blended and the characters are coloured, I thought adding colour with the same alcohol pens would give the perfect balance. So simply colour the card with your lighter green and flick on some blades of grass with a slightly darker tone.
Get all your pieces together and decide where you want the grass, adhere it to the bottom of the sky panel, then flip it over and use a long bladed pair of scissors to trim any overhang from around the edge of your panel.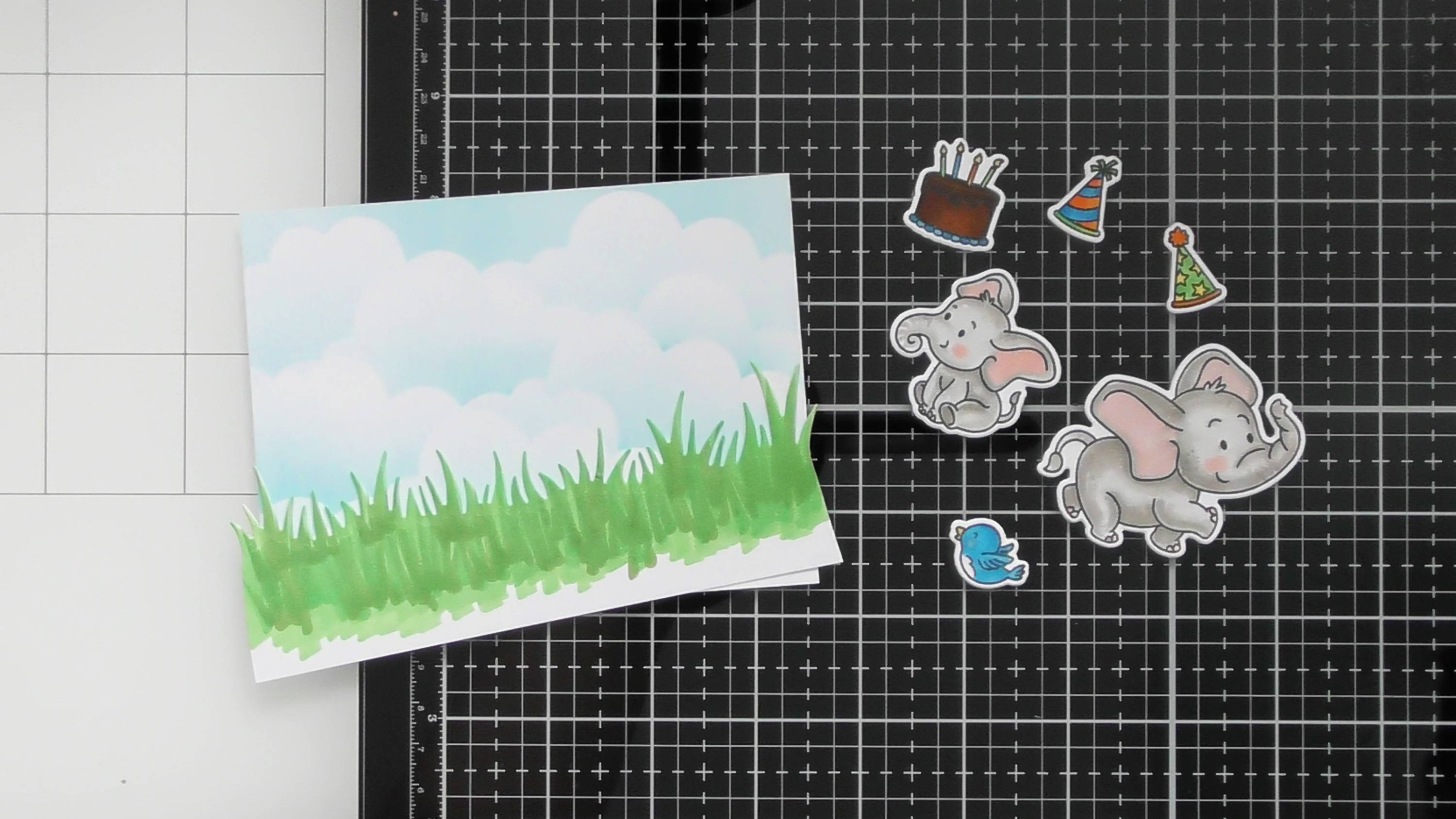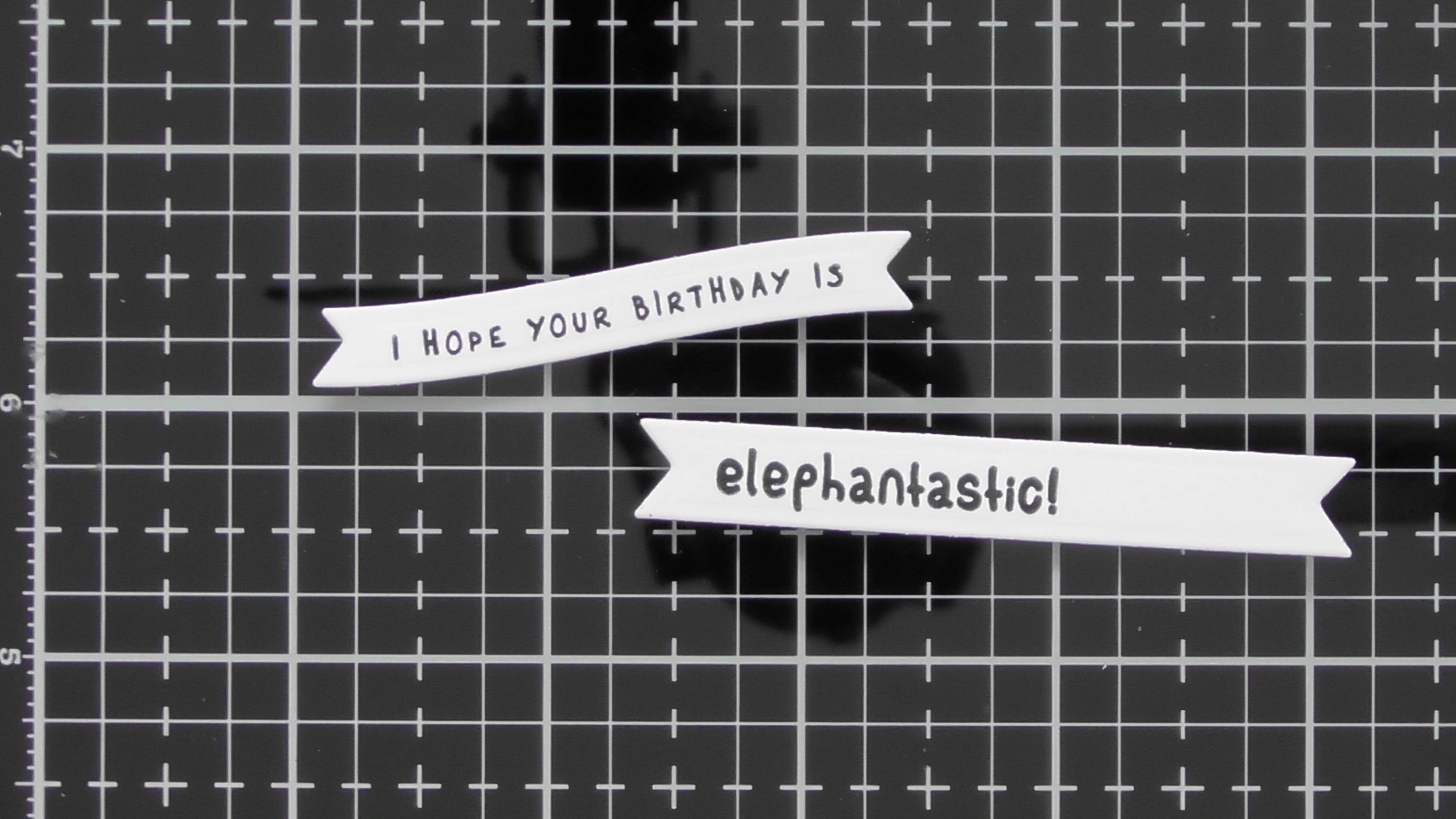 Chose your punny sentiment and stamp it onto some corresponding sized banners from the add on die set for this month. Alternatively if you didn't get the extra die set you can always trim your stamped sentiments into strips or stamp them directly onto your card.
Play around with the placement of all of your characters, this might even give you some ideas for further projects too.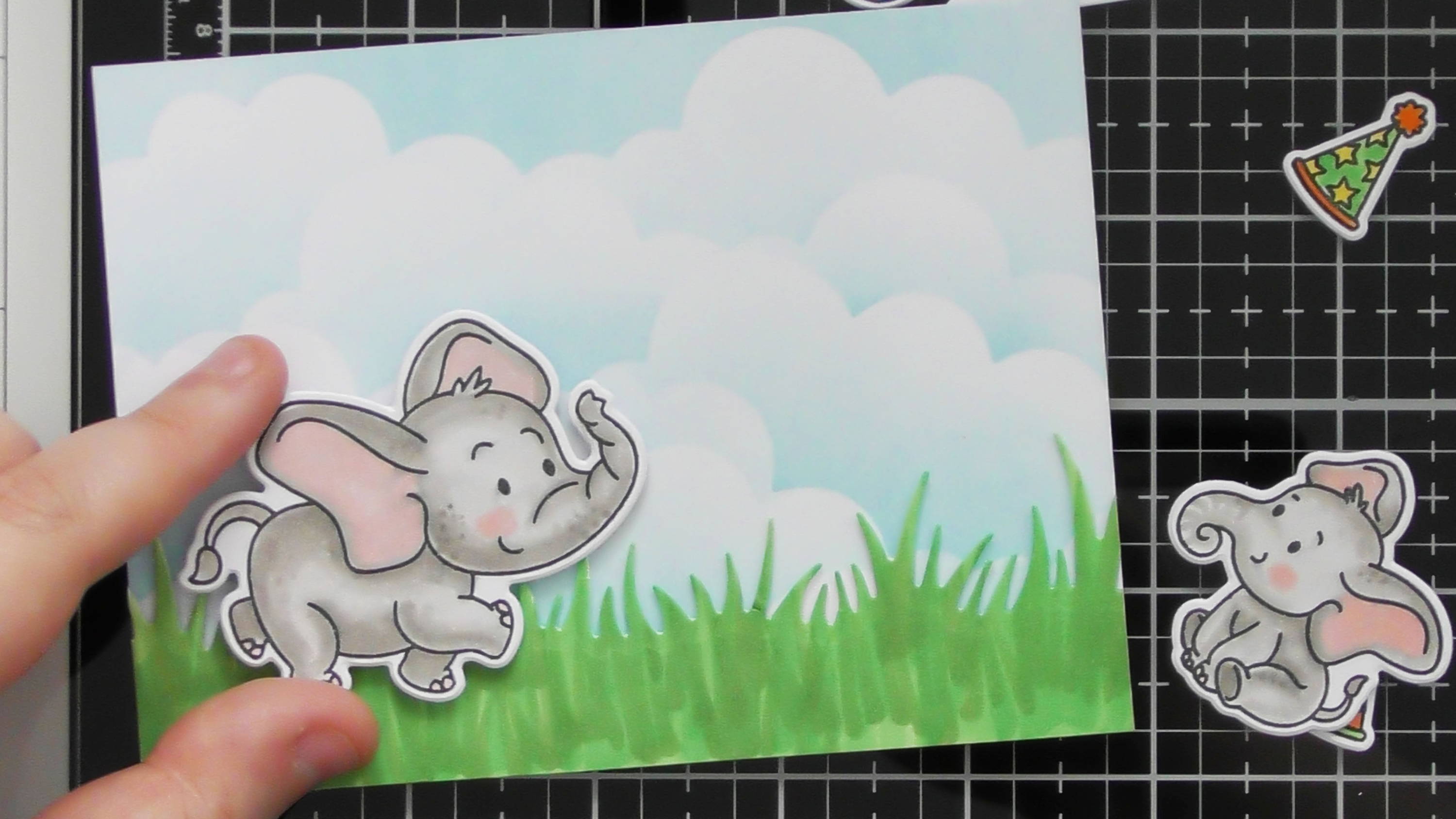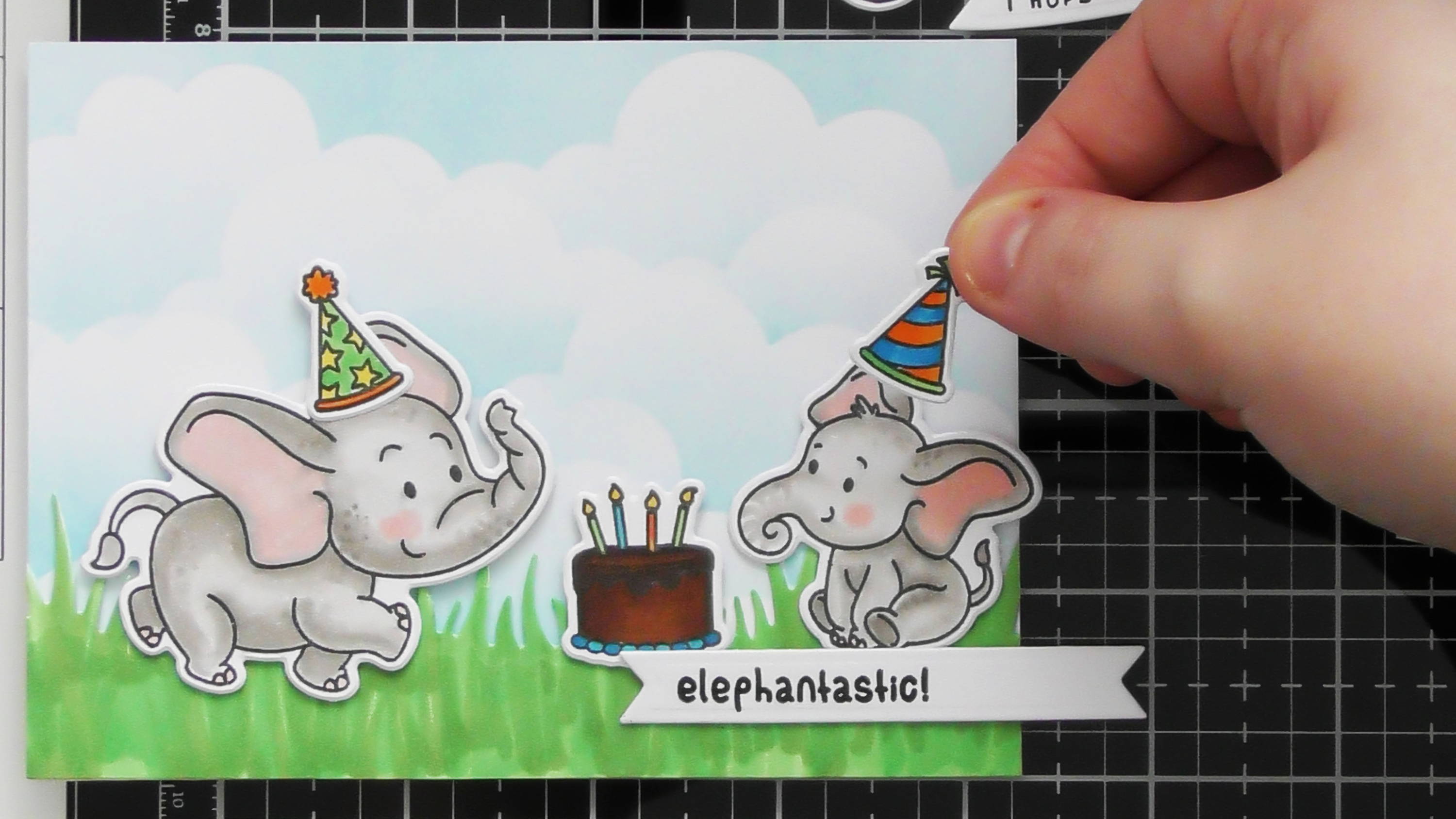 Once you're happy with the placement, stick everything down using a mixture of Deluxe Adhesive and 3D foam squares to give some depth to your scene.
Trim a white card blank down to 13.5 cm x 10.5 cm and add your completed panel to this leaving a narrow 2.5 mm white border around each side.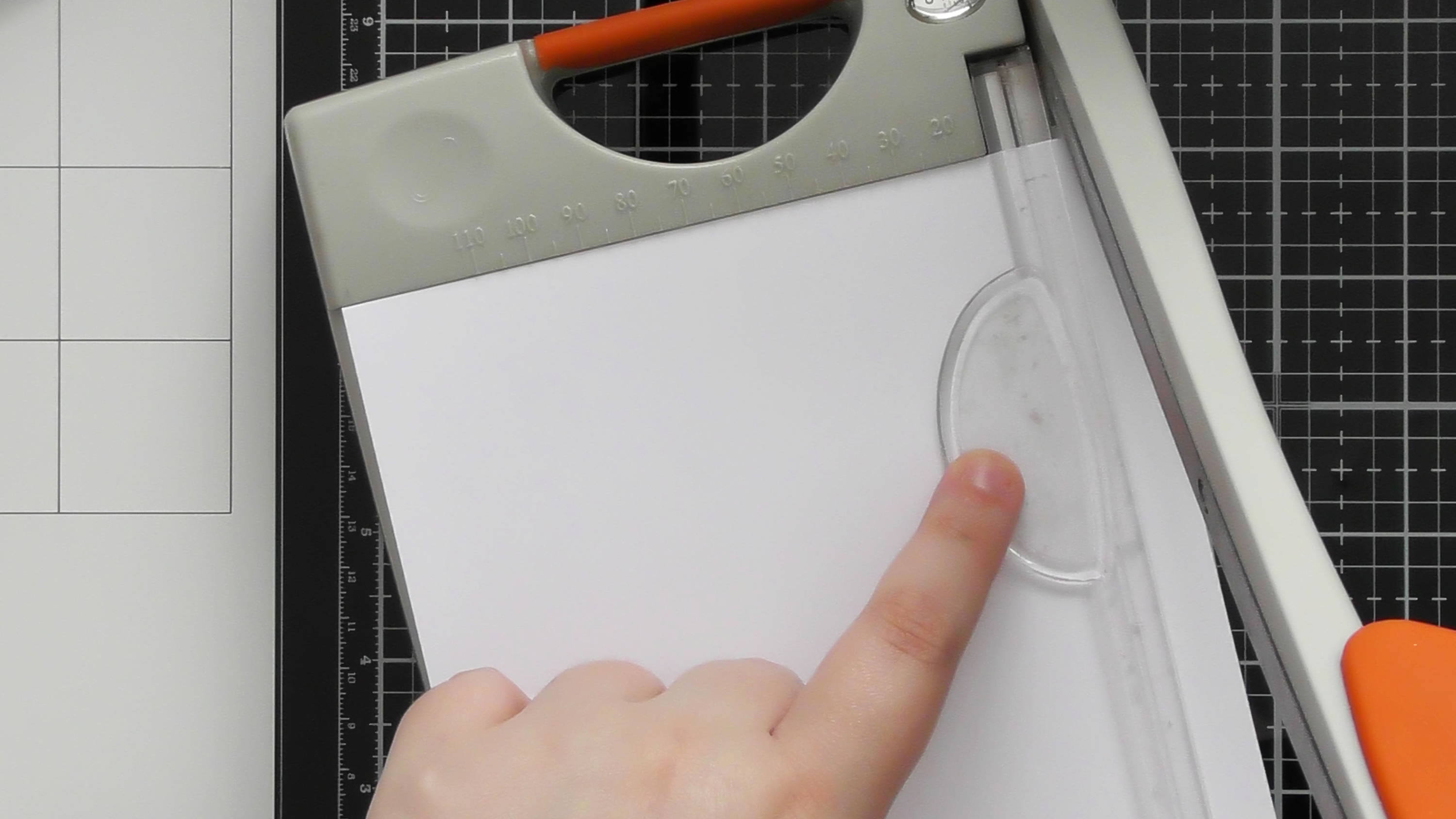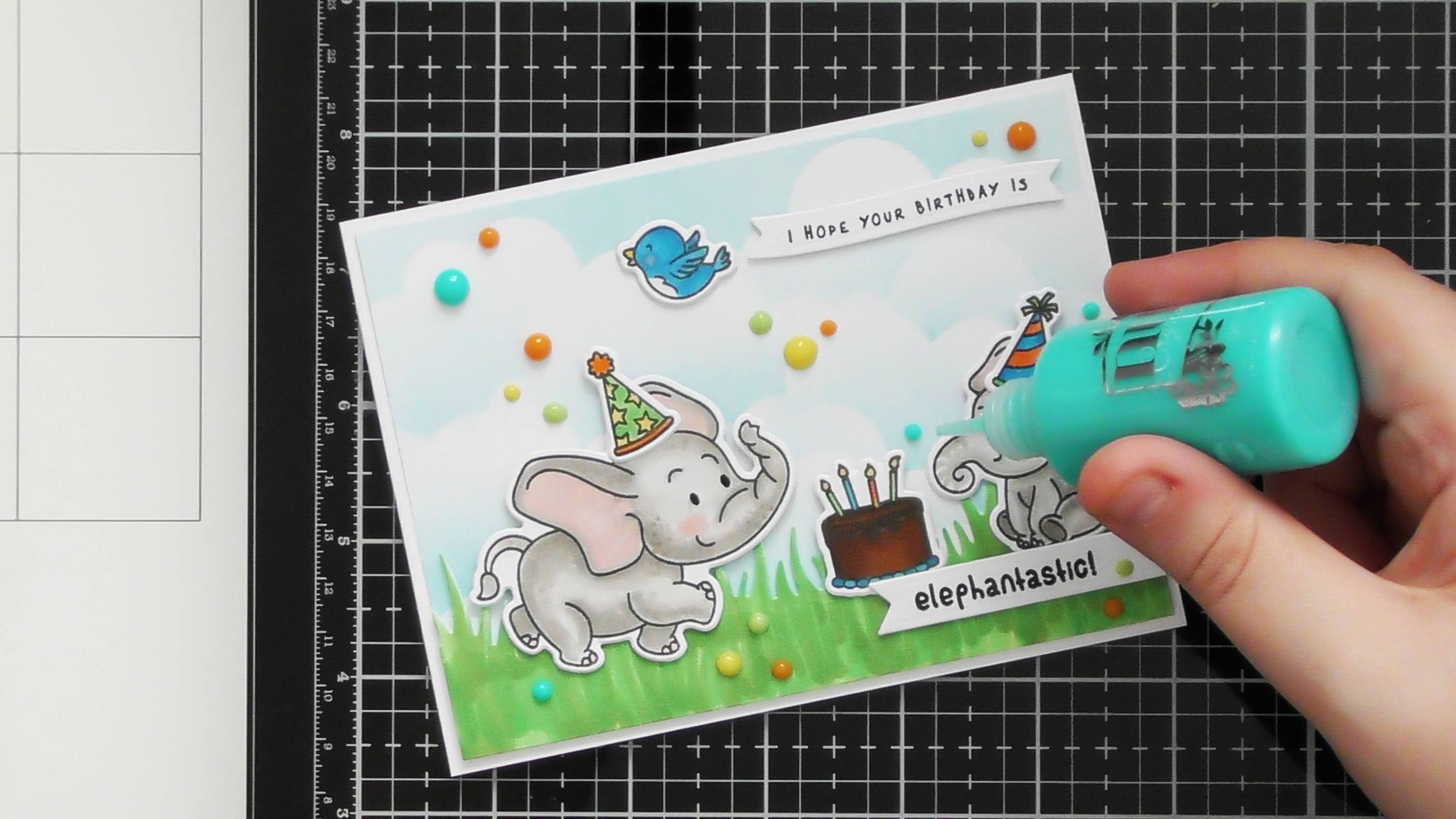 Finally pick some Nuvo drops of similar colours to those you've used to colour your characters, and scatter them all over the card using different sizes to give the illusion of falling confetti, this just adds more colour and gives the card more of a birthday feel
---