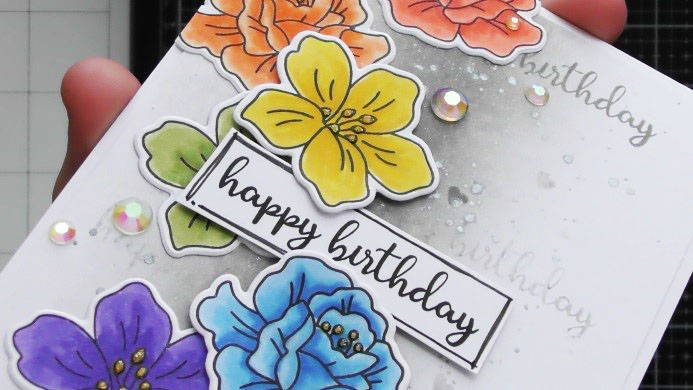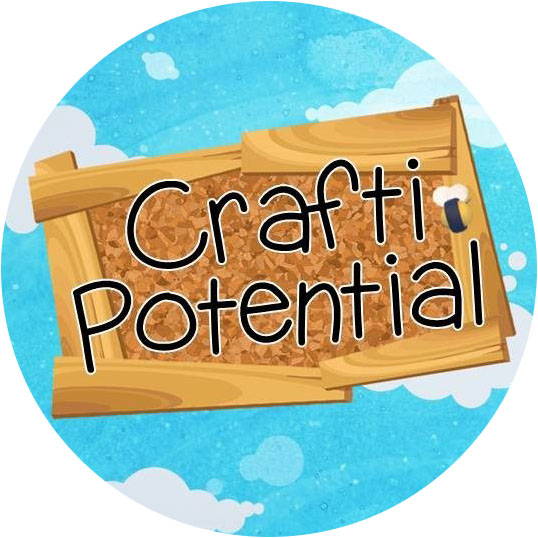 Hi, Christine here from CRaFTi PoTeNTiAl. I am so excited about this brand new Stamp Club concept from Tonic! We started with the fabulous Craft Kits, then they introduced the fab Designer's Choice die sets, and for all us stamp lovers out there, we now have the Stamp Club!!! It's a brilliant concept thought up by the wonderful Maria Willis where not only do we get a fabulous large stamp set, we also get the coordinating dies. And this month there's even a bonus Happy Mail stamp set too which is perfect for decorating your envelopes or adding punny messages to the back of your cards. I think the Stamp Club is a wonderful addition to the online exclusives that Tonic Studios do, and I cannot wait to see what's to come next month!! I hope you enjoy your stamp sets and dies as much as I have!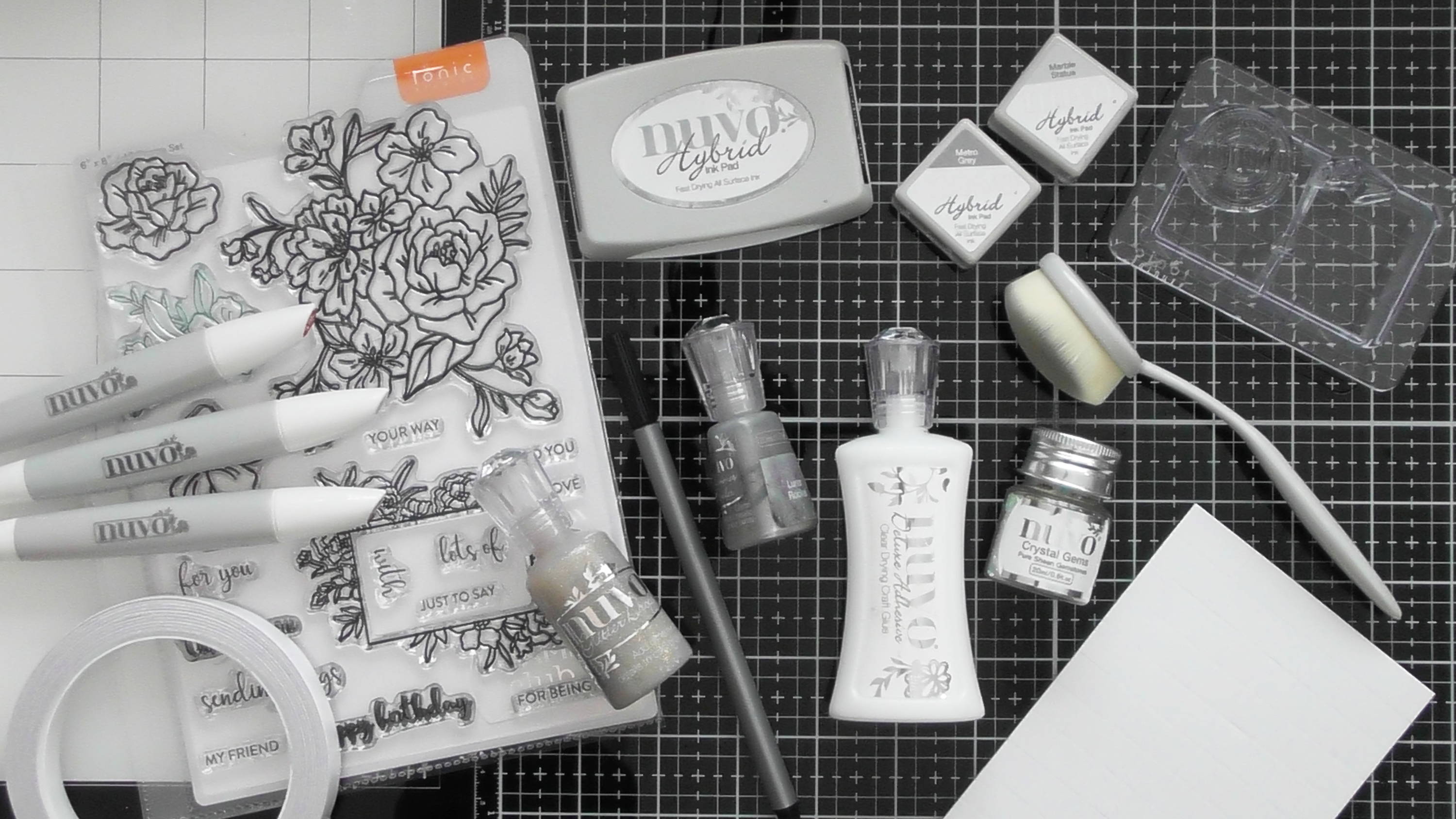 This blog I've done a step by step on how to make a rainbow cascade of flowers with a gently blended, and overstamped strip in the background. I have also included a tip on how to get the perfect placement of your stamping onto the flower die cuts using your Stamping Platform too
---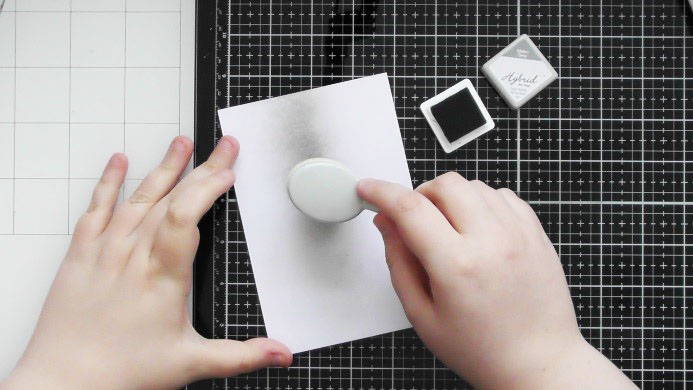 Use one of the Tonic Precision blending brushes and some Metro Grey ink to gently ink blend a stripe with feathered edges towards the left hand side of a portrait A6 piece of card.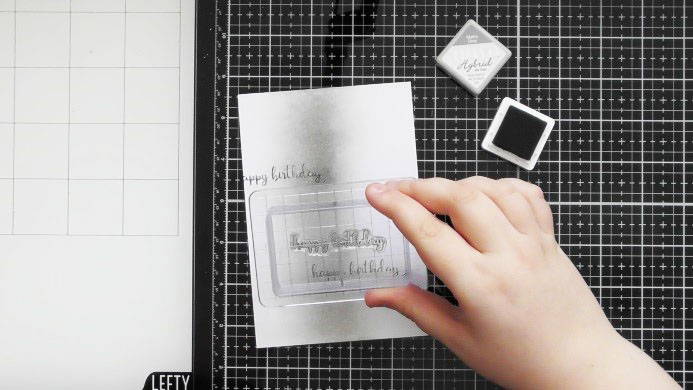 Take your chosen sentiment and using multiple generations of the Metro Grey ink add some over-stamping to give the background interest.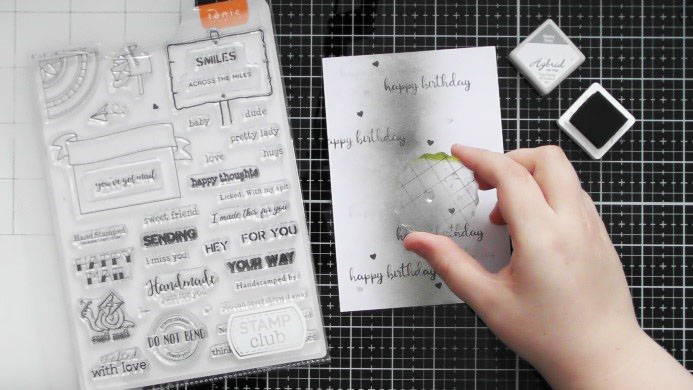 If you got the envelope stamp set, you can use the tiny heart stamp too.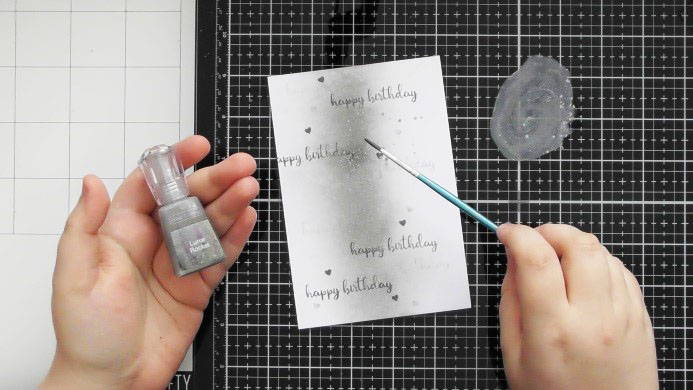 Add a small puddle of water to your glass cutting mat, the tap in some of the Luna Rocket Shimmer Powder and mix into a watercolour consistency with a small round paint brush. Load up the paint brush with fluid and flick over the background to give some subtle sparkly speckles.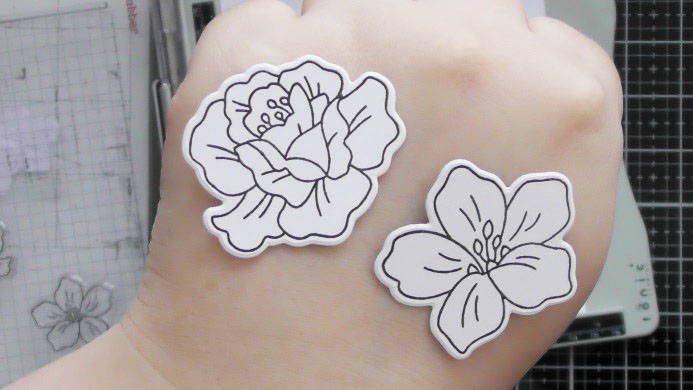 Now simply place a blank die-cut in each of the recessed areas, ink up your stamps and stamp perfectly onto your die-cuts. You can do this as many times as you need, as long as you don't move the stamps from there position, it's great for batch making.
Trim your background piece down to 10 cm x 13.5 cm using your Tonic Gullotine.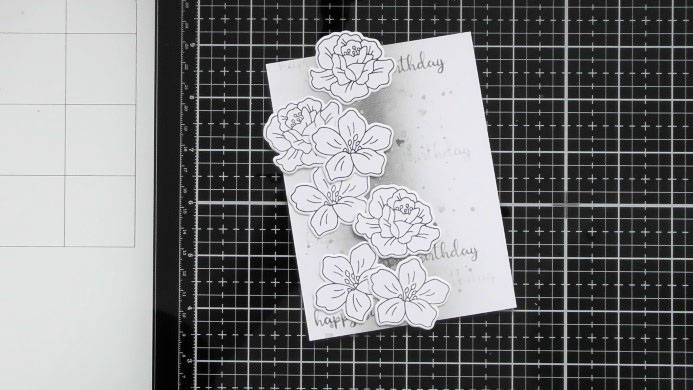 Take your stamped flowers and arrange them in a cascade down the left hand side of the panel where we added the ink blending. (Tip: this card would look fab in black and white :D)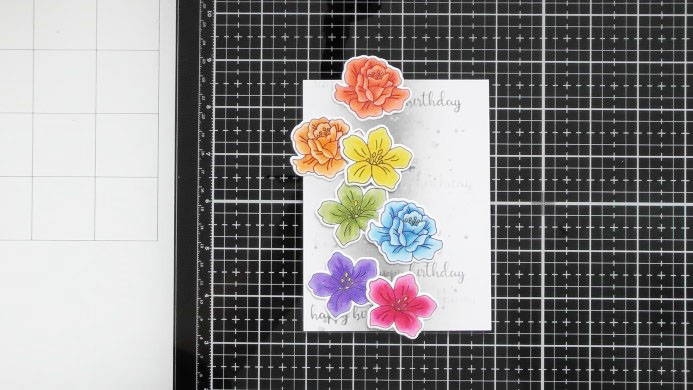 Once you know the arrangement, you can colour your flowers using your Nuvo Alcohol Pens, I decided to go for a rainbow which is why I wanted to know the rough placement of the flowers.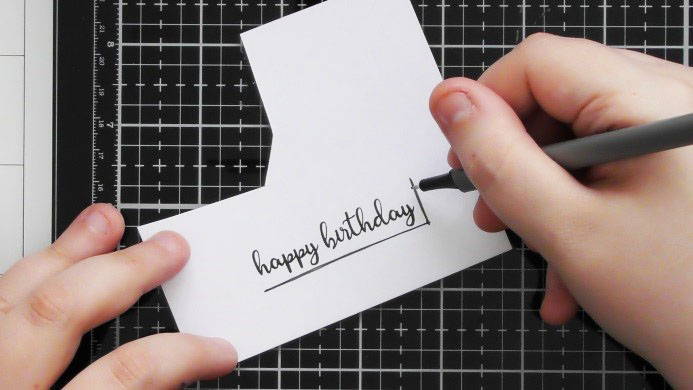 Stamp your chosen sentiment (the same one you used in the background) onto white card, and use a fine black pen to add a scribbly border around it. The border draws your eye to the senitment, and it also makes it easier to trim out too.
Slip your sentiment into your cascade of rainbow flowers, and use a mixture of Nuvo Deluxe Adhesive and Craft Perfect Foam Squares to adhere everything down.
… and you can also embellish the front too, and simply add your recipients name, or name and address in the centre.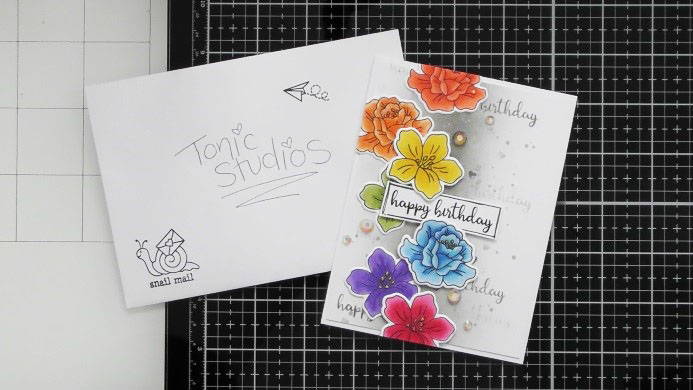 And there you have your rainbow flower card and a coordinating stamped envelope too. You could make them a perfect match by adding some of the flowers to the envelope as well :D
---